| Net Worth: | $150 Million |
| --- | --- |
| Salary: | Unknown |
| Income Sources: | Sale of his albums, his musical ventures, writing and producing songs, acting |
| Age/Date of Birth: | January 17, 1971 |
| Height: | 6 feet (1.83 m) |
| Nationality: | American |
| Last Updated: | 2021 |
Kid Rock is an American singer, songwriter, rapper, and record producer from Romeo, Michigan. He went professional with his music in 1990 but gained international recognition in 1998.
After a career spanning multiple decades, The American multi-instrumentalist, music producer, and actor Kid Rock current has a net worth of $150 million
Rock has sold over 35 million records worldwide including 25 million sold in the US alone, making him one of the most successful American musicians in the past decade and half. Kid Rock according to his own words is "not just rich, he's wealthy".
Kid Rock's Early Life and Career Beginnings
Kid Rock was born and named Robert James Ritchie on January 17, 1971, in Romeo, Michigan. His love for hip-hop led him to join a breakdance crew at the age of 11. He taught himself how to operate a scrappy turntable and later employed his skills to earn $30 per night at basement parties while attending Romeo High School.
As a teenager, Ritchie began living at Mt. Clemens, Michigan where he became part of a rap group called "The Beast Crew". His impressive performance with the crew led to his first record deal with Jive Records in 1988. He was just 17 years old and his parents didn't approve of it. Regardless, he went ahead with the deal.
In 1990, two years after inking his initial contract, Rock released his first album "Grits Sandwiches for Breakfast". It sold 100,000 copies to make him one of the biggest rap stars in Detroit. His only single from the album was "Yo-Da-Lin in the Valley". The song gained much popularity after the FCC placed a fine of $23,700 on Cortland, New York radio station WSUC-FM (90.5) after they played an uncensored version of the song which was considered to have high vulgar contents.
However, Rock's fame didn't last, his productivity began to wane, causing Jive Records to drop him from its roster by the end of 1990. Rock then signed with Continuum Records, an independent record label under which he released his next endeavour, a rap-rock album entitled "The Polyfuze Method" (1993). The album managed to sell just 15,000 copies and again he was dropped by Continuum.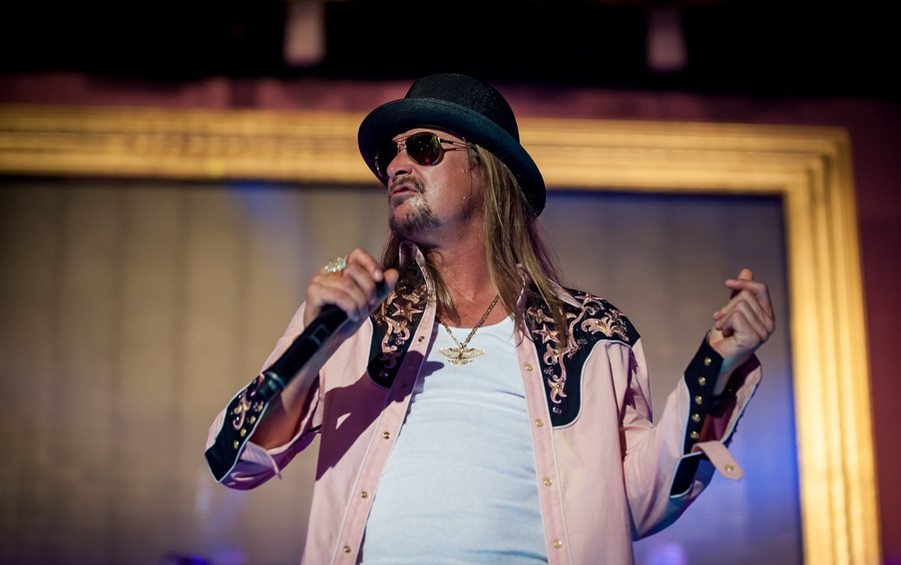 Analysis of Kid Rock's Net Worth: Breakthrough with Devil Without a Cause
Rock's endeavours soon caught the attention of executives at Atlantic Records. Following many disagreements, mostly related to Rock's idea of merging hip-hop, rock, and country together, the label finally signed him to a $100,000 deal. Rock was so ecstatic that his celebrations landed him in jail, after getting into a bar fight. In his short time behind bars, he penned the first four lines to his song "Only God Knows Why" which was released as the 5th single of his breakout album "Devil Without a Cause" (1998). The single also became the highest-charting single of the album, reaching #19 on the Billboard Hot 100.
"Devil Without a Cause" didn't gain much popularity until the release of the second single which caught the attention of MTV VJ Carson Daly. Rock's friendship with Daly led to his performance on MTV's Fashionably Loud which ultimately became his big break, earning him much popularity.
Consequently, his numbers began to pick and by May 1999, "Devil Without a Cause" received gold certification. The album went on to sell over 13 million copies worldwide and became his best-selling album, receiving multi-platinum certification from the RIAA. He won the Billboard Music Award for Best New Artist and received a Grammy and AMA nomination in the same category.
Commercial Success
Rock continued his success streak by re-issuing his previous works. His official follow-up Cocky (2001) sold over 6 million copies. At the peak of his career, most of his songs were featured in top movies, as well as video games. Kid Rock has sold over 35 million records worldwide and continues to make music.
Like other artists, Kid Rock also makes a lot of money from touring, by a lot, we mean as much as $500,000 per show. He made the news in 2013 when he announced that his next tour entitled "$20 Best Night Ever Summer Tour" would be selling tickets at just $20. While announcing the tour he said; "I'm lucky enough that I can afford to take a pay cut."
Instead of receiving huge upfront pay, Rock decided to share the proceeds of the shows during the tour with his promoters. By so doing, he gave himself the leverage of bearing potential risks should the attendance turn out poor. But it didn't, the strategy paid off as they kept recording sold-out venues. Even better, in exchange for the pay cut, Rock struck a deal with his promoters that entitled him to a percentage of revenue from food, drinks, and parking.
However, while taking the ticket pay cut, Rock increased the prices on the premium front row seats, reserving them for "die-hard fans only". He employed the strategy to ward off ticket scalpers who often buy tickets and resell them at incredibly high prices. Also, platinum seat buyers are required to show ID and credit cards to prove ownership.
Confirming his wealth status in an interview with The Guardian, Rock said; "I'm not just wealthy, I'm loaded. I can say that because I'm not embarrassed – I've made a fuck-ton of money, but I've never made a dishonest dollar. I try to do right by the people around me."
In the business world, Rock owns the Made in Detroit clothing line which he purchased from its owner in 2003.
Highlight Of All His Studio Albums
With 11 studio albums, one compilation album, two extended plays and one live album to his name, the musician was recorded to have sold 25 million albums in the US as of December 2013, with more than 35 million sold worldwide. His albums include:
Grits Sandwiches for Breakfast (1990)
The Polyfuze Method (1993)
Early Mornin' Stoned Pimp (1996)
Devil Without a Cause (1998)
Cocky (2001)
Kid Rock (2003)
Rock n Roll Jesus (2007)
Born Free (2010)
Rebel Soul (2012)
First Kiss (2015)
Sweet Southern Sugar (2017)
Estimated Earnings From His Highest-selling Music Albums
Devil Without a Cause – 1998 – $13,300,000
Cocky – 2001 – $6,400,000
Rock N Roll Jesus – 2007 – $4,500,000
Born Free – 2010 – $1,000,000
Live Trucker – 2006 – $600,000
Other Investments
Kid Rock became a shareholder of the independent record label Top Dog Records in 1989 which gave him 25% ownership at the time. The company was formed by Alvin Williams and Earl Blunt of EB-Bran Productions but Rock got full ownership of the stable in 2003 following a lawsuit he filed to gain full control.
He has also invested outside the music industry. Kid Rock's Made in Detroit restaurant and bar is one of such investments. The eatery specializes in Southern-style cuisine. He, however, closed the branch in Little Caesar's Arena following a controversy he courted while drunk.
Controversies
Following his earlier display of the Confederate flag during some of his past concerts, Kid Rock raised the dust that led to protests when The National Association for the Advancement of Colored People (NAACP) honored him. In his own defense, he explained that he didn't fly the flag with hate in his heart and that he has nothing but love for his country, as well as black people. Rock's publicist also claimed the musician distanced himself from the flag in 2011.
The issue with the Confederate flag came up again in 2015 after the Charleston church shooting. Consequently, the Michigan chapter of the National Action Network staged a protest outside the Detroit Historical Museum where Kid Rock was honored, urging him to renounce the flag. His response was an email to Megyn Kelly of Fox News where he wrote: "Please tell the people who are protesting to kiss my ass". As a result, the protesters turned against Chevrolet for sponsoring Kid Rock's tour.
The same year, Rock came under fire once again for appearing in a photograph where he's seen with a dead cougar. The animal was killed on a hunting trip with Ted Nugent. He had nothing to say about this.
For naming his 2018 tour "Greatest Show on Earth", Kid Rock was sued by Ringling Bros. and Barnum & Bailey Circus which forced him to change the slogan to American Rock N' Roll Tour.
Kid Rock's Take On Politics
In addition to music, Kid Rock is also quite vocal about his political views, stating that he is "definitely a Republican", although maintaining that he is "more libertarian" on some issues. He endorsed Mitt Romney during his presidential candidacy and in 2015, Ben Carson during his bid for the Republican nomination for the 2016 presidential election.
Like Carson, he later supported Donald Trump after he emerged as the GOP nominee. Rock even sold his own Trump-branded merchandise including tees that read "God, Guns & Trump" and caps with "Make America Badass Again". In February 2017, he was considered a potential candidate for the 2018 U.S. Senate Race in Michigan.
Inside Look at His Relationships
Starting from his high school sweetheart, Kid Rock has been linked to a lot of women, including high-profile personalities in the entertainment industry.
Kelley Russell
Full name: Kelly South Russell
Date of birth: NA
Nationality: American
Occupation: NA
Rock struggled to find his foot in the early years of his career. His problems were compounded when his then-girlfriend, Kelley South Russell, informed him about her pregnancy. The desperate expectant father had to double his hustle to make ends meet.
Kid Rock dated Kelley South Russell off and on for up to 10 years. In June 1993, the couple gave birth to their only son, Robert Ritchie Jr., and the same year, Rock separated from Russell whom he never married. Their split followed the discovery that one of their three kids is not actually his blood.
In 2010, Kid Rock and Kelley South Russell saw themselves in a heavy custody battle that lasted for close to a year over their son. It was the singer who ended up winning the legal battle to keep his son.
Thanks to his son, Rock got to become a grandfather at the age of 43 following the birth of his granddaughter in 2015.
Jamie King
Full name: Jaime King-Newman
Date of birth: 23 April 1979
Nationality: American
Occupation: Actress, model
Years active: 1993–present
After getting a strong footing in the limelight in 1998, the media attention became more intense in Kid Rock's personal life. Rolling Stone reported that the rock star was dating model cum actress Jamie King in 2000 but the relationship didn't last long enough to garner attention.
King is now married to Kyle Newman with whom she tied the knot in 2007. Kid Rock, on the other hand, went on to date another Jamie for a few months before he moved on to his relationship and eventual marriage with Pamela Anderson.
His Marriage To Pamela Anderson
Full name: Pamela Denise Anderson
Date of birth: 1 July 1967
Nationality: Canadian-American
Profession: Actress
Years active: 1989–present
Rock and Pamela Anderson began dating in 2001 and changed their status to engaged in 2002. Their relationship hit the rock in 2003 but they found their way back to each other. In 2006, Kid Rock got married to the Baywatch TV star and model who remained his wife until a few months later when the two decided to part ways.
That was one of the hardest times in the star's life because he was still very much in love with his wife. The former couple had no child together, though Anderson miscarried a pregnancy while married to Rock.
According to Kid Rock, his marriage to Anderson ended after she criticized his mother and sister in the presence of his son. The divorce was, however, filed by Anderson on the basis of irreconcilable differences.
Kellie Pickler
Full name: Kellie Dawn Pickler
Date of birth: 28 June 1986
Nationality: American
Occupation: Singer-songwriter
Years active: 2005–present
Pickler came into the picture barely a year after Rock's marriage ended. However, his alleged relationship with the country music singer was not confirmed. The rumor picked up steam in 2009, with sources claiming that they are dating but keeping it a secret.
Kellie Pickler, on the other hand, hinted that she was dating a man at the time but the two didn't confirm anything. Besides, Kellie married Kyle Jacobs in 2011 and they have built a lovely family together.
Audrey Berry
Full name: Audrey Berry
Date of birth: NA
Nationality: American
Occupation: NA
A couple of years after his marriage to Anderson came to an end, Kid Rock met and started a long-lasting relationship with Audrey Berry. They met at a restaurant in Rock's hometown of Detroit, Michigan. Their meeting happened in 2010 and Rock asked her out the moment he set his eyes upon her.
Though skeptical about tasting the marital waters again, Kid Rock went on to propose to Audrey in 2017. She was often seen flaunting the huge rock he slipped on her finger. When he dropped his 10th studio album, This Kiss in 2015, the singer admitted that one of the songs dubbed Johnny Cash was about his fiance Audrey Berry.
Notwithstanding the love they shared, Kid Rock and Audrey Berry never exchanged vows. Instead, he moved on to country music icon Loretta Lynn, or so it seemed.
Loretta Lynn
Full name: Loretta Webb
Date of birth: 14 April 1932
Nationality: American
Occupation: Singer-songwriter
Years active: 1960–present
Kid Rock has always shared an unusual bond with the veteran country musician, they play around quite a lot and have so much admiration for each other. Though there is a huge age gap of more than 30 years between them, with Lynn being the older one, their love for each other knew no bounds.
They usually joke about getting married and in August 2020, at a hillbilly soirée, Rock and Lynn got their chance. The impromptu wedding took place while Lynn's son was renewing his vows which conveniently means that there was a minister on ground and Rock and Lynn took advantage. Though the whole exchange of vows was a joke, everyone played along and they had a good time.
After the faux wedding, Loretta posted on social media;
"Things got crazy," she added, "then–my boy @kidrock was there and we've always teased about getting ourselves married. Well, the preacher was already there so we had some fun with it. Sorry girls, he's taken now! #gottahavesomefun #88andfeelinggreat #laugh #tabloidfodder #cougar."
Fact Check: Is Kid Rock Still Alive?
One big question that many people have returned asking is whether or not Kid Rock is dead. Interestingly, not many celebrities have escaped death hoaxes in the past, and neither has Rock. It was in July 2017 that a report emerged on social media claiming that the singer had passed on at the age of 44. As it will turn out like with most of such hoaxes, the star was doing very fine.
Profile Summary
First Name:
Robert
Last Name:
Ritchie
Estimated Net Worth:

$150 Million
Salary:
Unknown
<strongSource of Wealth:
Sale of his albums, his musical ventures, writing and producing songs, acting
Last Updated:

2021
Also Known As:

Kid Rock, Bobby Shazam
Sex/Gender:

Male
Profession:

Singer-songwriter, rapper, musician, and record producer
Famous For:
his hit songs "Jackson, Mississippi", "Only God Knows Why", "American Bad Ass"
Colleges/Universities Attended:

N/A
Educational Qualifications:

N/A
Religion:

Christianity
Birthday & Zodiac

Age/Date of Birth:

January 17, 1971
Zodiac Sign:
Capricorn
Birth Place:

Romeo, Michigan, U.S.
Nationality:
American
Ethnicity/Race:

White
Country of Residence:

United States of America (USA)
Physical Attributes

Height:

6 feet (1.85 m)
Weight:

84 kg (185.19 lbs)
Eye Colour:

Blue
Hair Color:

Light Brown
Other Body Measurements:

N/A
Relationships

Marital Status:

Divorced
Spouse/Partner:

Pamela Anderson
(m. 2006; div. 2007)
Family and Relatives

Father:

William Bill Ritchie
Mother:
Susan Ritchie
Children:

Robert James Ritchie, Jr. (14 June 1993)
Siblings:
2 sisters: Jill and Carol Ritchie,
1 brother- William Ritchie
Other Relatives:

N/A