Kid Rock Net Worth: $80 Million. Kid Rock is an American singer, songwriter, rapper, and record producer from Romeo, Michigan. He went professional with his music in 1990 but gained international recognition in 1998. Rock has sold over 35 million records worldwide including 25 million sold in the US alone, making him one of the most successful American musicians in the past decade and a half. Kid Rock according to his own words is "not just rich, he's wealthy". His net worth is estimated at $80 million. Here is what we know.
Kid Rock Net Worth: How He Began
Kid Rock was born Robert James Ritchie on January 17, 1971, in Romeo, Michigan. His love for hip-hop led him to join a breakdance crew at the age of 11. He taught himself how to operate a scrappy turntable, he later employed his skills to earn $30 per night at basement parties while attending Romeo High School.
As a teenager, Ritchie began living at Mt. Clemens, Michigan where he became part of a rap group called "The Beast Crew". His impressive performance with the crew lead to his first record deal with Jive Records in 1988. He was just 17 years old and his parents didn't approve of it. Regardless, he went ahead with the deal.
In 1990, two years after inking his initial contract, Rock released his first album "Grits Sandwiches for Breakfast". It sold 100,00 copies to make him one of the biggest rap stars in Detroit. His only single from the album was "Yo-Da-Lin in the Valley". The song gained much popularity after the FCC placed a fine of $23,700 on Cortland, New York radio station WSUC-FM (90.5) after they played an uncensored version of the song which was considered to have high vulgar contents.
However, Rock's fame didn't last, his productivity began to wane, causing Jive Records to drop him from its roster by the end of 1990. Rock then signed with Continuum Records, an independent record label under which he released his next endeavor, a rap-rock album entitled "The Polyfuze Method" (1993). The album managed to sell just 15,000 copies and again he was dropped by Continuum.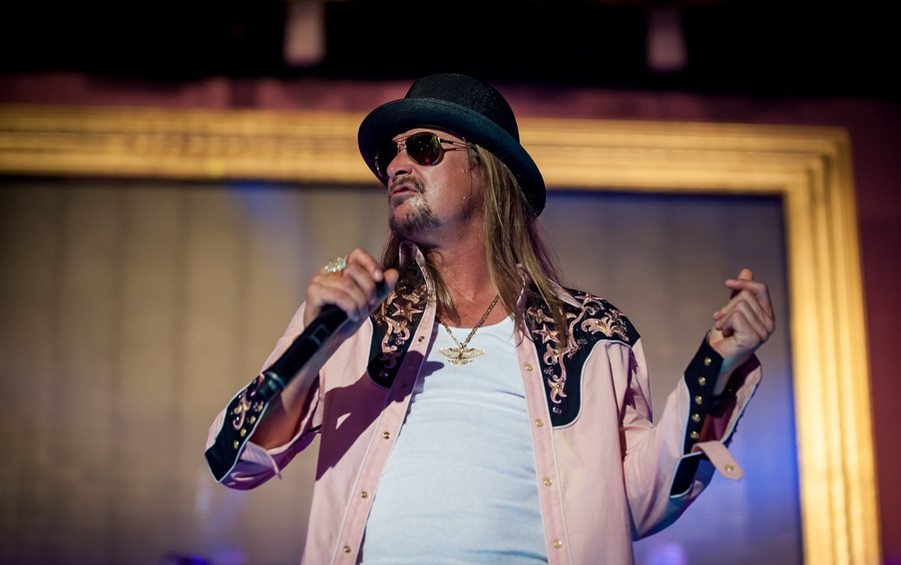 Rock struggled to find his foot in the years that followed. His problems were compounded when his then girlfriend informed him about her pregnancy. The desperate expectant father had to sell his own demo tapes every month in order to make cash. He added a little boost to his income working as a janitor at The White Room Studios. With earnings from both endeavors, Rock was able to afford studio time and began recording for his next album. Thanks to a little loan from his father, Rock was able to release his third studio album "Early Mornin' Stoned Pimp" in 1996 under his own label Top Dog Records. He distributed the CDs from his car trunk and successfully pushed 6,000 copies.
Kid Rock Net Worth: Breakthrough with Devil Without a Cause
Rock's endeavors soon caught the attention of executives at Atlantic Records. Following much disagreements, mostly related to Rock's idea of merging hip-hop, rock and country together, the label finally signed him to a $100,000 deal. Rock was so ecstatic that his celebrations landed him in jail, after getting into a bar fight. In his short time behind bars, he penned the first four lines to his song "Only God Knows Why" which was released as the 5th single of his breakout album "Devil Without a Cause" (1998). The single also became the highest charting single of the album, reaching #19 on the Billboard Hot 100.
"Devil Without a Cause" didn't gain much popularity until the release of the second single which caught the attention of MTV VJ Carson Daly. Rock's friendship with Daly lead to his performance on MTV's Fashionably Loud which ultimately became his big break attracting to him much popularity.
Consequently, his numbers began to pick and by May 1999, "Devil Without a Cause" received gold certification. The album went on to sell over 13 million copies worldwide and became his best-selling album, receiving multi-platinum certification from the RIAA. He won the Billboard Music Award for Best New Artist and received a Grammy and AMA nomination in the same category.
See Also: Steven Tyler Net Worth
Kid Rock Net Worth: Continued Commercial Success
Rock continued his success by re-issuing his previous works. His official follow-up Cocky (2001) sold over 6 million copies. At the peak of his career, most of his songs were featured in top movies as well as video games. Kid Rock has sold over 35 million records worldwide and continues to make music.
Like other artists, Kid Rock also makes tonnes of money from touring, by tonnes we mean as much as $500,000 per show. He made the news in 2013 when he announced that his next tour entitled "$20 Best Night Ever Summer Tour" would be selling tickets at just $20. While announcing the tour he said; "I'm lucky enough that I can afford to take a pay cut."
Instead of receiving huge upfront pay, Rock decided to share the proceeds of the shows with his promoters. By so doing, he gave himself the leverage of bearing potential risks should the attendance turn out poor. But it didn't, the strategy paid off as they kept recording sold out venues. Better, in exchange for the pay cut, Rock struck a deal with his promoters that entitled him to a percentage of revenue from food, drinks, and parking.
On the new strategy he told WSJ;
"Let's give the fans the best deal, then us rich motherf—— can go fight about how to divvy up the money. Because even at $20, there's plenty of money there. I said to Live Nation, look at these past tours that I've done. Some nights you make a lot of money, some nights you lose a lot of money. Why don't we just be on the up and up and divide the money fairly? Then the profit is going to be in the number of people who turn out. And thank the Lord that it's working."
However, while taking the ticket pay cut, Rock increased the prices on the premium front row seats, reserving them for "die-hard fans only". He employed the strategy to ward of ticket scalpers who often buy tickets and resell them at incredibly high prices. Also, platinum seat buyers are required to show ID and credit cards to prove ownership.
Confirming his wealth status in an interview with The Guardian, Rock said; "I'm not just wealthy, I'm loaded. I can say that because I'm not embarrassed – I've made a fuck-ton of money, but I've never made a dishonest dollar. I try to do right by the people around me."
In addition to music, Kid Rock is also quite vocal about his political views stating that he is "definitely a Republican", although maintaining that he is "more libertarian" on some issues. He endorsed Mitt Romney during his presidential candidacy and in 2015, Ben Carson during his bid for Republican nomination for the 2016 presidential election.
Like Carson, he later supported Donald Trump after he emerged as the GOP the nominee. Rock even sold his own Trump branded merchandise including tees that read "God, Guns & Trump" and caps with "Make America Badass Again". In February 2017, he was considered a potential candidate for the 2018 U.S. Senate Race in Michigan.
In the business world, Rock owns the Made in Detroit clothing line which he purchased from its owner in 2003. Kid Rock was previously married to Baywatch TV star Pamela Anderson.
See Also: Phil Robertson Net Worth