There was a time when geeks and nerds had a public reputation as losers who lived in their parents' basements, played video games all day, and couldn't fit into society. Over the years, however, that image has been overturned, and nerds are now considered some of the coolest groups of people on the planet. No better person emboldens that change in reputation than Kevin Smith, a celebrity who has amassed a sizeable net worth from a lifetime of being a nerd.
From writing comic books to being an actor and a producer, Kevin Smith is a successful personality who has achieved one of rarest things in the world – becoming wealthy off his passion. We took a look at Kevin Smith's net worth, particularly how he made his money from movies. Check it out.
What is Kevin Smith's Net Worth?
For a man who achieved fame through a form of entertainment many believed belong to bottom feeders, Kevin Smith has done very well for himself. He has a net worth of $25 million, according to the website Celebrity Net Worth.
He has been a renowned personality since he made his breakthrough in 1994, with the film, Clerks, a low-budget comedy film. Since then, he has expanded his career in different directions and earned a significant net worth in the process.
Below are the career fields that earned him his net worth, as well as how he made his money from movies.
Comic Book Writing
One of the defining aspects of Kevin Smith's entertainment career is his lifelong association with comic books. He got the chance to be paid for what he loved in 1998 when he wrote and published his first comic book, Clerks. Since then, he has worked with both Marvel and DC Comics on various comic book stories, such as Daredevil: Guardian Devil, Spider-Man/Black Cat: The Evil that Men Do, Batman: The Widening Gyre and several others.
So far, Kevin Smith has had a significant contribution to his overall net worth from writing and publishing more than 17 comic books since he began writing in 1998.
However, Kevin's writing career is not only limited to comic books. He has five published books to his name, four of which were bestsellers. Among them is Silent Bob Speaks, which he published in 2005.
Other writing projects of the renowned personality include writing for magazines like Arena Magazine, where he is a regular contributor.
Filmmaking
Kevin Smith started his career as a filmmaker. Through it, he has earned a considerable bulk of his $25 million net worth. He is a screenwriter, director, and producer.
As a producer, he has his own production company, View Askew Productions, which he co-founded with Scott Mosier in 1994. The company has produced more than 20 movies and a TV show.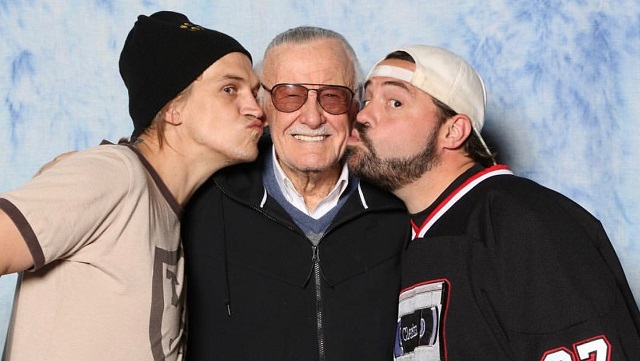 The first film under the production company was Clerks, which earned more than $3.1 million at the box office on a $27,575 budget.
Since his debut as a producer, he has produced other works like Dogma, Jay and Silent Bob Strike Back, Mallrats, and several more.
As a screenwriter, he has written more than 35 movies and TV shows, including movies that weren't produced by his company. He has also directed more than 30 films and TV shows, including episodes of comic book shows like Supergirl and The Flash.
So far, according to the-number.com, Kevin Smith has earned more than $700 million at the global box office as a filmmaker.
Acting
Beyond his career as a writer and filmmaker, it is Kevin Smith's career as an actor that has fetched him his most substantial income on his road to a $25 million net worth.
According to his IMDb page, Kevin Smith has appeared in more than 60 movies and TV shows, having made his debut in the 1994 film Clerks, which was produced by his company.
Since then, he has gone on to appear in all of the works produced by his company, several of which were box office successes. He has also appeared in many productions outside the purview of View Askew Productions.
He credits in films and TV shows like Degrassi: The Next Generation, Catch and Release, Manchild, Yoga Hosers, Shooting Clerks, Madness in the Method, and several more.
According to his the-numbers.com page, Kevin Smith's acting career has had enough success to earn him a $25 million net worth.
The filmmaker's filmography has made more than $1 billion at the global box office, having played various roles in film as a supporting and leading actor.