You could say Kevin Hart is the biggest comedian in Hollywood today, and hardly anyone would debate that assertion. The famous comedian has gone from being an unknown name in the Def Jam Comedy days to selling out stadiums around the world. In the film industry, Kevin Hart's movie roles have led to overwhelming success at the global box office. It has made him not just one of the funniest men in the world, but also one of the most profitable.
However, Kevin Hart has been diversifying his career, both in front and behind the camera, proving he can do much more than performing standup or play comedic roles. Below are five Kevin Hart movie roles played over the course of his career that prove his skillset goes beyond comedy.
Kevin Hart Movie Roles That Prove He Can Do More Than Comedy
1. Dell Scott in The Upside
Everyone knows Bryan Cranston is one of the greatest actors today. But, it came as a surprise when Kevin Hart was announced to be playing a dramatic role alongside him in The Upside. A matchup that feels like putting up LeBron James beside Tom Brady. They are both great at what they are known for, but it is not remotely close.
Regardless of the skepticism, Kevin Hart delivered an above-average performance in his role in the film, about the relationship between a quadriplegic man (Bryan) and an unemployed man with a criminal record (Hart).
While the film itself was not a critical slam dunk, several critics acknowledged the performance of Kevin, who impressed for a man known for laugh-out-loud comedic roles.
2. Dante Slate, Jr in Grudge Match
Grudge Match is one of those rare films in Kevin Hart's filmography where he wasn't a lead actor, despite playing a significant role.
He played a supporting role alongside Hollywood icons; Robert De Niro and Sylvester Stallone as Dante Slate, Jr, a boxing promoter who was trying to set up a match between two longtime rivals.
While Kevin Hart had several funny lines in the film, he pulled out some dramatic moments, as a man who was seeking redemption for the action of his father.
Alongside Robert De Niro and Sylvester Stallone, Kevin Hart showed one of the early signs of his capability of juggling his dramatic side in perfect balance with his comedy side.
As far as movie roles that prove Kevin Hart can do more than comedy go, his work in Grudge Match stands out.
3. Tree in Not Easily Broken
When it comes to dramatic roles, especially among African American actors, Morris Chestnut and Taraji P. Henson are icons of the genre. So, their performances in Not Easily Broken was a given. What wasn't a given, however, was Kevin Hart, relatively unknown at the time, who starred in the film as Tree.
Just like in Grudge Match, Kevin Hart played a supporting role in the film, as a friend of Morris Chestnut and while you can expect him to be true to his comedic side, Hart played moments of honesty and emotion brilliantly. Not something you can say for every comedian or comedic actor.
4. Snowball in The Secret Life of Pets
For a man who has achieved a net worth of $150 million performing stand-up comedy and playing comedic roles onscreen, there is a minimal incentive for him to expand his career with new challenges. But that isn't Kevin. In 2016, Kevin Hart took up something not many actors get to do successfully – play a voice acting role for the film, The Secret Life of Pets.
For a comedian whose comedy is tied to his facial expression and mannerisms, there was plenty to be lost in translation. Still, Kevin Hart pulled off an above-average performance, proving he is capable of more than the comedy skills he showcases in several of his films and on tour.
See Also: What Is Arnold Schwarzenegger's Net Worth and Which Roles Made Him the Most Money?
5. Nurse Louis in Little Fockers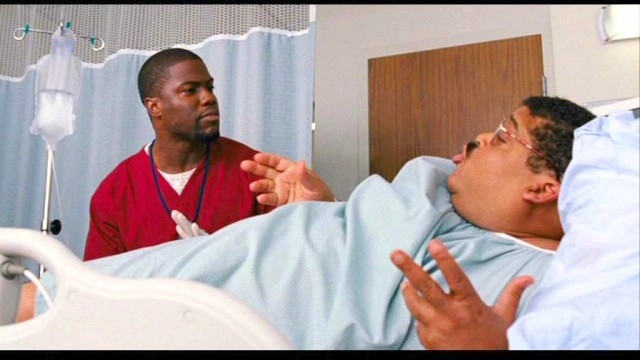 Back in 2010, before Kevin Hart was selling out stadiums and major concert halls, he played Nurse Louis in the Ben Stiller film, Little Fockers.
He played a minor supporting role as a co-worker of the lead actor, Ben Stiller. For a film that explored heavy themes like death and divorce, there was a delicate balance needed between comedy and drama.
Kevin Hart, in his small role in the film, walked that line, showing the world a right blend of his dramatic and comedic side.
With these roles and a few to come in the future, Kevin Hart continues to prove to the world that he is just more than a funnyman.