As far as family names go in Hollywood, the Baldwin name has been one of the most popular and influential names in Hollywood in a couple of decades, led by the famous actor, Alec Baldwin. Another notable name in the Baldwin family is Stephen Baldwin, who like his brother, is also an actor and a producer. His life in Hollywood has been a subject of attention, including his marriage to Kennya Baldwin.
He has been married to his wife, Kennya since 1990, in a long-standing marriage that has drawn interest in an industry notoriously known for its short-term relationships. His wife, Kennya, particularly has sparked curiosity, with many wanting to know what she is doing right to maintain her marriage. Well, we will answer some of these questions about her along with other facts below.
Kennya Baldwin's Biography
Although she is married into one of the most popular families in Hollywood, Kennya Baldwin comes from a respectable Hollywood family of her own too, as the child of parents, Eumir Deodato de Ameida and Mary Ellen Deodato. Her father is a renowned music composer, and producer who is also a Grammy Award winner and she was born to her parents on the 24th of October, 1968 in New York City, and named Kennya Deodato.
She began her academic journey at York Preparatory School before she headed over to Parsons School of Designs, where she studied the art of graphic designing, with the intent of becoming a graphic designer. It is believed that Kennya worked in the field for a couple of years before she met her husband, Stephen. Despite marrying one of the popular faces in Hollywood, very little has been known about her professional career, although it is generally believed that she stopped working to become a housewife after she got married.
When Kennya Baldwin is not playing wife to Stephen Baldwin in public events, she partakes in some of her hobbies, which includes traveling and cooking.
Although she is more likely to be seen on red-carpet shows, Kennya Baldwin has made a couple of appearances onscreen, including an appearance in the documentary, Livin It: Unusual Suspects.
Net Worth
Kennya Baldwin is professionally known to be a graphic designer but details of the extent of her professional success are unknown. However, through her own endeavours, along with her husband's career as an actor and producer, she has been able to accrue a personal net worth in the region of $500 thousand.
Family Details: Husband and Kids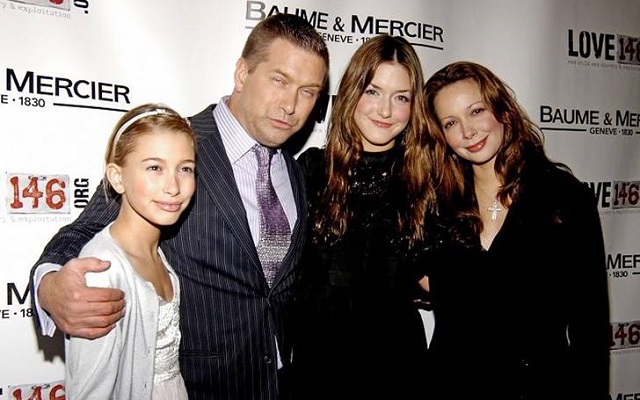 A random meeting in the famous New York subway system led to the beginning of a relationship between Kennya Baldwin and Stephen Baldwin. The meeting happened in 1987 and they took an interest in each other right from their first meeting which soon developed it into a relationship. They went on to date for three years before they decided to take their relationship to the next level, exchanging their vows in front of friends and family, sometime in 1990.
Since then, Kennya Baldwin and Stephen Baldwin have given birth to two children, two girls Alaia and Hailey who were born on the 24th of January, 1993 and November 22, 1996, respectively.
Kennya Baldwin's daughters, Alaia and Hailey, are both models and both of them have gotten married, with Alaia married to Andrew Aronow and Hailey married to the famous singer, Justin Bieber. Aside from their children, the family also has a cat named Tilly.
See Also: Who Is Julie Yaeger (Paul Rudd's Wife)? Here Are Facts You Need To Know
Other Facts About Kennya Baldwin, Stephen Baldwin's Wife
Her children Alaia and Hailey were both homeschooled in order to facilitate the regular travelling schedules of the family.
The Baldwin name is not one most people associate with the Christian faith but Kennya Baldwin is a Christian, who has been one since she converted to the faith in the early 2000s. Her husband, Stephen, is also a member of the Christian faith.
Her husband, Stephen, has faced a number of financial and legal challenges, including declaring bankruptcy in 2009 and an arrest in 2012 for tax evasion. The bankruptcy declaration in 2009 resulted in the loss of their home in Upper Grandview, New York.
Kennya Baldwin is a beautiful woman who has a height of 5 feet 5 inches and has a bodyweight of 60 kg. Along with her modest body size are shape-defining body measurements of 34, 25 and 35 inches for her bust, waist and hip sizes respectively.
She also has other noticeable features like dark brown hair and eyes.