Enigmatic and reclusive yet proficient and prolific, Kendrick Lamar who breathes fire in his music has certainly earned his spot among the world's top-earning hip-hop acts. Each time the multi-Grammy-award-winner unveils yet another fresh flow on the track, he doesn't fail to blow fans' minds. With at least four albums, Kendrick Lamar's net worth is a reflection of how his talents ride him all the way to the Grammys and the bank, deserving of every penny.
Like his status, Kendrick's wealth has also soared in recent years. However, the rap star who considers himself more introvert than shy has at various times stated that he is more focused on creating music rather than pursuing money through endorsements and other fruitful ventures. From tons of new music and collaborations to almost constant touring, and endorsement deals, here's how Kendrick Lamar built his wealth.
Kendrick Lamar is Worth $45 Million – How Did He Get There?
Born in 1987, Kendrick Lamar Duckworth was first introduced to the music world as K-Dot. The talented singer surprisingly gained attention after dropping his first mixtape Youngest Head Nigga in Charge at age 16. It was thereafter that he caught the attention of Top Dawg Entertainment. Recognizing raw talent, the California-based indie record label quickly signed him on.
Lamar later dropped the name K-Dot as convinced by Lil' Wayne before releasing his 2011 debut studio album Section.80 which was a major hit and chart-topper. Kendrick also has several award-winning albums to his credit such as Good Kid, M.A.A.D City (2012), To Pimp a Butterfly (2015) and Damn (2017). These subsequent albums were even much bigger hits. Not only were they massive breakouts and bestsellers, but these records also earned Kendrick several Grammy nominations. In fact, while Good Kid and M.A.A.D. City was certified platinum, Damn quickly went Double Platinum.
It was also his fourth album that earned Lamar the jaw-dropping Pulitzer Prize for Music. The award was not just historical because he was the first rapper to receive it in over seven decades, but also because it was groundbreaking for the genre as Lamar was the first non-classical or non-jazz artist to ever win it. With just four studio albums, Duckworth has garnered nearly 30 Grammy nominations and has won at least 12 of them.
Forbes in 2019 estimated the rapper's net worth to be $38.5 million and with many exploits up his sleeves he is expected to make even more in 2020. The fact that some sources have estimated his net worth in 2020 to be around $45 million makes this estimation plausible. Away from rapping and singing, there are other things that contribute to Lamar's enviable financial status.
Tours
The Compton-native is almost constantly touring across various cities. He reportedly earns over a million for each tour, an amount that is quite overwhelming for many rappers in the industry.
Songwriting
You probably think Kendrick Lamar's net worth comes mostly from his hardcore rap. But he also earns huge paychecks from his songwriting talents. He has penned hit lyrics for some big stars including Maroon 5. Even more lucrative is a new publishing deal Lamar signed for his music catalog which is expected to rake in no less than $20 million for the rapper. Reports have it that in April 2019, Lamar landed a deal with music rights giant BMI which meant a broader space for him in the industry.
Collaborative Efforts
Lamar's rap skills can not be overstated. As one of the most sought after in the game, he also earns huge paychecks from collaborations with other artists. The Pulitzer Prize winner who is credited with more than 30 collaborative tracks reportedly receives as much as $400,000 and no less than $250,000 for each verse.
Still on collaboration, Kendrick Lamar and his friend, Producer Fave Free have joined forces to establish a company called pgLang. They described it as a multilingual, at service company. It is believed to be a company that would embrace music creators across the globe regardless of their language.
YouTube
Kendrick Lamar Duckworth boasts of over 7 million subscribers on his YouTubeVEVO channel. The rap star entertains his fans on the platform by uploading his songs and videos. Lamar's song Humble which has more than 600 million YouTube views remains his biggest hit to date. These statistics clearly indicate that YouTube is a huge cash cow for Kendrick.
Endorsements
Though Kendrick Lamar is known to be quite picky on endorsements, he also makes his money from some lucrative deals. He enjoys notable partnership deals with top shoe brands Reebok and Nike as well as Beats By Dre.
Merch Business
In addition to his musical talents, the Pulitzer Prize winner banks on his fame and has made investments in the fashion industry. Duckworth's merchandising business which offers a range of apparel including Hoodies and T-shirts has been a very lucrative venture for the artist.
How Does He Spend His Wealth?
It is common knowledge that Kendrick Lamar does not smoke and has sparse drinking habits. Unlike most other rappers, the Humble singer also does not flash cash. But Duckworth has a few indulgences that explain how he spends his wealth; they are as follows:
Jewelry
For his wardrobe, the multi-millionaire rapper clearly loves jewelry and often adorns himself with very expensive gold and diamond chains, lockets and rings.
Cars
In addition to that, Lamar also spends his money on different exotic and lavish cars. From Mercedes G Class to Cadillac Seville to Range Rover Sport to Chevrolet Impala to BMW i8 and lots more, the rapper's garage which boasts of a collection of expensive car brands is a beauty to behold.
Real Estate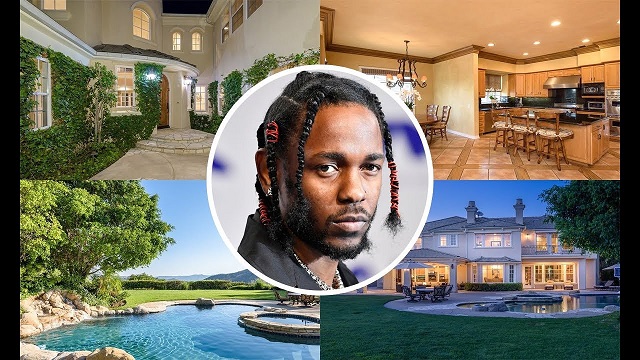 The Pulitzer Prize Winner also has impressive real estate investments. Although Kendrick Lamar lives in a very modest home outside of L.A which he purchased for $523,500, he has another luxurious Calabasas mansion which is an investment property he purchased for $2.65 million.
Charity
The Grammy Award-winning rapper is fiercely loyal to his Afro-American and Compton roots. Kendrick Lamar's net worth is also spent on charity as he gives back to his community. Notably, the rap star has been honored as a Generational Icon by the State of California and was given the key to Compton following his huge donations to music and after school programs, as well as other charities.