Age/Date of Birth:

October 2, 1970
Height:

5 feet, 3 inches (1.6 m)
Ethnicity/Race:

Italian and Irish Decent
Nationality:
American
Husband or Boyfriend:
Mark Consuelos
Parents:
Father: Joseph Ripa
Mother: Esther
Net Worth:
$120 Million
Kelly Ripa is an American talk show host best known as the co-host of ABC syndicated morning talk show, Live! with Kelly And Ryan. She is also a dancer, actress, and TV producer. Her passion for entertainment began at a very young age and from all she has achieved, there is no doubt that she nurtured it over the years and is now a force to be reckoned with in the industry with her massive net worth pegged at $120 million.
Kelly Ripa Had a Humble Beginning
Born on the 2nd of October 1970 in Stratford, New Jersey, Kelly Maria Ripa was only 3 when she started taking ballet classes and learning how to play the piano. Her interest in dance continued in high school where she became a cheerleader at the Eastern Regional High School in Voorhees Township, New Jersey. Kelly was so good at cheerleading that her teacher recommended she pursue a professional career in acting, which would make her the first in her family to chose the profession. Clearly, Ripa was cut out for the entertainment business right from the get-go.
After Kelly Ripa graduated from high school, she proceeded to study psychology at Camden County College, New Jersey. While in college, she began performing in local theatre productions. During the same period, Ripa also gained her early exposure as a dancer on the dance music reality show, "Dancin' On Air", and later, its successor show "Dance Party USA". While performing in a local theatre production titled "The Ugly Duckling" Ripa was discovered and offered her first major role as Hayley Vaughan on the ABC daytime soap opera, "All My Children". She made her debut on the show in 1990 and stayed on the show for 12 years from 1990 to 2002.
Analysis of Kelly Ripa's Net Worth and How She Earned It
Through having her hand in many well-paying jars, Kelly Ripa as stated earlier has amassed a net worth of $120 million. From being a talk show host, journalist, actress and television producer, there seem to be no limits to the endeavours she earns from. Besides all of the above, however, the renowned show host also has investments in real estate alongside endorsements that have made interesting contributions to her wealth status and set her leaps and bounds above a whole lot of other hosts out there. Here is a breakdown of how she is:
She Earns $20 Million Yearly from "Live! With Kelly 
In 2000, when Kathie Lee Gifford left the ABC daytime morning talk show "Live! with Regis and Kathie", Kelly Ripa was selected by Regis Philbin as the replacement after she made a lasting impression at the on-air auditions. Ripa made her official debut on the show in February 2001. And it wasn't long before Kelly's wit gave "Live! with Regis and Kelly" an incredible 80% surge in ratings among the younger demographics. Her natural sense of humor blended perfectly with Philbin's and the show soon recorded an average of 6 million viewers daily.
After Regis Philbin retired from the show at the age of 80 in November 2011, Kelly replaced him as the chief host and the show was renamed Live! With Kelly. In order to find a replacement for Philbin, Ripa opted for the same on-air audition process which she underwent. Through the process, retired NFL player and former New York Giants star Michael Strahan was chosen as Philbin's replacement. "Live! With Kelly and Michael" premiered in September 2012 and that same year, the show won its first Daytime Emmy Award for Outstanding Talk Show.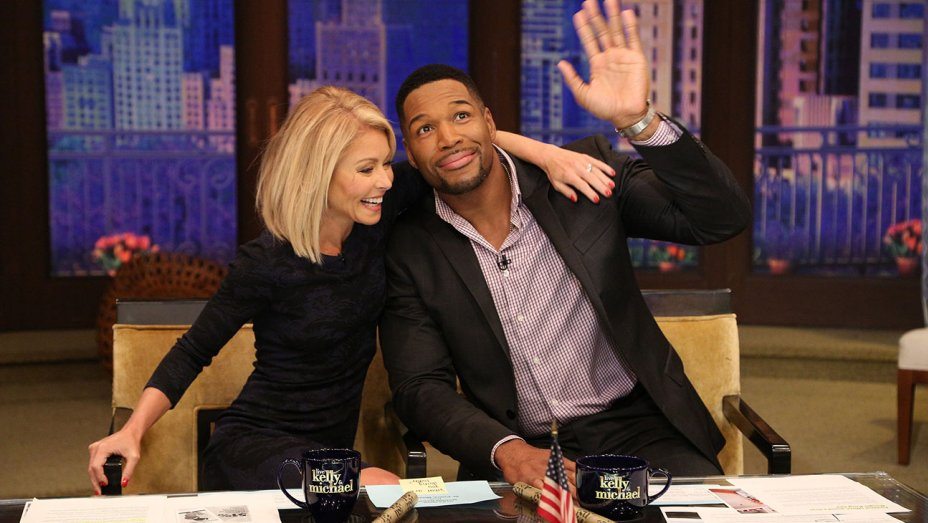 Kelly on her part received an annual salary of $17 million annually for her hosting duties at the time which is a good figure considering how much increase in the number of viewers her efforts brought in.
In April 2016, after four years of co-hosting Live! with Michael Strahan, Kelly learned on set that Strahan was exiting the show for Good Morning America, the ABC flagship morning news program. Angered and shocked by the sudden revelation, Kelly quit the show herself but returned only a week later.
However, tensions between Strahan and Kelly forced Strahan to make his Good Morning America premiere four months earlier than the slated time. As an apology and compensation for their unacceptable action, Disney, the parent company of ABC promoted Kelly to executive producer of Live!, raising her salary in the process. When the dust settled on all of the changes that were made, Ripa was earning $20 million in salary.
Acting Is a Major Contributor to Kelly Ripa's Wealth
Three years after she became a known face on Live! with Regis and Kelly Ripa made a move to primetime on the Hope and Faith sitcom which from records was not her first foray to the big screen of movies. Prior to the sitcom or her work as a host, Kelly scored her first acting role in All My Children. On the estimation that soap actors of her caliber at the time are paid no less than $1,500-$3,000 per episode, Ripa's twelve-year work on the show would have obviously amounted to huge amounts that bettered her worth.
For her excellent portrayal of her given role, she received two Soap Opera Digest Awards and two Daytime Emmy nominations. Ripa also appeared in a number of movies including Marvin's Room (1996), The Stand-In (1999), and Someone to Love (2001) all of which further bolstered her fame.
Her Earning Power Surged With Her Real Estate Investments
The next huge contributor to the accrued wealth of Kelly Ripa is the many real estate investments she has to her name. Notwithstanding the fact that a good number of the assets she has acquired are co-owned by her husband of many years, they have contributed massively to her worth. The couple is well-known for often buying and reselling homes at even higher prices than they initially got it for and making a tidy sum.
In 2005, they splurged on a New York City home of 6,700 square-foot for $9 million but soon sold it for $12 million on a profit margin of $3 million. 2014 saw them selling another beautiful home in the same city for a massive $24.5 million. It is not certain how much they initially purchased the house for but knowing their penchant for owning prime real estate, there is no doubt that the profit margin was interesting.
Besides the above, the couple owns a $30 million home which they made their primary place of abode in NYC. The Massive house has featured that gave the tabloid talking points for a while with its five-story, a rooftop patio, and a garden. Besides this, they also own a beach house in the Hamptons and a ski home in Telluride, Colorado that brings their joint real estate worth to $45 million and counting. Moreso, the couple has a  fleet of cars that include a Bentley Mulsanne, a Rolls-Royce Phantom, and a Mazda 3.
She Co-Owns a Production Company With Her Husband
Ripa and her husband Consuelos created a legacy for their children in 2007 when they founded the production company Milojo which the name with a combination of their children's names Michael, Lola, and Joaquin. The company soon made a name the very next year with The Streak, a feature documentary that received a good number of award nominations. Their next film was no different from the first when it premiered in 2011 and was also accepted to the Tribeca Film Festival.
The company has grown by leaps and bounds through notable collaborations with the likes of Discovery Channel for shows some of which Kelly herself hosted and featured her husband and son to the delight of viewers who can't seem to get enough of the family.
Kelly Ripa Has a Thing For Very Lucrative Endorsement Deals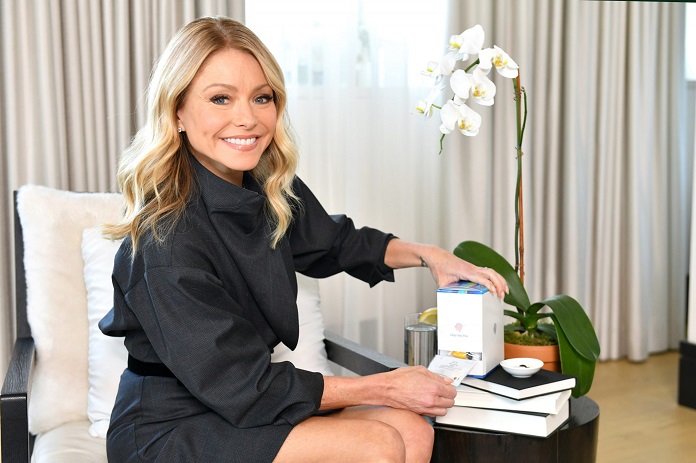 Versatile is surely the best way to describe Ripa's earning power as there seem to be no limits to the ways she can earn a living. As a plus for having a massive presence on tv and on social media also, the show host has inked some very interesting deals over the years that have seen her be the face of very big brands. Among the many brands she has had endorsement deals with are 7 UP, Tide, Pantene, and TD Bank.
Besides the above Kellly had a three-year product partnership with female footwear giant Ryka. During this time, she was a spokesperson for the brand, often co-signing products and even going as far as having her own show Ripa's tv spots in conjunction with Ryka.
An Overview of Her Sources of Income
Salaries from Live! With Kelly
Movies
Real Estate Investments
Production Company Co-ownership
Lucrative Endorsements
Kelly Ripa's Family Life With Her Husband And Kids
If there are interesting things to know about Kelly Ripa, the most intriguing will be her longstanding union with her husband of over 2 decades Mark Consuelos. The couple has been serving major couple goals since they became an item far back in 1995 when they co-starred in a soap opera and became an item. They have since legalized their union and built a rather enviable family. Here's a timeline of everything you should know about Ripa and her family.
Kelly Met Mark as a Co-Star and They Eloped
The couple met in 1995 on the set of All My Children where Mark portrayed the role of Mateo Santos and Kelly played Hayley his love interest. Their characters garnered a good number of fans who were not the least bit disappointed when they made their debut as a real-life couple at the Soap Opera Digest Awards of 1996.
Soon after their official debut as an actual couple, Mark popped the question and proposed to Kelly over a bottle of wine and Pizza at his apartment. Rather than go through all of the stress of planning an actual wedding the lovers chose to elope and get themselves married before anyone was the wiser. Kelly Ripa married Mark Consuelos on May 1, 1996, and the two went on to have their honeymoon in Italy.
Years later on her show, she would reveal that long before she actually met him in person, she had seen a picture of Mark and was certain she was going to marry him. She also told Elle Magazine that she was drawn to Mark because he was positively an alpha male and she just worshipped him.
The Couple Has Three Children and an Enviable Family
Since their marriage in 1996, the lovebirds have enlarged their family with the addition of three children – Michael Joseph Consuelos (b. June 1997), Lola Grace Consuelos (b. June 2001), and Joaquin Antonio Consuelos (b. February 2003).
The oldest child of the family, Michael, has made quite a name for himself in the entertainment industry; he is known for his work in The Bensonhurst Spelling Bee (2012), The Goldbergs (2013), and Riverdale (2017). Lola decided to walk a different path and opted to get her degree from New York University.
The youngest child, Joaquin, has also followed their parents' footsteps and has been pursuing a career in entertainment. Notably, he has appeared on the TV shows like "Entertainment Tonight" and "Live with Kelly and Ryan".
Profile Summary
First Name:
Kelly
Last Name:
Ripa
Also Known As:

"Pippa"
Sex/Gender:

Female
Profession:

Actress, dancer, talk show host, journalist, and television producer
Famous For:
Soap opera All My Children (1990–2002)
Colleges/Universities Attended:

N/A
Educational Qualifications:

N/A
Religion:

Christianity
Birthday & Zodiac

Age/Date of Birth:

October 2, 1970
Zodiac Sign:
Libra
Birth Place:

Berlin, New Jersey, U.S.
Nationality:
American
Ethnicity/Race:

Italian and Irish decent
Country of Residence:

United States of America (USA)
Physical Attributes

Height:

5 feet, 3 inches (1.6 m)
Weight:

50 kg (110lbs)
Eye Colour:

Blue
Hair Color:

Blonde
Other Body Measurements:

Breast Size: 84 cm (33 in)
Waist: 61 cm (24 in)
Hips: 84 cm (33 in)
Relationships

Marital Status:

Married
Spouse/Partner:

Mark Consuelos (m. 1996)
Family and Relatives

Father:

Joseph Ripa
Mother:
Esther
Children:

3 children: Michael Joseph (born June 2, 1997)
Lola Grace (born June 16, 2001)
Joaquin Antonio (born February 24, 2003)
Siblings:
Linda Ripa (Sister)
Other Relatives:

Sergio-Guiseppe Ripa (Nephew)
Net Worth
Estimated Net Worth:

$120 Million
Salary:
$22 million
Source of Wealth:

Show biz