Kelly Ripa is an American talk show host best known as the co-host of ABC syndicated morning talk show, Live! with Kelly And Ryan. She is also a dancer, actress, and TV producer. Her passion for entertainment began at a very young age, she nurtured it over the years and is now a force to be reckoned with in the industry.
Born on the 2nd of October 1970 in Stratford, New Jersey, Kelly Maria Ripa was only 3 when she started taking ballet classes and also learned to play the piano. Her interest in dance continued through to high school where she became a cheerleader at Eastern Regional High School in Voorhees Township, New Jersey. Kelly was so good at cheerleading that her teacher recommended she pursue a professional career in acting, which would make her the first in her family to chose the profession. Clearly, Ripa was cut out for the entertainment business right from the get-go.
Exploring Kelly Ripa's Career Beginnings
After Kelly Ripa graduated from high school, she proceeded to study psychology at Camden County College, New Jersey. While in college, she began performing in local theatre productions. During the same period, Ripa gained her first exposure as a dancer on the dance music reality show, "Dancin' On Air", and later, its successor titled "Dance Party USA".
While performing in a local theatre production titled "The Ugly Duckling" Ripa was discovered and offered her first major role of Hayley Vaughan on the ABC daytime soap opera, "All My Children". She made her debut on the show in 1990 and portrayed her role on the ABC show for 12 years from 1990 to 2002.
She received two Soap Opera Digest Awards for her role and also received two Daytime Emmy nominations. While Ripa was on "All My Children", she also appeared in a number of movies including Marvin's Room (1996), The Stand-In (1999), and Someone to Love (2001).
Joining "Live! With Regis And Kelly" And Her Rise To Fame
In 2000, when Kathie Lee Gifford left the ABC daytime morning talk show "Live! with Regis and Kathie", Kelly Ripa was selected by Regis Philbin as the replacement after she immediately impressed at the on-air auditions. Ripa made her official debut on the show in February 2001. And it wasn't long before Kelly's wit gave "Live! with Regis and Kelly" an incredible 80% surge in ratings among the younger demographics. Her natural sense of humor seemed to have blended perfectly with Philbin's and the show soon recorded an average of 6 million viewers daily.
After Regis Philbin retired from the show at the age of 80 in November 2011, Kelly replaced him as the chief host and the show was renamed Live! With Kelly. In order to find a replacement for Philbin, Ripa opted for the same on-air audition process which she underwent. Retired NFL player and former New York Giants star Michael Strahan was chosen as a replacement. "Live! With Kelly and Michael" premiered in September 2012 and that same year, the show won its first Daytime Emmy Award for Outstanding Talk Show. Kelly received $20 million annually for her hosting duties, while her co-host, Strahan, was earning $10 million.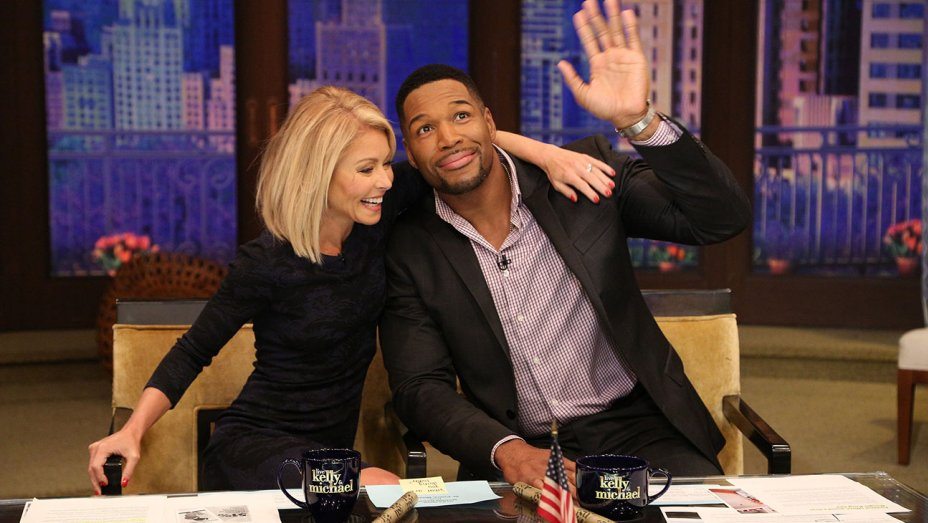 In April 2016, after four years of co-hosting Live! with Michael Strahan, Kelly learned on set that Strahan was exiting the show for Good Morning America, the ABC flagship morning news program. Angered and shocked by the sudden revelation, Kelly quit the show returning only a week later.
Tensions between Strahan and Kelly forced Strahan to make his Good Morning America premiere four months earlier than the slated time. As an apology and compensation for their unacceptable action, Disney, the parent company of ABC promoted Kelly to executive producer of Live!, raising her salary in the process. Ryan Seacrest later replaced Michael Strahan as co-host on the show.
Her Net Worth and Other Sources of Income
As stated earlier, Kelly earns around $20 million annually for her ABC host duties. Her assets are estimated at over $120 million. As one of the most powerful women in media, she has been an ideal candidate for endorsement deals. Her active longtime partners include Ryka and Electrolux; however, in the past, she has endorsed 7Up, TD Bank, and Tide.
Together with her husband, Mark Consuelos, Kelly owns the production company – Milojo – which they founded in 2007. The company name is a combination of the names of their three children – Michael, Lola, and Joaquin. The company's first short film, "The Bensonhurst Spelling Bee" (2012) which featured the couple and their son, Michael, went viral online with over 1 million views.
Kelly is known for her expensive and lavish lifestyle. She owns an Upper East Side townhouse which she bought for $27 million and another mansion in the Hamptons.
Kelly Ripa's Family Life With Her Husband And Kids
From what we have discussed so far, it has been established that the media personality is married to Mark Consuelos; it was in 1996 that she got married to Mark, who was her co-star in All My Children. Yes, Kelly Ripa's husband is also an actor. Consuelos, who was born in Spain, is Mexican on his father's side, and Italian on his mother's side.
The couple met in 1995 on the set of All My Children where he portrayed the role of Mateo Santos. Like it was for Kelly, the soap opera was also the big break for Consuelos. The two later got married in Las Vegas in May 1996 and were very secretive about it. In fact, many thought they were still dating at the point when they were already married.
The lovebirds have three children – Michael Joseph Consuelos (b. June 1997), Lola Grace Consuelos (b. June 2001), and Joaquin Antonio Consuelos (b. February 2003).
The oldest child of the family, Michael, has made quite a name for himself in the entertainment industry; he is known for his work in The Bensonhurst Spelling Bee (2012), The Goldbergs (2013), and Riverdale (2017).  Lola decided to walk a different path and opted to get her degree from New York University.
The youngest child, Joaquin, has also followed their parents' footsteps and has been pursuing a career in entertainment. Notably, he has appeared on the TV shows like "Entertainment Tonight" and "Live with Kelly and Ryan".