An accomplished American actress, Kellie Martin represents a most eloquent example of the power of a focused mind and a determined attitude. The Life Goes On star came into the industry at the tender age of seven and has been a serial award winner from when she was 15, recording over 75 movie roles so far.
While most people who started as child actors would either drop out of school to keep their occupation or have to quit acting to go to school, Kellie has done both exceedingly well. She has one of the longest filmographies you can find and yet, she was able to graduate with honors from the Ivy League college, Yale University.
Still very active, Kellie was one of the starring actors in the Lifetime TV film Death Of a Cheerleader which aired in February 2019. Interestingly, the film is a remake of a 1994 NBC psychological thriller TV film A Friend To Die For in which Kellie also acted, although in a different role.
The given is but a tip of the iceberg when it comes to discussing the life, career, and personality of the Yale alum Kellie Martin. So, come with us as we explore the life of the colossus even more.
Who is Kellie Martin?
The superstar actress was born as Kellie Noelle Martin on October 16, 1975, in Riverside, California, USA. Her parents are Doug and Debbie Martin. All we can say about Kellie Martin's childhood is that she started wanting to be associated with a career in the movies quite early. Such an overwhelming interest was what moved her aunt who worked as a nanny for Michael Landon to talk about her with the now-veteran actor, director, and producer who allowed her to audition for his TV drama series Father Murphy which was airing on NBC at the time.  Also, when Kellie was eleven years old, she contested on Bob Eubank's version of the TV game show Card Sharks and when prompted to introduce herself, she said, among other things, that she wanted to be a film director.
As for her education, we do not know where Kellie Martin may have attended elementary school. She, however, said she had her high school via private tutors to enable her to be on the set of Life Goes On where she appeared in 83 episodes between 1989 and 1993. She eventually went to study art history at Yale University, even as she continued her career as an actress. At a time in 1998, while she had a running role on the NBC medical drama series ER, the pressure got so much on her that she announced that she would be abandoning her role to enable her complete her college curriculum. But, it seems she eventually changed her mind because she continued to appear in the role until 2000 and graduated from Yale in 2001.
See Also: Missy Peregrym – Bio, Husband and Family, Movies and TV Shows
Meet Kellie Martin's Husband?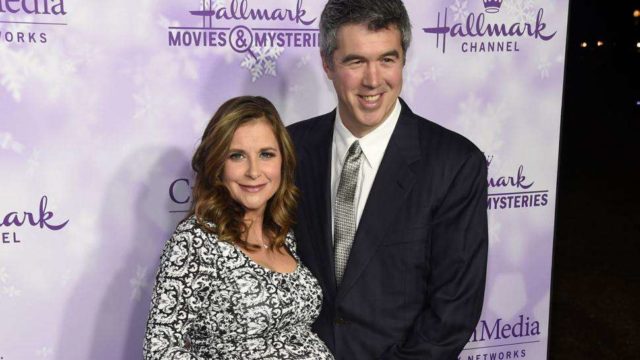 Kellie Martin got married to a lawyer named James Keith Christian on May 15, 1999. More popularly known simply as Keith Christian, Kellie's husband is the aviation attorney at the Los Angeles office of the law firm, Irell & Manella LLC. The duo met as students at Yale.
Besides working as a lawyer, Keith also owns and runs a ranch in Colorado. However, he is a native of Polson City in Lake County, Montana, USA. it may interest you to know that his wedding with Kellie Martin in 1999 held in his hometown, Polson.
So far,  Kellie and Keith share two beautiful daughters. The first one named Maggie Christian was born on November 4, 2006, 7 years after their wedding. Ten years later, the couple welcomed another daughter named Olivia James Christian on February 13, 2016. The couple celebrated the 20th anniversary of their married life on May 15, 2019.
Net Worth
As of 2019, Kellie Martin is widely reported to have an estimated net worth of $3 million. Of course, she has gathered this much mainly from her acting career on TV and feature films. But, she has also been doing other things asides acting. She wrote a well-received piece named Madam: A Novel of New Orleans from Plume (paperback published on Amazon in February 2014). She also owns an online toy shop at ROMPstore.com.
Kellie Martin's Movies And TV Shows
Since her first credited movie role in 1982, Kellie Martin has so far filled no less than 75 roles in more than 90 projects. For the purpose of this publication however, we are going to be touching her most important roles so far.

As already hinted, she started at the age of seven by acting as 'Flossie' in one episode of the NBC drama series Father Murphy (created, produced and directed by Michael Landon) in 1982. Two years later, she appeared as 'Lisa Ratchett' in an episode of another NBC drama series Highway to Heaven. After that, she scored minor roles in a number of other projects such as Life with Lucy, The Hogan Family, Wonderful World of Disney, The Tracey Ullman Show, Dallas, Potato Head Kids, Thirtysomething, and Secret Witnesses, and more.

Kellie Martin landed her first major role in 1988 in the ABC animated comedy series, A Pup Named Scooby-Doo where she voiced the character of Daphne Blake from 1988 to 1991. Again, from 1991 to 1995, Kellie filled another voice role as 'Molly Tazmanian Devil' in Taz-Mania.

Admittedly, there is hardly any doubt that Kellie's best performance so far was in the ABC series Life Goes On where she portrayed Rebecca Thatcher from 1989 to 1993. She is also popular for her role as Samantha Kinsey in the Hallmark Channel series, Mystery Woman (2003–2007). Since 2016, she has been playing the titular role in the Halley Dean Mystery franchise – part of Hallmark Movies and Misteries (HMM).

Although her mainstay is TV series, Kellie Martin has also appeared in about a dozen feature films. She was Missy Roberts in Body Slam (1986), Jen in Malibu's Most Wanted (2003), and Debbie Delaney in Open House (2004).

Fact Check: We strive for accuracy and fairness. If you see something that needs updating,