You can refer to him as Neo, or you can call him Ted, but if you are speaking to a modern-day fan of Keanu Reeves, the most appropriate nickname to use would be 'Internet's boyfriend', a title the famed actor acquired through his rare display of kindness and love for someone in his profession. As with boyfriends, learning about your partner's family is important and there has been growing interest about Keanu Reeves sisters, one of whom was an actress.
As fans of the Canadian actor and musician ourselves, we went looking for everything to know about Keanu's sisters and you read all about our findings below. Check 'em out.
Who is Keanu Reeves?
Before diving into details about his sisters, here is a brief look at who Keanu Reeves is.
He is an actor who was born on the 2nd of September 1964 in Beirut, Lebanon as the son of Samuel Nowlin Reeves, Jr. and Patricia Taylor, a performer, and a costume designer
Keanu began his career as an actor in 1984 and he has appeared in a string of iconic and classic movies ever since, including movies such as Bill and Ted's Excellent Adventure, Point Break, Speed, The Matrix and the John Wick franchise.
The actor has won a few awards for his performances, including a star on the Hollywood Walk of Fame.
Who are Keanu Reeves Sisters?
Contrary to the well put together and wholesome image that Keanu Reeves currently has, his background was very much different, although it was no fault of his. His parents, Patricia Taylor and Samuel Nowlin Reeves, Jr were only together for the first three years of his life before he abandoned their family, due to an inclination to drugs and alcohol.
In the year he left the family, Keanu welcomed his sister, Kim Reeves. After the divorce, Patricia Taylor's other attempts at a relationship with Robert Miller led Reeves to gain a step-sibling, Karina Miller while he gained another sibling, his second third sister, through his long-lost father, Samuel Nowlin Reeves, Jr.
All the Facts About Keanu Reeves Sisters: Kim, Emma, and Karina Reeves
Kim Reeves
Kim Reeves is the only known biological sister of Keanu Reeves. She was born on the 16th of September 1966 in Sydney, New South Wales. Like Keanu, she had a difficult childhood, because her father left before she was born. Although she spent time in Sydney and New York City, Keanu Reeves' first sister, Kim Reeves spent a majority of her childhood growing up in Toronto, Ontario.
She followed her older brother into the field of entertainment, specifically acting and she made her debut in the 1992 film, Samurai Vampire Bikers from Hell. Her only other appearance as an actress was a decade after when she appeared in the film, The Color of Water. She also wrote and directed the film.
However, her attempt at building a career was cut short when she was diagnosed with leukemia. She battled the disease for about a decade during which her brother, Keanu Reeves was at the height of his career as the star of the sci-fi film, The Matrix.
Using the wealth garnered over the course of his career, Keanu Reeves spent a significant amount taking care of her, including donating millions to research and charity organizations in hopes of a miracle, a miracle that finally came after a decade when she was diagnosed with the disease.
As for her what she is doing now, she lives a peaceful life away from the spotlight, and she is believed to be living somewhere in Europe, specifically Rome, Italy.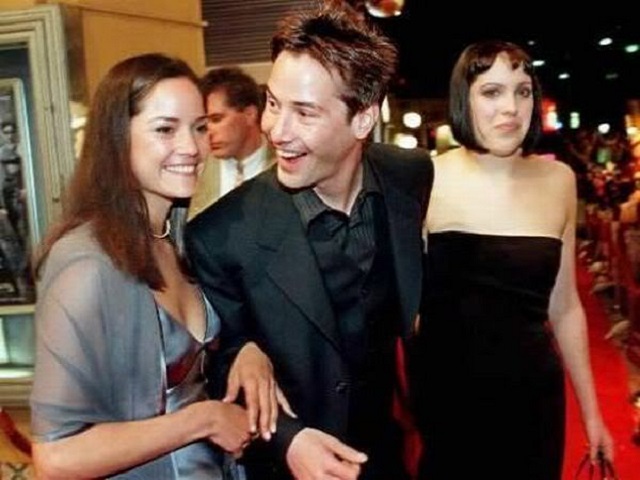 Karina Miller
Another of Keanu Reeves' sisters is Karina Miller, a younger step-sister who was born in 1976 to his mother, Patricia Taylor and one of her subsequent husbands, Robert Miller.
Despite her relationship with the actor, very little is known about her, but she is known to also be involved with the entertainment industry, working as a film producer. So far, she is credited with producing the films, To the Bone, The Big Ask and Semper Fi.
Her father, Robert Miller was married to Keanu Reeves' mom for four years between 1976 and 1980.
See Also: With A Net Worth Of $350 Million, What Does Keanu Reeves Spend His Money On?
Emma Reeves
The last of Keanu Reeves' sisters is Emma Reeves, known to have been born to his father, Samuel Nowlin Reeves, Jr. in 1980 in Hawaii. Other than the fact they share a father, not much is known about her. So far, she has managed to be the most reclusive of the famous actor's sisters.

However, it is known that Keanu Reeves maintains a good relationship with his family, and spends time with them, whenever he can.

Fact Check: We strive for accuracy and fairness. If you see something that needs updating,