Age/Date of Birth:

September 2, 1964
Height:

6 feet, 1 inch (1.86 m)
Ethnicity/Race:

Mixed: Chinese, English, Irish, Native Hawaiian, and Portuguese descent.
Nationality:
Canadian
Wife or Girlfriend:

Husband or Boyfriend:


Previously married Jennifer Syme (1998–2000)
Currently dating Alexandra Grant
Parents:
Father: Samuel Nowlin Reeves, Jr.
Mother: Patricia Taylor
Net Worth:
$360 million
Canadian actor, director, producer, and musician, Keanu Charles Reeves is notable for many blockbuster movies and does not hesitate to share his success with co-actors and crew. He once gave away most of his earnings from the blockbuster trilogy The Matrix to the special effects and costume designer team of the movie because according to him, they were the real heroes of the movie which was a box office darling. Reeves has also given up on earning millions just so his production team could afford ace actors for his movies like Al Pacino for The Devil's Advocate and Gene Hackman for The Replacement.
Despite having an emotionally unstable childhood – his father left him and his mother when he was just 3 years old and his mother went on to marry three more times after that, Reaves was still able to make it big in the entertainment industry. He's talented, noble, humble, down to earth, generous, a nice guy and drop-dead gorgeous; what more can one look for in an actor that Keanu Reeves doesn't have already? Since the 2000s, Reeves has been a Hollywood megastar and as of 2020, he holds the enviable title of "the nicest man in Hollywood".
But having conquered an unfavorable childhood to succeed in his career, how has Keanu's personal life as an adult been? Is he in a happy marriage already, or is he still struggling with relationships? Here's every bit of thing we know.
Brad Pitt Distracted His First Known Girlfriend
It's quite unfortunate to note that Keanu Reeves despite having won the hearts of millions as an actor, hasn't been so lucky in real-life relationships. In the budding years of his acting career, Keanu began dating fellow actor, Jill Schoelen. The duo met each other on set of the 1986 movie, Babes in Toyland.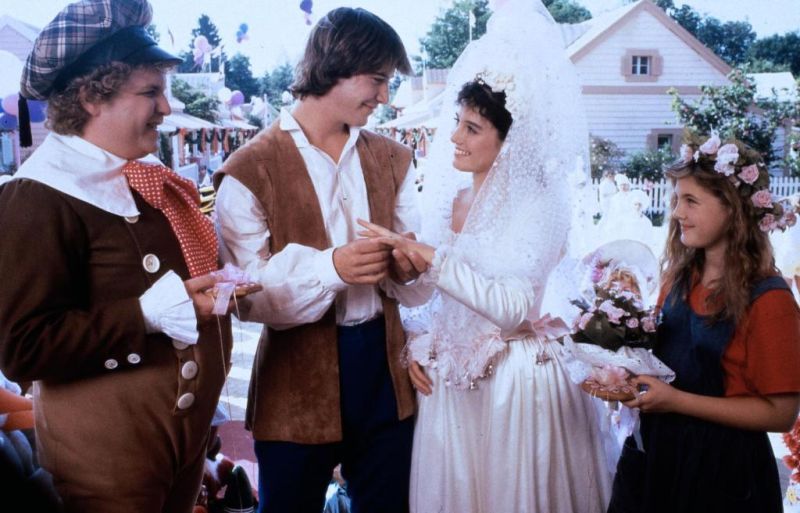 After about three years of romance, Jill started eyeing another budding actor – Brad Pitt, or vice versa. Whichever, she broke up with Reeves in 1989 and switched to Pitt. That same year, Jill and Brad became engaged but it lasted for just three months. Although they never married, Jill Schoelen took home the title of 'Brad Pitt's first fiancé'.
A Short But Sweet Stint with Sofia Coppola
Keanu Reeves began dating Sofia Coppola in 1991. Keanu met Sofia while he filmed Bram Stoker's Dracula, a 1992 horror film produced and directed by the latter's father, Francis Ford Coppola. The lovebirds had several romantic dates together to and fans had expected them to take things to the next level.
They however, wrapped things up in 1992, after about a year of enviable romance.
Reeves' Tragic Affair with Syme Changes His Life
It's quite a tragedy for one to lose a girlfriend, especially when he loses her to a colleague; the case of Keanu when he lost Jill Schoelen to Brad Pitt. But that was nothing compared to what greeted Reeves' next serious relationship. After making do with one or two movie co-stars between 1992 and 1997, Keanu Reeves began dating actress Jennifer Syme in 1998.
Few months into their romance, Syme became pregnant with a daughter. But unfortunately, she gave birth to a still baby on 1999 Christmas Eve, eight months into her pregnancy. The loss of their child put a strain on their relationship and they eventually separated some weeks later.
The worst tragedy? While Keanu and Jen were reportedly trying to work things out, the latter lost her life in an auto crash. The night before the fateful day – April 2, 2001, Syme attended a part at Marilyn Manson's place. Shortly before daybreak, a fellow attendee drove her home but later left her house in her Jeep to return to the party.
Reportedly driving under alcoholic influence, Jen drove into a row of cars parked along Los Angeles' Cahuenga Boulevard. Since she wasn't wearing a seat belt, the force of the collision threw her out of the car, killing her on the spot. The police recovered a variety of prescription drugs and other substances from Syme's car. Her mum subsequently revealed she was seeking treatment for pain and depression some days before the accident. She may have been depressed by her double loss – her daughter and Reeves.
Following these ugly incidents that saw Keanu bid permanent goodbyes to the people he loved, the actor started looking at relationships from a very different perspective. He lived alone in hotels and avoided serious hookups.
Keanu Reeves' 'Abstinence' Sparks Gay Rumors
Following his above decision – to take romance unserious, Keanu Reeves only made friends with women he met in the course of his career. Some of these friendships such as the one with Claire Forlani sparked dating rumors. But despite trying severally not to be alone, nothing came off anyone of the friendships.
Then came the gay rumors! Having no date on his side for several years, especially while walking the red carpet, fans began wondering if Keanu has turned gay. After all, it happens sometimes that when things doesn't work out with the opposite sex, some folks resort to same-sex stuffs.
But did Keanu Reeves actually turn gay as speculated? Not at all.
He Has Been Dating Alexandra Grant for Years
While many regard Alexandra Grant as Keanu Reeves new girlfriend, reports hold that the duo have been seeing each other for some years before making their debut public outing as a couple at LACMA's 9th Art+Film gala held on November 2, 2019. That was actually the first time the Speed actor made an official appearance with a girlfriend or publicly admitted he was in a relationship in over two decades. Reeves and Grant were also a couple on the red carpet of the 92nd Academy Awards (Oscars 2020) gala.
Keanu's new love, Alexandra Grant (b. 1973) is an unconventional 6'1″, grey-haired visual artist – far from the kind of girlfriend fans may be expecting for the internet's boyfriend. It's not at all that Hollywood kind of romance. Grant even told British Vogue that everyone she knew gave her a call following her red carpet appearance with Reeves. They were all like, what???
But aside from their romantic relationship, Grant and Reeves have been in a business relationship a long time ago. The duo reportedly met each other in 2009 at a dinner party and connected due to a shared passion in art and literature. Grant subsequently designed and created illustrations for Keanu Reeves' 2011 book, Ode to Happiness. The duo later collaborated on another book in 2014, with Reeves providing the texts and Grant, the photographs. The pair presently run a publishing company called X Artists' Books.
With Alex, Keanu appears to be gradually letting go of his Syme-aftermath decision. The couple who are obviously very happy and content with each other recently sparked engagement/marriage rumors. That was after several social media photos of grant wearing a ring on her marriage finger went viral. While a spokesperson of Reeves has debunked the claims, the John Wick star admitted in an interview with Parade that he actually wants to get married and have kids but needs some time to do so.
Profile Summary
First Name:
Keanu
Last Name:
Reeves
Also Known As:

The Wall The One
Sex/Gender:

Male
Profession:

Actor, Musician, Film Producer and Director
Famous For:
His affair with Alexandra Grant
Colleges/Universities Attended:

Etobicoke School of the Arts,
Avondale Secondary Alternative School,
Educational Qualifications:

N/A
Religion:

Non-religious
Birthday & Zodiac

Age/Date of Birth:

September 2, 1964
Zodiac Sign:
Virgo
Birth Place:

Beirut, Lebanon
Nationality:
Canadian
Ethnicity/Race:

Mixed: Chinese, English, Irish, Native Hawaiian, and Portuguese descent.
Country of Residence:

Canada
Physical Attributes

Height:

6 feet, 1 inch (1.86 m)
Weight:

Weight -84 kg
Eye Colour:

Black
Hair Color:

Black
Other Body Measurements:

Chest: 43 inches
Waist: 35 inches
Arms / Biceps Size: 14 inches
Relationships

Marital Status:

Single
Spouse/Partner:

Jennifer Syme (1998–2000)
Alexandra Grant (2019—present)
Family and Relatives

Father:

Samuel Nowlin Reeves, Jr. (Geologist)
Mother:
Patricia Taylor (Costume Designer & Performer)
Children:

Ava Archer Syme-Reeves
Siblings:
3 Sisters:
Emma Reeves and Kim Reeves
Emma Reeves
Karina Miller
Other Relatives:

N/A
Net Worth
Estimated Net Worth:

$360 million
Salary:
$2.5 million
Source of Wealth:

Acting, investments