Since Katy Perry got her big break in 2007 when she released the video, Ur So Gay, she has made the news for several reasons related to her music. However, with her growing fame came an interest in her personal life. Over the course of her career, which has lasted over a decade, Katy Perry's relationship timeline has been filled with several personalities both in and outside of the music industry.
So far, she is most known for her relationships with Russell Brand and Orlando Bloom, who, unlike a majority of her other relationships, are better known for their work in the film industry. In between her relationship with both of them, Katy has been involved with a couple of other men. In this article, we took a look at her dating history. Check it out.
Katy Perry's Relationship Timeline
Justin York
The I Kissed a Girl singer's first boyfriend was Justin York, a singer who is known for his partnership with the band, Paramore. According to Katy Perry herself, she lost her virginity to him in a not so romantic experience.
Matt Thiessen
Katy Perry started her professional music career as a Christian singer so it is not at all surprising that her relationship timeline includes a Christian artist.
Between 2003 and 2005, she was involved with the Christian rock singer, Matt Thiessen who sings for the band, Relient K. The two of them had something good going on for a while, which included joining Matt on stage for duet performances.
Johnny Lewis
Katy's first relationship with an actor was with Johnny Lewis, who is known for his role on Sons of Anarchy. The relationship lasted for a year between 2005 and 2006 and it reportedly ended as a result of his wayward lifestyle.
Although it was a short relationship, it is believed to have been a deep one and Kate Perry's songs – Circle The Drain and The One That Got Away were reportedly about him.
Travie McCoy
One of her early music partnerships was with the Gym Class Heroes lead singer, Travie McCoy. She starred in the video of the band's single, Cupid's Chokehold but their partnership went beyond a professional one.
During the early days of her career, Katy Perry had the first major name on her relationship time with Travie, whom she dated between 2007 and 2009. The relationship was not the most popular thing in the zeitgeist while they were together but it was known to hardcore fans of both artists.
Their relationship reportedly ended via email as a result of Travie McCoy's drug abuse.
Russell Brand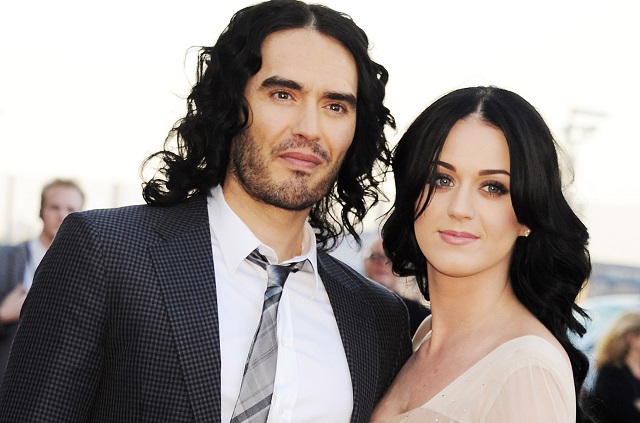 Katy Perry's relationship with Russell Brand is probably one of the most interesting relationship stories in Hollywood history, and you can read more about it here where we discussed it in detail.
They were together between 2009 and 2011, and during that time, they packed a lot of their eccentricities into the relationship, including a marriage and a divorce Russell announced to her via a text message on the 31st of December, 2011.
John Mayer
Katy Perry is a world-famous musician and it is no surprise that the majority of the men she has been with have also been notable names in the music industry. One of the most significant names in Katy Perry's relationship timeline is the music icon, John Mayer, whom she was in a relationship with between 2012 and 2014. Katy describes Mayer has her best lover ever but Mayer appears to have a different opinion of the relationship.
Diplo
The famous disc jockey, Diplo was in a short relationship with Katy Perry for a few months in 2014 after her relationship with John Mayer came to an end.
Although the relationship was between two high profile music personalities, it was barely a fixture in pop culture and it is most known for the comments of both parties about the relationship after it ended. Katy Perry famously called him her worst lover while Diplo responded by saying he did not remember having sex.
See Also: Miley Cyrus & Liam Hemsworth Relationship Timeline: How Did They Meet?
Orlando Bloom
And finally, the man who appears to have stolen Katy Perry's heart and given her a reason to love again – Pirates of the Caribbean star, Orlando Bloom.
They began dating in 2016 and although it hasn't been all smooth, which included a temporary break up in March 2017, they have remained together and got engaged in February 2019 during Valentine's Day. Will it be anything like her marriage to Russell Brand? Time will tell.
Others
Other reported but unconfirmed names in Katy Perry's relationship history include Jared Leto in 2014, Riff Raff in 2014, Robert Ackroyd in 2012, and Baptiste Giabiconi in 2012.