Age/Date of Birth:

March 28, 1975
Height:

5 feet, 4inches (1.63 m)
Ethnicity/Race:

Mixed of German, English, and Scottish descent
Nationality:
American
Wife or Girlfriend:
Single
Parents:
Father: Kenton Kreider
Mother: Charlene Kreider
Net Worth:
$500 Thousand
Kate Gosselin is an American TV personality. She gained international fame on the reality TV show Jon & Kate Plus 8 which documented her life and that of her ex-husband as they raised their 8 kids which consist of a set of twins and sextuplets.
Irrespective of the fact that she has only been a part of a handful of projects, there is no doubt that Kate has had a career that is eventful as much as her private life has been fascinating and controversial. Of late, people keep up with her not because of her career, but because of the many family challenges hanging around her neck.
Everything Worth Knowing About Kate Gosselin's Birth Family
Kate was born Katie Irene Kreider on March 28, 1975, in Philadelphia, Pennsylvania. She is of English, German, and Scottish descent. Her father, Kenton Kreider (born May 1, 1949) is a preacher while her mother, Charlene Ruth Kreider (née Kolak, born January 14, 1958) owns a trailer park/campground in Lancaster.
She Has Four Siblings
Kate hails from a family of five children of which she is the second child. She has a brother named Kevin Kreider and three sisters named Kendra Wilber, Clairissa Kreider Mertz, and Christen Largent.
Her siblings are not in the spotlight like Kate, thus, no details about their lives are public knowledge. As such, even their date of birth and other personal data are not known. Nonetheless, they seem to be doing well in their respective homes.
Meet Her Ex-husband and Children
The family Kate Gosselin has built is not your typical modern American family as it is a very large one made up of her now ex-husband and 8 children.
Jon Gosselin
Full name: Jonathan Keith Gosselin
Date of birth: April 1, 1977
Occupation: Reality television personality
In 1999, Kate married Jon Gosselin whom she met at a company picnic in 1997. Jon grew up in Wyomissing, Pennsylvania, where he was also born. Before his marriage to Kate, Jon was just living a normal life with his family until his sextuplets arrived, attracting so much media attention that they landed a family show. Discovery Health aired a special – Surviving Sextuplets and Twins, chronicling their family adventures in September 2005 and the next year, another show titled Sextuplets and Twins: One Year Later was aired. Both got favourable reception from viewers and guaranteed more TV time for the family. Their show was later transferred to TLC.
Jon also teamed up with Kate and Beth Carson to write a New York Best Seller titled Multiple Blessings: Surviving to Thriving with Twins and Sextuplets. Since his marriage to Kate ended and he ceased appearing on the TV shows, Jon has done a lot of jobs to get by. He worked with Green Pointe Energy where he helped with solar panell installation in 2011 and by 2013, he worked in different restaurants as a waiter. He also worked as DJ on different occasions but as of May 2020, he worked as an IT director at a healthcare facilty and lately, he has been with Amazon as an IT Technician.
The Twins – Cara Nicole and Madelyn "Mady" Kate
Full name: Cara Nicole & Madelyn Kate Gosselin
Date of birth:

October 8, 2000

Occupation: Students, Reality TV stars
Education: Lancaster Country Day School
Kate and Jon welcomed their first set of offsprings in 2000, she birthed twin girls Cara and Madelyn.
The girls came premature at 35 weeks gestation but were soon nursed to normal. Kate went through fertility treatment which is a possible reason for the multiple birth and when the twins arrived, Jon was averse to having more children. A second fertility treatment, however, produced three times more than what they already had.
Mady and Cara are enjoying their time in college, away from the spotlight. They are both in New York but attend different schools. Though far from home, the twins still maintain a good relationship with their family.
Cara is six minutes older than her fraternal sister Madelyn.
The Sextuplets – Joel, Collin, Aaden, Hannah, Leah and Alexis Gosselin
Full name: Alexis Faith, Hannah Joy, Aaden Jonathan, Collin Tomas, Leah Hope, Joel Kevin
Date of birth: May 10, 2004
Occupation: Reality TV stars, student
In May 2004 with the help of another fertility treatment after suffering from polycystic ovary syndrome, Kate gave birth to her next set of children, sextuplets including three sons and three daughters.
Joel is the last born among the sextuplets while Alexis Faith is the first. Weighing 2 pounds, 9.7 ounces at birth, the sextuplets were delivered at Hershey Medical Center in Hershey, Pennsylvania, the same place the twins were born.
Collin, one of the sextuplets, made the headlines in September 2020 when he claimed that his father has been physically abusing him. The claim was debunked by his sister Hannah who ascerted that their father has shown nothing but love for them. Jon Gosselin won custody of both Collin and Hannah has been living with them since 2018.
Hannah seems to have a special place in her heart for animals as pictures of cats and dogs are all over her Instgran page.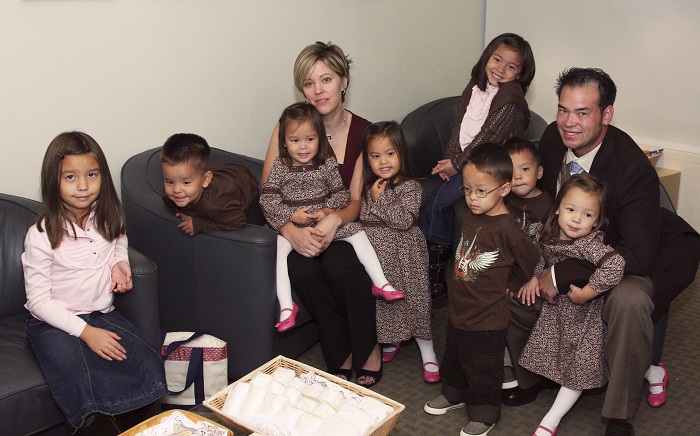 Meanwhile, being a mom is not all Kate does. She had received a diploma at the Reading Hospital and Medical Center in Reading, Pennsylvania, and became a registered nurse. After birthing her sextuplets in 2004, she retired as a labour nurse but that only marked the beginning of a career as a television personality.
Gosselin's Rise To Fame With Jon & Kate Plus 8 TV Show
An atypical family with eight kids, Kate's family received much attention from the media. They were first featured in NBC reality show Home Delivery which was filmed in their revamped Wyomissing, Pennsylvania home. In 2005, they were then featured in a special titled "Surviving Sextuplets and Twins" on Discovery Health. Following the popularity and high ratings of the sequel, Discovery Health signed the family to a reality series titled "Jon & Kate Plus 8". The series began airing in April 2007 and after the first two seasons, it was moved to The Learning Channel (TLC). The family received $25,000 per episode of the series.
The show ran until 2009 when it was put on hiatus following Kate's divorce from her husband Jon. However, after the divorce was finalized, the show restarted with the name "Kate Plus 8", Jon made random appearances. In 2011 and after two seasons, the show was put on hold as a result of a series of controversies between Kate and Jon. However, reruns and specials of the show aired on TLC.
How Did Kate Gosselin Achieve Her $500,000 Net Worth?
As Kate Plus 8 wasn't as successful as the original show, Kate opted for other means of making money. She featured on other reality TV shows including "Dancing With The Stars", "Celebrity Apprentice" featuring Donald Trump, "Celebrity Wife Swap", and others. She was to start her own show, "Twist of Kate" but it was later cancelled.
Kate Gosselin also made money from penning books, her first two books debuted at #5 on the New York Times Best Sellers List.
The reality TV star owns a home in Wernersville, Pennsylvania which she got after parting ways with her husband Jon. The home costs $1.2 million and she used to reside there with all her eight kids. In all, it is believed that Kate is worth $200,000, part of which she earned from her speaking engagements, church tours, and image rights.
The Aftermath Of Her Divorce From Jon Gosselin
There hasn't been a clear narrative as to what led to their divorce but it has often been said that Jon grew tired of having his kids in the spotlight. He has insisted that Kate cares more about being relevant and popular than the welfare of their kids. As usual with reality TV stars, she also had to share her home with the crew of "Kate Plus 8." Having such external persons around and in your house more often than not can be quite unnerving. As such, Kate had a few rules to help her and her kids cope with the situation. Such rules include a no smoking policy in or around the house. Apparently, this wasn't enough for Jon.
They often engaged in verbal fights that led to them announcing their decision to part ways sometime in June 2009. Their divorce was finalized in December 2009 with Kate getting the primary custody of the kids. She was also awarded the ownership of their family home. Jon hasn't backed down but has engaged Kate in a legal battle for the custody of their children since then.
He has been able to win physical and legal custody of two of his kids as Hannah and Collin now live with him. Four of the sextuplets are with Kate while Mady and Cara are now college students. Jon is not happy with the way things are, he once lamented that Kate has turned the kids against him. In all, Jon and Kate Gosselin have been alienated to some of their kids just as some of the siblings are estranged.
Who's Kate Gosselin Dating Now?
After divorcing Jon, Kate Gosselin began dating millionaire Jeff Prescott, a divorced father of three kids who is the COO and Co-founder of an Internet-based stockpiler and supplier of digital images, Dreamstime. The company's media outlets for both corporate and personal clientele were valued at $15 million as of 2007 and this value is estimated to have increased to about 20 times its former worth in recent times.
See Also: 26 Most Expensive Celebrity Plastic Surgeries
Their relationship came to limelight in October 2014, which is almost 5 years after her divorce. However, just after a year in 2015, the pair broke up and much of this has been attributed to his indifference or sudden development of cold feet to appearing on the reality show "Kate Plus 8". He was then spotted with his new 26-year-old girlfriend from Belarus. She is a model and a business-major who interestingly speaks five different languages.
Kate would later state that she never dated Jeff but the man has insisted that they dated for almost two years and that what they had was quite serious he considered buying a home close to hers. It is believed that she is single at the moment.
Profile Summary
First Name:
Katie
Last Name:
Gosselin
Also Known As:

Kate
Sex/Gender:

Female
Profession:

TV Personality
Famous For:
Jon & Kate Plus 8
Colleges/Universities Attended:

Reading Hospital and Medical Center
Educational Qualifications:

Diploma Program
Religion:

Christianity
Birthday & Zodiac

Age/Date of Birth:

March 28, 1975
Zodiac Sign:
Aries
Birth Place:

Philadelphia, Pennsylvania, U.S.
Nationality:
American
Ethnicity/Race:

Mixed of German, English, and Scottish descent
Country of Residence:

The United States of America (USA)
Physical Attributes

Height:

5 feet, 4inches (1.63 m)
Weight:

60kg (132 lbs)
Eye Colour:

Green
Hair Color:

Dark Brown
Other Body Measurements:

Breast: 37 inches
Waist: 28 inches
Hip: 36 inches
Relationships

Marital Status:

Single
Spouse/Partner:

Previously married Jon Gosselin m. 1999 –2009
Family and Relatives

Father:

Kenton Kreider
Mother:
Charlene Kreider
Children:

Twin daughters: Cara Nicole & Madelyn Kate Gosselin (8 October 2000)
sextuplets: Hannah Joy Gosselin (10 May 2004 )
Collin Thomas Gosselin(10 May 2004)
Aaden Jonathan Gosselin (10 May 2004),
Leah Hope Gosselin (10 May 2004)
Alexis Faith Gosselin (10 May 2004)
Joel Kevin Gosselin (10 May 2004)
Siblings:
3 sisters: Kendra, Christen and Clairissa
1 brother: Kevin
Other Relatives:

N/A
Net Worth
Estimated Net Worth:

$500 Thousand
Salary:
$250,000 per episode of the "Jon & Kate Plus 8" show
Source of Wealth:

"Jon & Kate Plus 8"