As prestigious and exciting as acting can be, not everyone wanted to do it for the rest of their lives. Some are perfectly fine working for a few years, racking up some credits to their name before moving on to other professions. Kate Capshaw belongs in this category, as she worked as an actress for twenty years before she called time on her career and retired from the profession.
While she was a working actress, Kate starred in movies like Indiana Jones and the Temple of Doom, Just Cause, Love Affair, and several others. Other than her work as an actress, she is also known as the wife of the legendary director, Steven Spielberg. Here in this article, we explore everything you need to know about her. Read on.
Who Exactly is Kate Capshaw?
Kate Capshaw was born and named Kathleen Sue Nail on the 3rd of November, 1953 in Fort Worth, Texas to parents Edwin Leon Nail and Beverly Sue Simon. She was born into an upper-middle-class family that consisted of a father who was an airline employee and a mother who was a travel agent and a beautician.
Her parents relocated to St. Louis, Missouri when she was five years old and she graduated from Hazelwood Central High School before heading over to the University of Missouri where she earned her bachelor's degree in education. Kate Capshaw always had a dream to become an actress but before she eventually took the plunge, she was a school teacher in Southern Boone County High School and in Rock Bridge High School.
Eventually, she quit her work as a teacher and headed over to New York City where she began the journey of becoming an actress. After a couple of months, she got her first role as an actress in 1981 in the show, The Edge of Night, appearing in two episodes as Jinx Avery.
It was the start of twenty years in Hollywood for Kate Capshaw. She followed up her appearance in The Edge of Night with her first movie, A Little Sex in the following year, playing the character, Katherine. Before the 80s were over, Kate starred in several works both on the big screen and TV productions, such as Private Affairs, SpaceCamp, Power, Windy City, and several others. She continued to appear in various movies well into the 90s before quitting in 2002, with her last project being the TV movie, Due East, where she starred as Becky Purdue.
Over the course of twenty years as an actress, Capshaw starred in 29 movies and TV shows, which included popular movies like Indiana Jones and the Temple of Doom.
Her Net Worth
In the twenty years in which she worked as an actress, Kate Capshaw made a significant sum such that along with her other investments, she has kept her net worth north of $20 million despite having retired for over 15 years.
Meet Her Husband and Children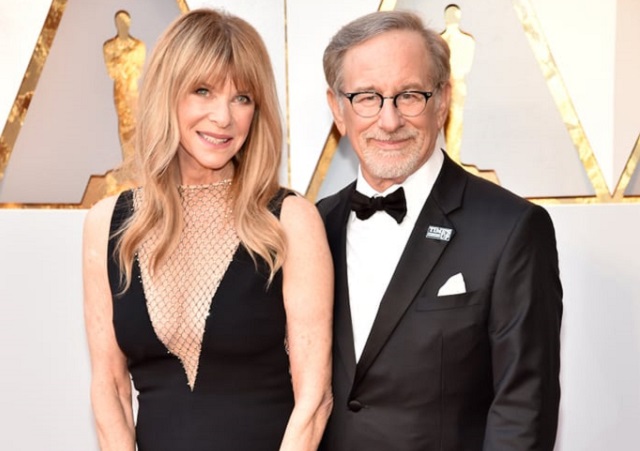 Since 1991, Kate Capshaw has been married to Steven Spielberg and they have raised a couple of children ever since. Before her marriage to Spielberg, she was married to Robert Capshaw between 1976 and 1980. While they were together, Kate and Robert had a daughter, Jessica Capshaw.
After 11 years of being a divorced mother, Kate, who had met Steven Spielberg on the set of Indiana Jones, had gotten attached and was in a relationship with the famous director. they got married on the 12th of October, 1991 and they have remained together ever since.
The couple has given birth to three children, Sasha Rebecca Spielberg, Sawyer Avery Spielberg, and Destry Allyn Spielberg. Other than their biological children, they adopted Theo Spielberg and Mikaela George. As a result, Kate Capshaw and Steven Spielberg have a total of seven children including Steven's son, Max Samuel Spielberg from his previous marriage.
See Also: Facts About James Franco's Girlfriend – Isabel Pakzad

Kate Capshaw's Body Measurements
You will rarely see Kate Capshaw strutting her stuff in public these days as compared to her working days when every movie and industry event required her to. Still, in her rare outings, she maintains the elegance and beauty that made her an admirable actress.
Kate Capshaw has a height of 5 feet 7 inches and a fitting body weight of 64 kg. She also has a body measurement of 37, 26 and 37 inches for her bust, waist and hip sizes respectively. Additionally, she is known to wear a US size 8 dress and has a bra size of 34C.