Calm, calculated and very talented, Kaitlyn Leeb is a Canadian actress who has been hailed for being one of the very absorbing Canadian movie stars to watch on TV. She is renowned for her gripping portrayal of the many characters she has been challenged with during her career. A very beautiful woman, she has also been a model who mesmerized fans with her many appearances in ad campaigns and on billboards.
As an actress, Kaitlyn Leeb is now best known for her portrayal of Jennifer Doolittle in the TV series, Degrassi: The Next Generation. She is also known for her work on Shadowhunters, another TV series in which she starred as Camille Belcourt.
Kaitlyn Leeb – Bio and Age
Kaitlyn Leeb was born on the 18th day of June in the year 1988. The actress was born as Kaitlyn Wong in North York, a town in Toronto, the capital city of Ontario, Canada. She took on the name Kaitlyn Leeb when she got married. Even though the actress is clearly a Canadian, it is noteworthy that she also has Chinese and Irish roots.
According to some sources, Kaitlyn showed that she was talented in acting early in life when she often took part in acting while in high school. She went on to model for brands before finally kick-starting her career.
Details about the institutions where she had her elementary and high school education has remained elusive. However, we know that she attended York University, a public research university in Toronto, Ontario from where she graduated with a degree in Psychology.
Family
The identity if Kaitlyn Leeb's parents has remained in the dark over the years. However, some sources have claimed that her mother also used to be a model. Even though not much is known about her parents, it is reported that they divorced when Kaitlyn was still young.
She has three siblings whose identities are equally unknown but it is reported that the actress has a very strong bond with her family.
Movie and TV Series Credits
Kaitlyn Leeb kick-started her acting career in 2009 after she was cast in Beautiful People, a TV Series. In the same year, she appeared in The Jazzman as Valerie. In 2010, with her confidence in front of the camera building up, she proceeded to star in Blue Mountain State, another TV Series and in Aaron Stone as well as one feature movie, Locked Down in which she appeared as Trina.
The actress got her big break on TV in 2012 when was cast in Degrassi: The Next Generation, a Canadian teen drama television series in which she portrayed Jennifer Doolittle. Her work on the series was praised by many fans and critics. She went on to star in other high-rated movies and series including Grave Halloween in 2013, Seed in 2014 and Single Ladies in 2015.
Kaitlyn Leeb got her name on many people's lips in 2016 when she was cast as Camille Belcourt in Shadowhunters, an American supernatural drama television series. The series became very popular and launched Kaitlyn into more global acclaim. The next year, in 2017, the actress continued her exploits with appearances in Slasher, a Canadian anthology horror TV series in which she put up a thrilling performance as Susan.
After starring in Christmas with a Prince, a 2018 TV Movie, Kaitlyn Leeb was cast as Leah in Spinning Out, an American web television series in 2019.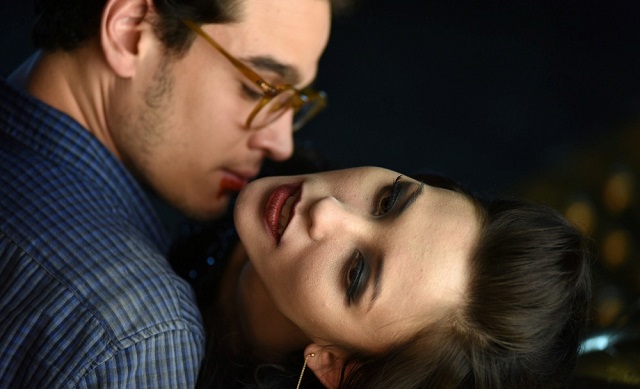 She was a model
Before she kick-started her acting career, Kaitlyn Leeb was a model; this was how she started out in the entertainment industry. Being a beautiful woman by all standards, it was not difficult for her to land modeling gigs.
Kaitlyn Leeb worked as a print model and appeared in many ad campaigns as well as billboard campaigns for companies which included Dentyne Ice, Virgin Mobile, and even FUZE fruit drinks.
She is Married 
Kaitlyn Leeb is married to a man called Ted Leeb who happens to be an equity trader. It is not clear when the couple met and fell in love but it is believed that they dated for a while before finally tying the knot. The couple got married in August 2013 and have been together ever since.
She has a Daughter
The actress is a mother. Following her marriage to Ted Leeb, they tried for a baby and finally welcomed their child, a daughter in 2016. The girl is called Avery Elizabeth Leeb. She is very fond of her daughter and has often posted the girl's photos all over her Instagram page.
Net worth
Having been in the movie industry for quite a while, Kaitlyn Leeb is expected to have raked in a substantial amount of money over the years. She has appeared in several feature films and TV series which have garnered her wide acclaim, fetching her lots of money in the process.
At the moment, her net worth has been estimated to be between $1 million to $1.5 million by celebrity wealth calculators.
Body measurements
Kaitlyn Leeb is a beautiful woman who has the right body shape to complement her beauty. The actress stands at 5 feet 4 inches or 1.64m in height. In addition to this, she is reported to weigh about 55 kg or 121 lbs. Her body measurements have been revealed to be 32 inches (breasts), 26 inches (waist) and 35 inches (hips).