Kacie McDonnell is a proficient sportscaster who is currently working as the lifestyle and sports host of Fox Nation, an American subscription streaming channel that is a spin-off from Fox News. Asides Fox News, the gorgeous sports journalist has been associated with a few other popular media establishments in the country over the past years.
She isn't someone who can go unnoticed if you are a fan of NHL's Boston Bruins or MLB's Boston Red Sox. She has also served as an anchor for the New England Sports Network (NESN) owned by the ice hockey and baseball teams from August 2016 to August 2019. Thanks to her career, she became a public figure, and since she was thrust into the limelight, many have been curious about details of her personal life.
Kacie McDonnell Graduated From Villanova University
Renowned for her impeccable communication skill, Kacie McDonnell began her journey in sports journalism by attending the popular Roman Catholic high school in Pottsville – Nativity BVM High School. She started schooling there in 2004, graduated in 2008, and moved on to Villanova University, the private research institution located in Radnor Township, Pennsylvania. From there, she graduated with a Bachelor of Arts degree in Communication in 2012.
Concerning her year of birth, people often wonder how old Kacie McDonnell is; well, the question ends here. Records have it that this media personality was born in 1990 on the 30th of July. As she takes pride in calling herself Philly Girl, one may be tempted to think that she is a native of Philadelphia. This is not so; it was in Pottsville, a city in Pennsylvania that she was born. Her parents have long been identified as Ken and Michele McDonnell. Kacie isn't their only child; they are also the parents of Lochlan and Isabelle McDonnell.
She Briefly Worked As A Model Before Joining Fox News
Kacie spent almost three and a half years working as an on-air model for QVC, in West Chester, Pennsylvania, before landing her first sports journalism gig at Fox News. She precisely worked with the establishment from April 2009 to August 2012. Kicking off her career in journalism with Fox Television, she served as a traffic reporter and producer in the Greater Philadelphia Area.
This lasted for more than 2 years – from August 2012 to August 2014. In the same month the previous year (2013), she started covering Eagles pregame, working as a sideline reporter. The next year (2014), from April to August, Kacie anchored Fox 29 program Good Day Philadelphia.
Her Career-Defining Moment At NESN & Return To Fox News
Subsequently, the sports reporter moved to Kansas City, Missouri, where she worked with KSHB / KMCI / The EW Scripps Company as a reporter. This was from September 2014 to August 2016, and with Sporting Kansas City, she served as a sideline reporter and pre/postgame host from February 2015 to August 2016. That's not all; Kacie McDonnell equally had a brief stint that lasted from March to April 2016 with Turner Sports as a courtside reporter, covering the NCAA Men's Final Four.
It was sometime in August 2016 that she became an anchor at NESN, a media outlet that is regarded in several quarters as the most-watched network in New England. Lady Kacie is mostly known for her work with the American sports cable and satellite television network, where she, among other things, anchored NESN Sports Update, NESN Live, and NESN Sports Today in Greater Boston area.
Waking up after my last show at @nesn. 3 years went by in a blink. I did some serious professional and person growing here and I'm forever grateful! I'll keep you all posted on the next chapter. Your messages have been so sweet! In the meantime… THANK YOU, BOSTON! I love you! pic.twitter.com/RKHzAB22Ok

— Kacie McDonnell (@KacieMcDonnell) August 14, 2019
Following the expiration of her contract with NESN in 2019, Kacie McDonnell joined Fox Nation as a lifestyle and sports host in the same year 2019. Immediately after joining the subscription streaming channel of Fox News, she hosted the red carpet show for the Patriot Awards in St. Petersburg, Florida, also in 2019.
See Also: Mandy Kay Biography – 6 Interesting Facts You Need To Know
Kacie Has Mostly Dated Hunk Sportsmen
Kacie McDonnell has had a love life that is as popular as her career, and it has been quite dramatic for her. Since she became a public figure, she has been romantically involved with several popular individuals in the sports world, and we have all the deets right here.
Christian Ponder
To the best of our knowledge, Kacie McDonnell started dating Christian Ponder, the ex-American football quarterback sometime in 2009. For reasons best known to them, the relationship survived for only two years. Following their split, Christian Ponder moved on and married ESPN reporter, Samantha Ponder, on December 17th, 2012. The couple welcomed their first daughter, Bowden Saint-Claire Ponder in 2014 and also gave birth to their son, Robinson True, in 2017.
Jonathan Pettibone
After her separation from Ponder, Kacie started seeing another athlete, an American professional baseball player, Jonathan Pettibone, in 2013. Apart from their photo uploads on Twitter, the lovebirds were spotted at many places, including their hangout at the Chase Utley's All-Star Animals Casino Night in 2013. But then, the Kacie-Jonathan romance was fated to last for only a few months as their relationship hit the rocks the same year.
Aaron Murray
When Kacie and Jonathan parted ways, Aaron Murray, an American football quarterback stole the heart of the journalist while he was still playing college football in Georgia in 2013. A few months after being drafted by the Kansas City Chiefs in the fifth round of the 2014 NFL Draft, Murray proposed to Kacie McDonnell in October 2014.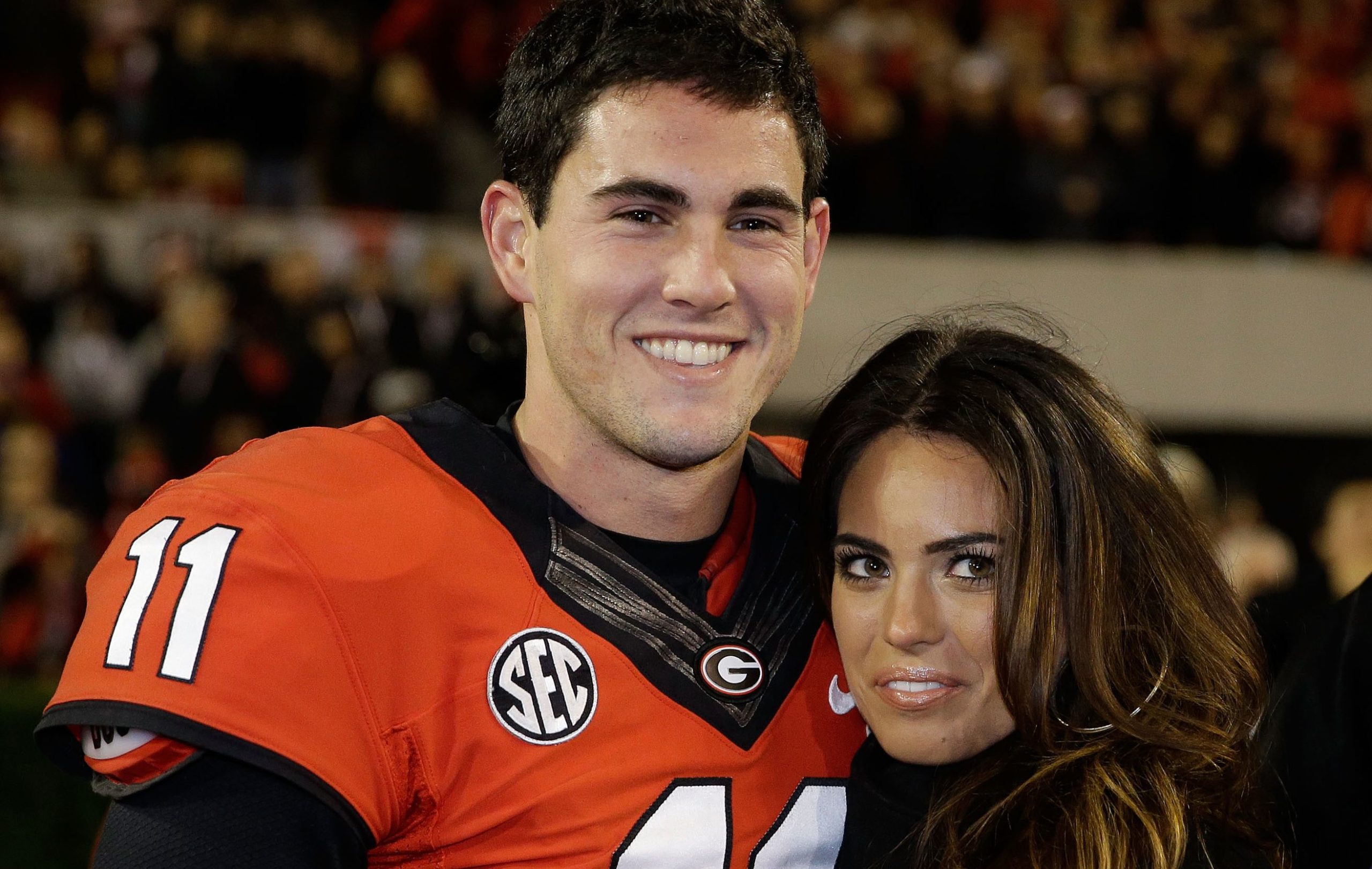 They started making serious plans for their wedding thereafter and were seen checking out some event venues in Philadelphia. Everyone was anxiously waiting for them to announce the date for the event when it emerged that they have called off the engagement in January 2015.
Reasons Behind Her Failed Engagement
People were left scratching their heads at what might have caused Kacie McDonnell to call off her engagement to Aaron Murray. It was later rumored that they parted ways because the footballer did something he shouldn't have done with Andi Dorfman, who was engaged to Josh, his older brother. While this claim hasn't been substantiated in any meaningful way, many have embraced it, because Josh called off his engagement with Andi two weeks earlier.
Kacie's grandmother further added fuel to the rumors by saying that Aaron knew what he did, and he had to live with it. When quizzed further on whether she was referring to Aaron's alleged affair with Andi Dorfman, Kacie's grandmother replied that it could be and that she can't take the chance of that coming back on Kacie who has moved on with her life. However, this is not the first time such an incident happened between the brothers as they allegedly had affairs with a lady named Brittany McCord while they were in a relationship with their respective fiancées.
The Sportscaster is Currently Dating Eric Hosmer
The media personality kickstarted another romantic relationship in the year 2015 after she separated from Aaron Murray. This time, she started dating Eric Hosmer, an American professional baseball first baseman for the San Diego Padres of MLB.
Even though they are 3000 miles apart from each other, their love is growing by leaps and bounds as technology bridges the gap and makes it possible for them to talk and see each other every day. Kacie McDonnell disclosed that Eric has been her biggest cheerleader for over four years now. Having been together since 2015, and considering the way things are for them, one can only anticipate an engagement in the soonest.