There has been an outburst of fine female rappers over the previous decade and Justina Valentine is one of those who has shown that they wouldn't be rushing out of the industry as quickly as they gained attention thereof. This singer and songwriter isn't just another American female rapper as she has equally excelled as a model. Thanks to singles like "Unbelievable", "All The Way" and "Candy Land" which featured the "Trap Queen" rapper Fetty Wap, Justina has established herself as an entertainer who wouldn't be ignored.
Disregarding her music career, this rapper is a familiar face on television. While she has been a regular cast member of the improv and sketch comedy tv series, Wild 'N Out since 2016, you will find her featuring as herself on MTV's reality game show, The Challenge: Champs vs. Stars.
Many questions have been asked about her since she became famous with people wanting to know more about her early life as much as her career and musical influences. Keeping that in mind, the following are the facts worth knowing about the rap star.
Who is Justina Valentine?
In New Jersey, somewhere in Passaic County, Justina Valentine was welcomed into the world; this was on the 14th of February and in the year 1987. While things like the identity of her parents and siblings (if any), her upbringing and educational background have remained a mystery, it is known that she hails from a family that is inclined to the art of making music. Reports have it that Justina has always been an entertainer. She took dance lessons as a kid and also participated in plays at school and in her home town.
Currently signed to N'Credible Entertainment, Nick Cannon's record label, the rapper who was with SRC Records reportedly started recording her own music way back in 2006. Nonetheless, it was in 2012 that Justina Valentine dropped her first mixtape titled Route 80. It was a successful effort to a large extent as listeners quickly noticed her ability to work with soul-infused sound. This, in addition to the pop traces in her songs, distinguished her from the rest of the rappers striving to announce themselves on the music scene.
Leveraging the attention that Route 80 brought her, she dropped an EP titled Valentine the following year (2013). The EP's performance was worth it so she released another mixtape, Red Velvet, sometime in July 2014. What followed next was Scarlet Letter, her studio album which was released in 2016. The next year (2017), she dropped yet another mixtape – FEMINEM. Take away the "F" from that title and you will find that the legendary white rapper, Eminem is one of those she draws her inspiration from.
How Much Is The Rapper Currently Worth?
Considering the increased attention Justina Valentine has been gaining in the music industry, it is only normal that people have been making inquiries about the wealth she has been able to gather from her career. Over the years, this rapper has earned some good sum not only from the songs she has created but from tours and her online shop (justinavalentine.com).
Even as she hasn't been part of any tour in recent years, it is only fair to assume that the ones she embarked on consecutively from 2012 to 2017 paid her well.
You may find various figures quoted as Justina Valentine's net worth but it'd be mischievous for us to authenticate any of them, her actual net worth at this time is best known to her.
See Also: Tank (Musician) – Biography, Career Earnings, and Quick Facts
Is She Married or in a Relationship?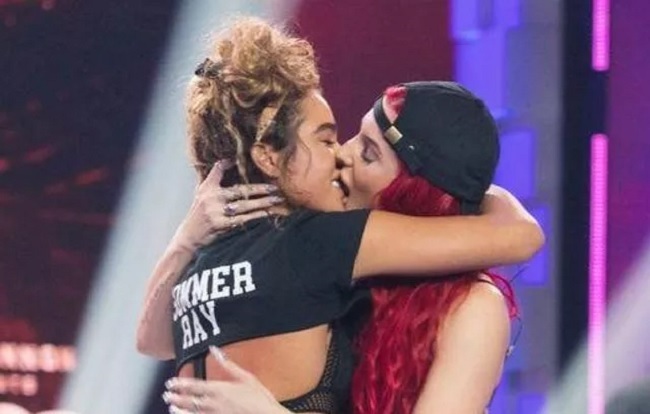 To the best of our knowledge, it has not been very busy for Valentine in the love department. It is believed that the musician is single and there are almost no records of her having any relationship in the past, apart from the time it was rumored that she and Sommer Ray are an item.
Ray is an American fitness model who has amassed over 20.4 million followers on Instagram as at the time of this writing. She was born in Colorado on September 15, 1996.
Why would it circulate that Justina Valentine and the fitness model are lovers, is the rapper gay? Well, while we have been unable to ascertain her sexual orientation, here's what we know – sometime in November 2017, and on the show Wild 'N Out, the rapper and Sommer Ray made out live on TV.