We are currently living in the age of technology and as we progress with each passing year, new products and services are invented, granting the creator fame and massive wealth. While the world is already familiar with tech pioneers like Mark Zuckerberg, one of the lesser-known names is Justin Kan, who is the brain behind the creation of the video streaming and chat platform, Twitch.
His creation has since become the primary video game streaming platform in the world and it comes as no surprise that he sold the video game streaming platform for almost $1 billion to Amazon.
His career as a software developer and a creator has made him someone of interest in the tech industry and in this article, we will take a look at everything you need to know about him.
Justin Kan's Biography
Justin Kan was born on the 16th of July, 1983 in Seattle, Washington. Very little is known about his parents but he is known to have been born to at least, one Asian parent. He has a brother named Daniel Kan.
Right from high school, he has always exhibited brilliance and a level of creativity that eventually landed him in Yale University where he earned two bachelor degrees in both philosophy and physics, graduating in 2005.
Two years after graduation, he and his partners, Emmett Shear, Michael Seibel, and Kyle Vogt created Justin.tv. The project was the broadcast of Justin's life via a live video feed with the use of a webcam attached to his head. The idea was the elementary stage of what would later become live streaming but at the time, it was a new concept and the video feed project lasted eight months, during which it attracted the attention of media organizations and earned Kan an interview on the Today Show. He was interviewed by the renowned journalist, Ann Curry.
Having gained modest recognition for his work, Justin Kan and his team decided to expand on their video streaming concept and create a platform for anyone to publish a video stream. The platform, which would later become Twitch.tv, was created and launched in 2007.
The Internet Entrepreneur's Career Growth
The initial success of the webcam project resulted in the rapid growth of Justin.tv's popularity and within a short period, it witnessed over 30 million unique users per month. Justin Kan and his team, built the platform with different categories such as tech, sports, entertainment, social and gaming and while each category had significant users, it was the gaming category that led the pack, growing at a rapid pace enough for Justin to create a platform of its own, in what became TwitchTV.
Justin Kan launched the public beta of the platform in June 2011 and it continued its growth to become the leading gaming streaming platform in the world. The platform was sold to Amazon in August 2014.
Outside of his Twitch project, Kan has had other projects, such as Socialcam, a mobile social video application that was designed to help users capture and share videos online. The project was modestly successful and it was sold to Autodesk in July 2012, one year after it was launched in March 2011.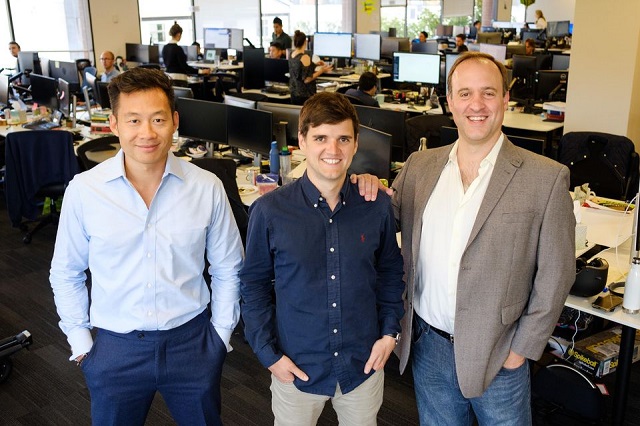 Justin Kan's desire to continue to innovate and create hasn't stopped. In February 2012, he launched another, Exec, which was a service platform designed to help users outsource anything they wanted for a small fee per hour. On the project, Justin Kan worked alongside his brother, Daniel Kan. Later on, the company was sold in January 2014. Justin Kan currently runs a legal startup, Atrium.
How Much Money Does He Make?
Having sold Twitch for $970 million and also had another project, Socialcam bought for $60 million, Justin Kan has been able to accrue a total net worth of $100 million.
He has used his net worth in funding other projects including being a member of Y Combinator, a capital fund that bankrolls other startups, and he also owns his own incubator, Zero-F.
See Also: Arun Nayar – Bio, Net Worth, Wiki, Facts About The Entrepreneur
Other Facts About Justin Kan
He is the co-founder of a music discovery platform, The Drop. The platform was launched in 2015 and it was founded in partnership with one of his college friends, Ranidu Lankage.
Kan was a member of the first batch of recipients of Y Combinator. His project at the time in 2005, was for Kiko Calendar.
He is a regular contributor on the tech news website, TechCrunch.
Justin Kan has an active presence on social media, particularly on Instagram and Twitter via the handle, @Justinkan.