Justice Smith came into public attention after he got his co-starring role as Radar in the movie adaptation of Paper Towns. From then on, it was a continuous upshoot for the young actor. He had his next big break after he got cast in the lead role for a Netflix musical drama series, The Get Down. While the series got canceled after one season, Smith's career received a big boost thanks to the part he played. Though raised by singers, Smith already had his sights on acting from a very young age.
If you're curious about the young actor's net worth as well as his relationship with Will Smith, you've come to the right place. Find out everything there is know about Justice Smith down below.
What We Know About Justice Smith's Upbringing
The star was born Justice Elio Smith on August 9, 1995. A Los Angeles, California native, he's the fifth child in a family with nine children, which puts him right in the middle. He has four sisters – Felicia, Cameo, Adrienne, and Victoria. He also has three brothers – Mark Cruz, Richard, and Wayne Jr.
Justice had come up with the plan to become an actor from an early age, in part due to his parent's influence. He then joined the Orange County School of the Arts (OCSA) which caters to middle and high school students, with classes from the 7th to the 12th grade. As part of the school's Acting Conservatory, Smith would go for academic classes in the morning and have acting classes in the afternoon.
While at OCSA, Justice Smith loved Shakespeare, appearing in several plays adapted from the playwright's works. When he was in senior year, he was selected to join the YoungArts program. Other YoungArts alumni include Kerry Washington, Viola Davis, and Josh Groban. With the YoungArts program, Smith had to fly to Miami, Florida (where the program's foundation is based) to spend a week with professionals attached to the program, honing his skills.
During his time with YoungArts, he was nominated for the U.S. Presidential Scholar of the Arts. In 2013, Smith graduated from OCSA and began to appear in shows around Orange County. It continued this way until he landed his first major movie role.
All You Should Know About His Parents
Justice Smith is of mixed heritage; his father, Wayne Smith, is of African-American descent while his mother, Duilia Setacci, is of Italian and French-Canadian descent. Both his parents are singers, and his mother is the owner of Duivision Productions, a company that focuses on music video productions, among other things.
While growing up, Smith never took to singing because of his parents. Whenever he tried to sing along to a song he liked, his parents would always scold him about his tone and try to get him to improve at every turn. According to him, his parents' competitive nature spread through the entire family, and those amongst his siblings who could hit the high notes or could sing the best were congratulated by his parents. Though it put him off singing, it never discouraged Justice Smith from going to his parents' shows and enjoying their performances.
Details About Justice Smith's Early Acting Career
Justice Smith started showing a knack for acting when he was still in kindergarten. He appeared in his school's production of Three Billy Goats Gruff, a Norwegian tale about three goats that travel in search of grass to eat. When he was 15, he got his first professional gig appearing in a commercial for Apple.
Smith got his movie debut in 2012 when he appeared in the Kerem Sanga-directed movie Trigger Finger. He then landed a guest spot in 2014 when he played the character, Angus, in two episodes of Nickelodeon's The Thundermans. The same year, he appeared as himself in HBO's documentary series Masterclass and three episodes of the YouTube vlog, Vlogbrothers. He also got a guest role as a Harry Potter Wanna-Be in the comedy web series, Miss Guidance.
Justice Smith's first major role was when he got cast in the 2015 coming-of-age movie, Paper Towns as the supporting character Marcus 'Radar' Lincoln. Smith was cast alongside Cara Delevingue, Nat Wolff, Austin Abrams, and Halston Sage in the film which was based on John Green's 2008 novel of the same name.
Justice Smith's Breakout Role and Beyond
By 2016, Justice Smith landed his breakout role when he got cast in the Netflix musical drama, The Get Down. Smith, in a bid to do something different from his nerdy character in Paper Towns, auditioned for and got the part of lead role Ezekiel Figuero. The series ran for 11 episodes (one season), which were divided into two parts before it was canceled.
To get into the character of Ezekiel, Smith took up method acting by living in a dilapidated Bronx apartment. In an interview with Vulture, Smith confessed that he was so into the role he would talk like Ezekiel whenever he was with friends; almost losing himself to the role.
Justice Smith appeared in Off-Broadway production of Yen by playwright Anna Fright from January to March 2017. In the play, he acted alongside actor Lucas Hedges on stage. Yen was performed at the Lucille Lortel Theater in Manhattan, New York.
In February 2018, Smith was cast alongside Angourice Rice, Debby Ryan, and Maria Bello in the romantic fantasy movie, Every Day. Later the same year, he was cast as Franklin Webb in the sci-fi adventure movie Jurassic World: Fallen Kingdom.
Smith's rise to fame continued when he landed the lead character of Tim Goodman in the video game movie Detective Pikachu which was released in 2019. In Detective Pikachu, he stars Smith alongside Ryan Reynolds.
2020 saw Smith in the teen romantic drama, All the Bright Places opposite Elle Fanning. He is also slated to appear in The Voyeurs, an erotic thriller. Smith is also expected to reprise his role as Franklin in 2021's Jurassic World: Dominion.
@netflix @NetflixFilm #AllTheBrightPlaces pic.twitter.com/cYVYvq7BX5

— Justice Smith (@standup4justice) December 12, 2019
Here Are Details On His Net Worth
Justice Smith has done quite well for himself since he landed his big break. The series was able to catapult him to the front stage, and he is now at the point where he earns upwards of $50k for a movie role. In 2017, Forbes listed Smith in their Forbes 30 under 30 List. With all said and done, Justice Smith's net worth is estimated to be around $2million. This is thanks to his parts in movies that did quite well for themselves critically and commercially.
Paper Towns was a commercial success, making $85.5million in the box office from a $12million budget. On a $4.9million budget, Every Day made $10.4million in box office returns. On a $187million budget, Jurassic World: Fallen Kingdom soared through the box office with $1.3billion. Meanwhile, Detective Pikachu made $433million off a $150million budget.
See Also: Stan Kroenke Biography, Net Worth, Wife and Other Interesting Facts
Is He Related to Award-winning Actor Will Smith?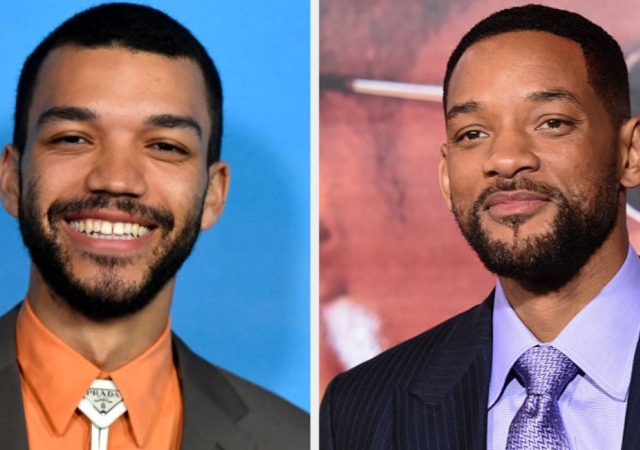 With the two sharing the same last name, it is not surprising that people would think Justice Smith is related to Will Smith, however, that is not the case. The mistaken identity got so rampant that in September 2016, Justice used his Twitter to clarify that he wasn't Will Smith's son. In a candid tweet, he wrote;
hey guys love u I'm not will smiths son if you come up to me telling me stories of "my father" I will have no idea what ur talking bout

— Justice Smith (@standup4justice) September 7, 2016
Will Smith, born William Carroll Smith Jr. on September 25, 1968, is an American actor and rapper who is married to actress, screenwriter, and businesswoman, Jada Pinkett. Together, they have two children – actor and songwriter Jaden Smith, and singer, record producer, and actress Willow Smith. Will Smith also has another son, Trey Smith, from his previous marriage to Sheree Zampino.
Even though Justice Smith and Jaden Smith acted alongside each other in Netflix's The Get Down, the two of them are in no way related.