If the Kardashian sisters are the most famous sisters in Hollywood, the Franco brothers, if they aren't the most famous brothers, are certainly one of the most famous. One of the members of the Franco family is Tom Franco, the middle child of the Franco siblings. While he is not a prominent actor like his siblings, his status as an artist and a member of one of Hollywood's popular families has made his personal relationships worthy of note, which in this case, is his wife, Julia Lazar Franco.
The Franco brothers are noted for their weirdness and although Tom Franco's weirdness does not show on screen, it has in his personal life, by getting married to Julia Lazar Franco in a hospital about a month before she died. The two of them had been dating for a couple of years and were engaged before they made the jump. You can learn more about this and the life of Julia Lazar Franco as a whole by reading below.
Life of Julia Lazar Franco – Biography
Julia Lazar Franco began her incredible life on the 7th of November, 1957 in Vienna, Austria. She was born to parents Marika Nagy and Imre Lazar. Julia would eventually grow up to dedicate her life to art and cooking which was a passion that she picked from her relationship with her parents – her mother who was a cook and her father, a movie director.
It is known that she completed her education in Vienna and nothing else is known of her academic history. Following the completion of her education, she relocated to the US, specifically California sometime in the 80s and began her journey in the world of arts.
While in California, she joined a rock band, Exit and was the band's lead singer until she left for India in the early 1990s for what she considered a soul-seeking journey. She lived in Ganeshpuri in India and worked in an ashram as a cook. After leaving India, she headed to Paris where she studied culinary art at the Cordon Bleu.
When she eventually returned to the US, she joined a local ashram community in Oakland and continued to work as a cook. Alongside other participation in other artistic ventures, including working as a camera operator on the film, Hart Crane: An Exegesis in 2012, and becoming the director of Tom Franco's Firehouse Art Collective, Julia Lazar Franco worked in the ashram until her death.
Relationship with Tom Franco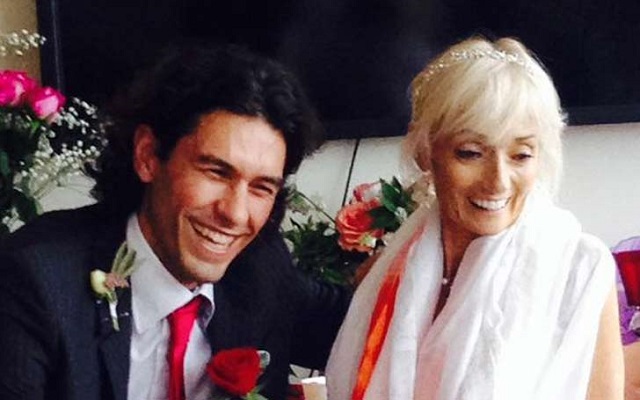 The life of Julia Lazar Franco led her back to the United States, specifically to the Bay Area, Oakland where she would meet Tom Franco, who at the time, worked as the coordinator of the local ashram community's family programs. Having discovered the community, she decided to work as a kitchen cook of an ashram as she did in India; and so, Julia and Tom began to work together.
Through their work together, Julia Lazar Franco and Tom Franco got to know each other and their collective interest in art enabled them to develop a relationship outside their workspace in the community, engaging in various art projects and worked together in establishing one of Tom Franco's projects – Firehouse Art Collective.
Their collaboration with each other eventually led to a romantic attraction between the two of them, and ignoring the massive age difference between them, which was 23 years, they began to date in the early 2010s. Their relationship later grew into an engagement and later into marriage on the 28th of July, 2014 – which lasted for just a month.
What Is His Net Worth?
Over the course of her life, working across multiple professions, from being a musician to being a director and a cook, Julia Lazar Franco was able to accumulate an estimated net worth of $1 million.
How Did Julia Lazar Franco Die?
Unfortunately, Julia Lazar Franco's bright and fulfilling life came to an end on the 25th of August, 2014 in a hospital after battling the chronic liver disease which she contracted while she was a teenager.
Although she was able to manage the disease all through adulthood, it became too complicated in 2014 and she suffered from other diseases like liver cancer, Hepatitis C and kidney failure, resulting in her death.
See Also: Who Is Bessy Gatto, The Wife Of Joe Gatto From Impractical Jokers?
At the time of her death, she was survived by her only child, a daughter, Dawn Schoenherz whom she had with a man named Richard Schoenherz, who is a musician and a composer.