Joyce DeWitt started mesmerizing audiences with great stage performances from the age of thirteen and she has since kept the fire burning. With her most notable roles played in works like Three's Company, With This Ring, and Spring Fling!, Joyce has left her name indelible in the minds of many movie lovers. But despite the level of fame her successful acting career has earned her, DeWitt has always preferred to keep it low, causing fans to always scrape for information about her.
Who Exactly Is Joyce DeWitt?
Joyce DeWitt is a multi-talented American actress and comedian who garnered huge fame during the '70s and '80s. She was born on the 23rd day of April 1949 in West Virginia to American parents Norma and Paul DeWitt who raised her in Speedway, a suburb of Indianapolis alongside her three other siblings. Joyce holds an American nationality with Dutch-Italian ethnicity.
Growing up, Joyce DeWitt began performing on stage at the young age of 13. She attended Speedway Senior High School where she was an active member of the drama group, taking part in most theatre displays organized by her school. Joyce was also a member of the Indiana Forensic Association, a platform that granted her the opportunity to participate in speech and debating competitions.
After her high school graduation, Joyce proceeded to Ball State University where she acquired a bachelor's degree in theatre. From there, she proceeded to the University of California where she earned a master's degree in 1974.
On completing her education, Joyce DeWitt launched her acting career in 1975. She debuted with a role in the ABC detective series, Baretta. She played a minor role of mother earth in the series which ran from 1975 to 1978. Joyce later portrayed Cindy in an episode of Most Wanted TV pilot in 1976. The actress subsequently got small roles in a number of TV series including The Love Boat, The Ropers, With This Ring, and Supertrain.
The TV Project That Shot Joyce To Prominence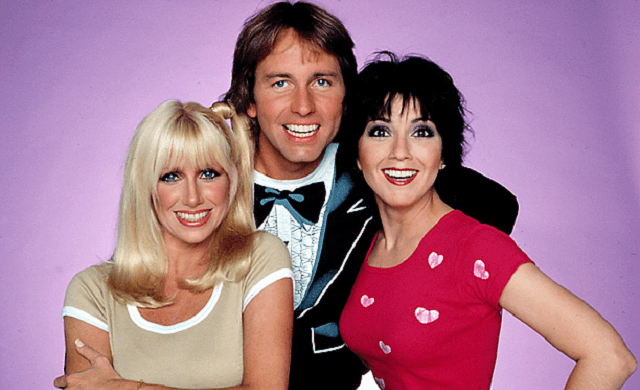 Among all her film roles, Joyce DeWitt is most popular for playing Janet Wood in Three's Company, an ABC sitcom that ran from 1977 to 1984. It was in fact, DeWitt's biggest break and she remains popular for the role to date. Joyce won the career-defining role after featuring in the sitcom' second pilot. ABC had presented her roles in two sitcoms to chose one and Joyce has never regretted settling for Three's Company.
In the series, Joyce starred alongside John Ritter and Suzanne Somers who respectively played Jack Tripper and Chrissy Snow. The show followed the three platonic friends who live in the same apartment in Santa Monica as they go through series of life challenges amidst constant misunderstandings.
Although some of her co-stars left before the end of the show, DeWitt starred in all of the series' eight seasons. Her exceptional portrayal of the humble, brainy and hilarious Wood shot her to the limelight as well as earned her lasting popularity.
Her Later Works
After the end of Three's Company, Joyce DeWitt landed several other television and movie roles. In 1984, she starred in an episode of another ABC series, Finder of Lost Loves. After that, she took a long hiatus from acting. Returning in 1991, the actress starred in a television film, Noises Off. Her next appearance was in the 1995 series, Cybill. She equally featured in Spring Fling, the same year.
During the late '90s and 2000s, Joyce DeWitt featured in a great number of movies some of which include Living Single, Hope Island, My Boyfriends' Dogs, The Nick at Night Holiday Special, and many others. In 2012, she reunited with her Three's Company co-star, Suzanne Somers on her talk show, Suzanne Somers: Breaking Through. Prior to the emotional reunion, the duo hadn't seen nor talked to each other for over 30 years!
Watch the emotional first time reunion b/t @suzannesomers & Three's Company co-star, Joyce DeWitt! http://t.co/LXsOKiKX

— CafeMom (@cafemom) February 2, 2012
DeWitt's recent movies include Falling Better Now, The Great Fight, Snapshot, Rock Story, and the 2018 detective movie titled The Savant.
How Much Is Joyce DeWitt Worth Now?
Joyce Dewitt has built significant wealth since debuting her career. She earns her income from acting in films. Joyce has also expanded her career to include movie directing and other business endeavors.
Although she makes occasional movie appearances in recent years, DeWitt has indeed earned a lot of money from acting. For her role in Three's Company, Joyce reportedly earned up to $30,000 per episode. Missing just one out of the show's 172 episodes, DeWitt really made fortunes from her Janet Wood role.
She has been enjoying a decent lifestyle and her net worth is currently pegged at $4 million.
Check Out: Who are Kate Luyben and Her Boyfriend – Jim Jefferies, Are They Still Dating?
A Closer Look At DeWitt's Personal Life and Relationships
Shedding a glimpse of light on her personal life, Joyce DeWitt has not had very wonderful experiences. Although she is among those celebrities who prefer keeping their personal life under the shades, some aspects of her private affairs have managed to surface on the media.
Joyce was once arrested for drunk driving. That was on 4th July 2009 in the Los Angeles city of El Segundo. In her alleged drunken state, DeWitt had driven past a police barricade near a park, an action that caused the cops to pull her over. The made her go through a field sobriety test after which they booked and cited her. She eventually bagged three-year probation, nine-month alcohol program, and a $510 fine alongside penalty assessments.
In the aspect of her love life, Joyce was in a long time relationship with an actor named Ray Buktenica. Ray is one of the prominent figures of the American movie industry. He is best known for his exceptional performances in movies such as Rhoda, House Calls, and Lois and Clark: The Adventures of Superman, among others.
Joyce and Ray met each other while she was studying at the University of California in Los Angeles. The duo lived together for about seven years before the relationship turned sour due to a series of irreconcilable issues. Joyce had revealed in an interview that Ray made demands from her which were impossible for her to meet up with due to lack of time.
According to the Three's Company star, Buktenica was such a man that wants his lady to "wait on him hand and foot", cleaning the house and fixing dinner unfailingly. The pair eventually separated in 1986. They never made it down the aisle nor had any child together despite the length of their relationship.
Following their separation, Joyce DeWitt has managed to keep her relationships and affairs completely away from the limelight. This has made it difficult to ascertain if she has thereafter, engaged in any other romantic affair. But one thing is obvious, Joyce DeWitt is still unmarried as of the time of writing this article. As for her ex-partner Ray, there is also no news of his subsequent relationships.