Many of us will recognize Joshua Morrow as the actor who plays Nicholas Newman on the long-running soap opera, The Young and the Restless. Most of us also know that the Alaska native has won several accolades and has gone on to establish himself as one of the biggest stars of American daytime television.
However, did you know that Morrow has portrayed the same character for nearly 30 years? Did you also know that the actor has made history as the first soap opera star to land a five-year contract as against the standard four-year one? All these and more interesting titbits about Morrow's professional and personal life are unveiled below.
Joshua Morrow was once an aspiring athlete
While most movie stars grew up knowing that they wanted to go into acting, Joshua Morrow grew up wanting to be an athlete. Born on the 8th of February 1974 in Juneau, Alaska, the young Joshua spent most of his formative years in Oklahoma (precisely Sapulpa, Guthrie, and Skiatook) and as a child, he was involved in several sporting activities including football, basketball, baseball, soccer, track, and tennis. He continued playing up all through his high school days and aspired to make a career out of it. The young lad, however, had to shelve that dream after realizing that he didn't have enough talent to make it in the pros.
He unsuccessfully auditioned for The Bold and Beautiful.
Following the end of his sports dreams, Joshua Morrow moved out to California to complete his diploma at Westlake High School. While there, he joined a local theatrical group, Young Artists Ensemble, and participated in a few of their plays. This made him fall in love with acting and he subsequently decided to pursue a degree in communications, with a minor in theatre.
While studying at Moorpark College, Joshua participated in several school plays and was spotted by a talent scout. The scout helped him to land an audition for the CBS drama, The Bold and Beautiful but he was passed over for the job. This broke Morrow's heart but he took it in stride, and luck shined on him a week later when he was asked to audition for The Young and the Restless. He did so and the rest, as they say, is history.
Joshua Morrow has played the same character for nearly 30 years
Joshua Morrow joined the cast of The Young and the Restless in 1994 and has remained on the show ever since then, portraying the role of resident heartthrob, Nicholas Newman. Nicholas is the son of the all-powerful Victor Newman and his wife, Nikki. He has to contend with a domineering father whilst struggling through a tumultuous love life involving two women, Sharon and Phyllis.
Morrow's work on The Young and the Restless has fetched him five consecutive nominations for a Daytime Emmy for Outstanding Younger Actor. Sadly, he did not win any of those nominations. An award he did win, however, was the Soap Opera Digest Awards for Outstanding Younger Leading Actor (in 1996) and Outstanding Hero (in 2001).
He is the first soap opera actor to land a five-year contract
Joshua Morrow has a net worth of $10 million and his primary source of income remains The Young and the Restless. As a cast member of the show, the actor has broken several ceilings including being the first soap opera star to sign a five-year contract as against the standard four-year contract. Morrow first achieved this feat in 2002 and has gone on to sign other five-year contracts since then. These contracts don't come cheap and have adequately rewarded him for his troubles. Asides Y&R, Morrow has also appeared on other television shows, feature-length films, and short films including A Killer Walks Amongst Us, Tentacle 8, Golden Shoes, Parker, and a couple more. All this has equally contributed to his net worth.
The actor was once a rock star
Morrow formerly belonged to the defunct boyband, 3Deep. 3Deep is a soul-pop band which also comprised of two other members namely Canadian singer, CJ Huyer, and TV actor, Eddie Cibrian. Morrow and his bandmates held sway from 1998 to 2001 and dropped two albums namely Yes Yes Yes…. No No No and Can't Get Over You. They did not experience much success in America but they were quite popular in Asia, Europe, and Canada (where they had a sizable female fan base).
3Deep appeared at several public events including the Juno Awards. They also collaborated with other well-established acts before going their separate ways in 2001. Morrow has now rested that part of his career but he once channeled his vocal talent into performing a song on an episode of Y&R.
His wife is an elementary school teacher
On The Young and the Restless, Morrow is at the center of a convoluted love triangle involving two women. Thankfully, when it comes to real life, there is no such drama. The award-winning actor is happily married to his wife of nearly two decades, Tobe Keeney. There is not much background information on Tobe except that she once worked as an elementary school teacher.
Meanwhile, the couple first met in 1996 and started dating that year. They subsequently got engaged and tied the knot in Santa Barbara on the 4th of August 2001. The couple has remained together ever since then and has built a solid union. They have also welcomed four kids namely sons, Cooper Jacob, Crew James, and Cash Joshua as well as a daughter named Charlie Jo. Morrow has disclosed that he is quite partial towards his daughter and can't say no to her.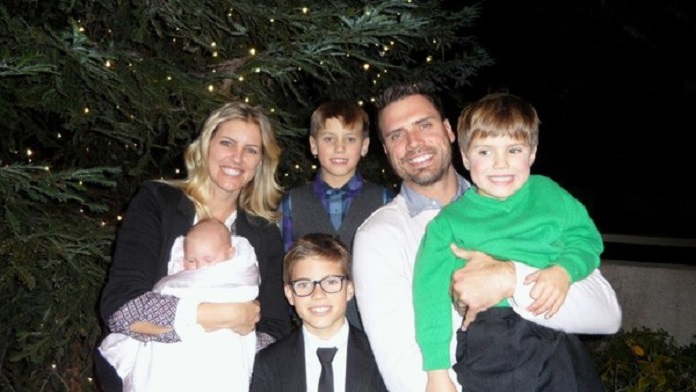 See Also:  Here Is Everything You Should Know About Matt Leblanc's Failed Marriage, Family And His Best Works
His parents divorced when he was just a child
Joshua Morrow initially hailed from a family of four comprising of his father, Kem, mother, Rebecca, and a sister named Jamie. His parents subsequently divorced and their father remarried a lady named Elizabeth. Their mom, Rebecca, also remarried a man named David Nichols and gave birth to two more children namely Tracey and Alexis. Morrow and Jamie initially stayed with their dad after the divorce. They later moved out to California to stay with their mother's family.
Through it all, the actor made sure that his sister got all the love and attention she needed to ensure that she never really felt the effect of their parents split. Jamie is now all grown up and she, alongside their parents, is very supportive and proud of all that Morrow has accomplished in Hollywood.