Josh McCown, an American football player, is best known as the quarterback for the New York Jets of the NFL. McCown may not be listed as one of the fastest quarterbacks but he's got a very good height which has helped him a great deal to intimidate his opponents. Josh's height alongside his fine playing style immensely contributes to the success he currently enjoys.
He became an NFL player in 2002, that came after about a decade-long training and performance in the high school and college. His extraordinary skills fetched him notable state recognition, he received two awards and was even listed in the all-state honourable mention. Learn more about the American footballer below.
Who is Josh McCown and How Old is He?
Born as Joshua Treadwell McCown on the 4th day of the month of July 1979, Josh, as he is fondly called, is the son of Pat and Robin McCown, and a brother to two skilled and former football players – Luke McCown and Randy McCown. He grew up in Jacksonville, Texas, and was a student of Jacksonville High School where he began to display his football talent.
One physical feature of Josh that earned him a quick place in the game of football was his amazing height. He became East Texas' Player of the Year, All-State honourable mention and District 17-4A Offensive Player of the Year in 1997, after completing his senior year. While playing football, Josh played basketball and was also good at the game.
Josh began his collegiate career in 1998, after gaining admission at the Southern Methodist University. While studying History, he joined the University's team known as the SMU Mustangs. With the team, he played for three seasons and recorded great points some of which were SMU's historical highest. A good example was in 1999 when he completed 19 passes in a row against Tulsa, it was the highest consecutive completions in the history of the SMU.
McCown transferred to Sam Houston State University in his final season where he joined the school's team which is the Sam Houston State Bearkats. With his new team, Josh had an amazing season. He recorded 12 interceptions and completed 259 of 429 passes for 3,481 yards and 32 touchdowns. His achievement with the Sam Houston team that season even surpassed his achievements in the entire three seasons with the SMU. In addition to gaining a massive spot in the hearts of the fans of Bearkats, he earned other awards like the SFL Player of the Year, a First Team All-SFL honours in 2001, and was even ranked a Third Team Division I-AA All-American by The Sports Network.
Josh McCown joined the NFL in 2002 after he was drafted by the Arizona Cardinals in the third round of the year's NFL draft. He played with the Cardinals between 2002 and 2005. Josh joined the Detroit Lions in March 2006 after playing for about one year as a free agent. He was the Lions' backup for all 16 games in 2006 while he was being trained as a wide receiver which he later became perfect in.
On April 28, 2007, he joined the Oakland Raiders as a quarterback. He became a free agent on February 29, 2008, and was signed by the Miami Dolphins. Josh kept on changing his professional team, playing for the Carolina Panthers, Hartford Colonials, San Francisco 49ers, and the Chicago Bears to name a few. He joined the New York Jets on March 13, 2018, after signing a one-year contract with the professional team. 
Career Stats
Josh McCown has had a very interesting career in the NFL, playing for seven different professional teams with the Jets being his 8th. His career stats from 2002 down to 2018 shows he's got a completion percentage of 60.2 with a total passing yard of 17,707, 98 touchdowns, 82 interceptions thrown and a passer rating of 79.7.
Salary and Net Worth
After signing a one year $10 million contract extension with the New York Jets on March 13, 2018, McCown earns about $125,000 for each game he starts for the Jets. His net worth is placed at $18.8 Million.
Height and Body Stats
McCown is 6 ft 4 in (1.93 m) tall. The length and size of his arm are respectively 30 1⁄2 in (0.77 m) and 9 in (0.23 m) while his weight is 97 kg.
 See Also: Lamar Jackson Career Stats, NFL Draft and Scouting Report, Height and Weight
Meet His Wife and Daughter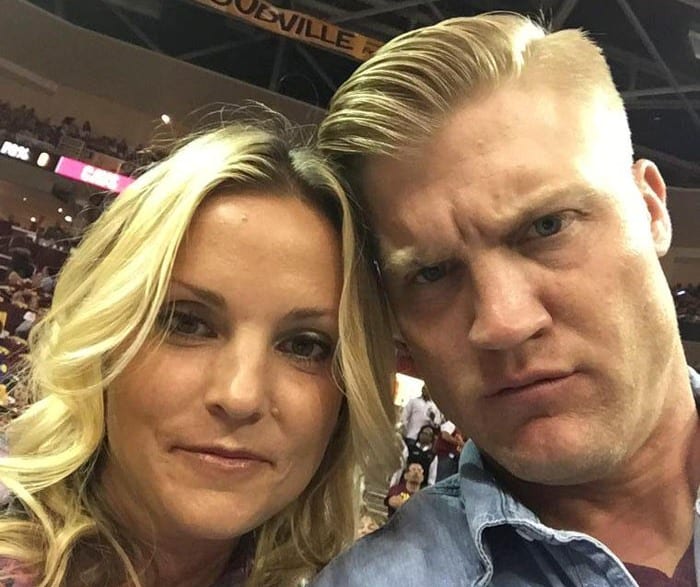 Josh is a married man. He is married to Natalie McCown, his University girlfriend and they have four children who are now grownups. His eldest daughter Bridget was in April 2018 embroiled in some controversies when she teased her father of having someone as young as herself as his backup.

Bridget made this comment after USC quarterback Sam Darnold was selected by the New York Jets in the 3rd overall pick.

Fact Check: We strive for accuracy and fairness. If you see something that needs updating,