Josh Gordon, popularly known as 'Flash,' is a talented American football star who currently plays the role of a wide receiver for the New England Patriots of the National Football League (NFL). The star made his first professional appearance in 2012 after being selected by the Cleveland Browns in the NFL supplementary draft of that year.
He quickly made a jaw-dropping performance, which made him one of the emerging wide receivers in the league. However, after his first two professional seasons, Josh's career started taking a different direction as he began to battle drug addiction. With two full seasons lost to suspension and currently on an indefinite suspension, life is turning out very differently for the wide receiver who began his football life as a high school star.
Josh Gordon's Early Years As a Football Player
Joshua Caleb Gordon was born in Houston City of Texas in the United States on the 13th day of April 1991. Born to Haitian parents Elaine and her husband, Herald Gordon, he spent his childhood days in Houston with his parents and two siblings. Growing up, Josh completed his high school education at Lamar High School, Houston. There, he was a three-sport athlete; he featured in track as well as basketball and football. He developed a passion for football, which has led him to compete among top stars in the National Football League today.
During his high school career, Josh Gordon made four touchdowns and caught 20 passes for 363 yards in his junior year. In his senior year, he scored nine touchdowns while completing 25 receptions for 531 receiving yards. At the end of his high school career, he was named to the All-District First Team for his unparalleled performances. He also got a three-star rating from sporting websites, including Rivals.com and Scout.com.
The wide receiver got an athletic scholarship from Baylor University, and he went on to complete his college career with the school team. In the 2009 season, Josh played only nine games for the team, and he made only one reception for 7 yards. The following year, the wide receiver scored seven touchdowns while completing 42 receptions for 714 receiving yards. While the season was ongoing, Josh and his teammate were found sleeping in a car. After an investigation, it was discovered that the pair were high on drugs. Marijuana was also found in Willie Jefferson's vehicle, which led to his expulsion from the team. Josh, on the other hand, was suspended indefinitely. In 2011, he transferred to the University of Utah, where he sat out for the 2011 season before declaring for the 2012 NFL draft.
His Limited, but Impressive Career Stats
During the NFL draft of 2012, Josh was selected in the second round of the draft by the Cleveland Browns. Soon after he joined the team, he penned a four-year rookie deal worth $5.3 million in July 2012. He made his first professional appearance during the 2012 season where he made giant strides, despite being a rookie. The wide receiver made a total of five touchdowns while completing 50 receptions for 805 receiving yards.
The following season, the player was picked for his first Pro Bowl competition and All-Pro team after putting up an outstanding performance in the season. Josh made history by becoming the first NFL wide receiver to record over 200 receiving yards in a season. At the end of the 2013 season, he earned the PFWA Player of the Year Award for his top-notch performance. He was also named in the first-team All-Pro.
Due to rampant suspensions, despite joining the league in 2012, Josh Gordon has only managed to 63 games, starting 56 of them. So far, he has 247 receptions, 4,252 receiving yards, and has scored 20 touchdowns. He has played for three different teams – Cleveland Browns, New England Patriots, and Seattle Seahawks.
Details of His Suspension, Reinstatements, and Injuries
In 2014, Josh Gordon's career started falling apart as the player was suspended many times for violating the league's drug use policy. At first, he was arrested for driving under the influence and was sentenced to serve a one-year suspension. However, after due consideration, his penalty was later reduced to ten months, and he was later reinstated on the 17th day of November 2014. His gross misconduct cost him from earning a spot in the Pro Bowl that year. He finished the season with 24 receptions and 303 yards.
The wide receiver also incurred another suspension, which took him out for the whole of the 2015 season. He was suspended in February 2015 after testing positive for drugs. Consequently, Josh enrolled at the NFL's drug abuse program thus, missing the entire 2015 season. He appealed for reinstatement in January 2016, and his request was turned down as he also failed another drug test in March 2016. Later in July 2016, Josh was reinstated, but he instead stayed away from returning to the league as he enrolled in a rehabilitation program.
After his rehabilitation program, Josh appealed for reinstatement in March 2017. Although his request was turned down at first, he was later called back in November 2017. After rejoining the Browns, the wide receiver featured in five games before the end of the season. He had a total of 18 receptions for 335 yards and a touchdown. He was then traded to the New England Patriots in exchange for a seventh-round pick in the 2019 NFL draft. Joining the Patriots, Josh became teammates with Tom Brady.
Josh Gordon's career seemed back on track at the New England Patriots. He famously caught Tom Brady's 500th NFL touchdown pass. He also played 11 games, starting all of them. For the remainder of the 2018 season, he recorded 40 receptions, 720 receiving yards, and three touchdowns.
However, before the season was over, he violated the terms of his reinstatement into the NFL again. He was placed on an indefinite ban and missed out on the Patriots Super Bowl victory over the Los Angeles Rams. He did, however, receive a ring for his performances in the regular season.
NFL has suspended Josh Gordon indefinitely for violating the league's policies on performance-enhancing substances and substances of abuse.

— Adam Schefter (@AdamSchefter) December 16, 2019
Josh Gordon was, again, reinstated at the start of the 2019 season. He played six games for the Patriots, recording 20 receptions for 287 yards before the Boston team released him in October 2019. He joined the Seattle Seahawks in November 2019 and five games before he was suspended again for the use of performance-enhancing drugs and substance abuse.
The Football Star Rarely Gets Injured
NFL players with Josh Gordon's career stats, precisely the number of games played, are usually injury-prone players. However, while Josh does suffer from a disease, he rarely gets injured. Since he joined the league in 2012, he has only been injured three times.
His first injury was a pedal ankle sprain in his rookie season. It caused him to miss a chunk of the second half of the 2012 season. Josh's second injury did not happen until the 2018 season when he suffered a hamstring injury during an off-field event. He reportedly got the injury during a promotional video event for his clothing line. His third injury was in 2019, while he was with the New England Patriots.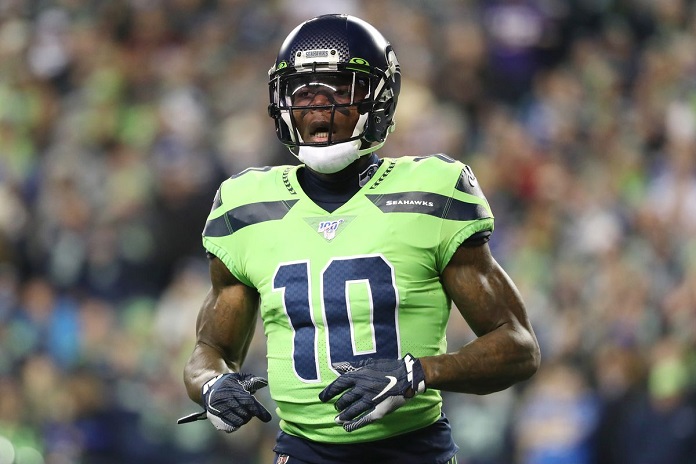 He suffered a left knee injury in October 2019. However, the injury is believed to be fabricated to enable the Patriots to place him on injured reserve and release him from the team. A week after he was placed on the injured reserve, he was waived from the team and joined the Seattle Seahawks.
Also Read: Terrell Suggs Biography and NFL Career Stats, Girlfriend or Wife, Net Worth
Josh Gordon Has a Modest Net Worth
Despite his erratic time in the NFL, the Patriots' wide receiver has accumulated substantial wealth for himself. Although Josh isn't among the highest-paid wide receivers in the league, the wide receiver has accumulated a net worth of $3 million, according to Celebrity Net Worth.
The bulk of his wealth comes from is NFL contracts, which, according to Sportac, is a total of $5.3 million. He signed a four-year $5.34 million with the Cleveland Browns. His last contract was a one-year $2 million contract with the New England Patriots. Other sources of income include a clothing line, filled with merchandise based on his nickname, Flash.