American Journalism is one of the biggest, most lucrative and efficient Journalism industries in the world. It has been a leading light for modern journalism and has been able to achieve this status through the plethora of talented journalists in its arsenal, one of which is Josh Elliott.
While Elliott is undoubtedly talented, he has been the subject of a couple of controversies, including one that led to his firing. Regardless, he is one of the best in the business and has had a career worth talking about, as you will see below in addition to other interesting facts worth learning about him.
Who is Josh Elliott?
Josh Elliott was born on the 6th of July, 1971 in Los Angeles, California. The former CBS journalist was welcomed by a mother identified as Susan who gave him up for adoption. He was subsequently raised by his adoptive parents Charles Elliott and Toni Jordan. Details about his childhood years are unknown but when he was a teenager, his father, Charles Elliott announced he was gay and two years after the fact, died.
Elliott began his journey to becoming a renowned journalist at Loyola High School of Los Angeles before proceeding to the University of California where he began his journalism career at the school's paper, The Daily Nexus. He completed his University education in 1993 with a degree in English Literature and began his professional career at Santa Barbara News-Press, working as a stringer. After a while, he headed back to school to study Journalism at Columbia University's Graduate School of Journalism, graduating with his masters in 1999.
During his time at Columbia, Josh Elliott worked on television as a producer for Galaxy Productions and later at the movie studio, 20th Century Fox. After graduation, he joined Sports Illustrated as a reporter and began his career as a sports journalist. He spent six years working for Sports Illustrated before he moved back to television, working for ESPN as a panelist before he started working as a host for the news network.
He was at ESPN between 2004 and 2011 before joining Good Morning America, the ABC Show in May 2011. He worked as one of the anchors of the show and served in other capacities before he moved on to NBC where he worked as an anchor for NBC Sports between March 2014 and December 2015.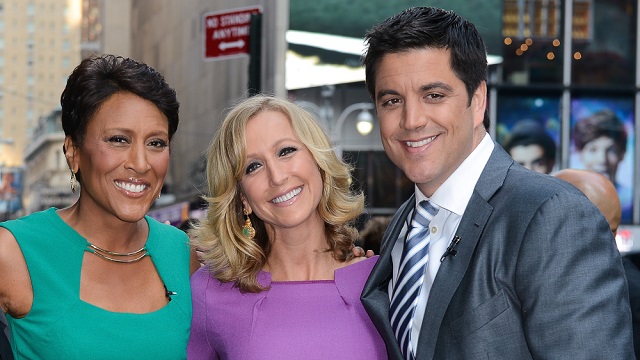 In March 2016, Josh Elliot began his career at CBS, with the expectation of staying at the news media organization for a couple of years. He started out working for the CBS digital channel, CBSN but was unfortunately fired after a year in February 2017.
His Personal Life
Since he became a public personality, Josh Elliott has been married twice. His first marriage was to Priya Narang. When Josh and Priya got married remains unknown but during their marriage, they gave birth to a child, a daughter named Sarina.
After his marriage to Priya Narang came to an end, Josh Elliott got into a relationship with fellow journalist, Liz Cho and they got engaged in August 2014, getting married in a private ceremony on the 11th of July, 2015 in Montecito, California.
His wife, Liz Cho, is a news anchor for WABC-TV. The couple remains together till date and resides in New York City.
Why was Josh Elliott Fired?
Considering news anchors are often reporting live, it is imperative for them to be careful of their utterances but that was a bit of advice that Josh Elliott failed to heed to in 2017 when he announced on live television that he was leaving CBSN, where he worked as a news anchor at the time.
Prior to the announcement, he was in a conversation with executives of CBS to transition to CBS Television and work as an on-field correspondent.
The incident, which happened on the 10th of February, 2017, left the management of CBS bewildered by his decision to make the announcement on air, particularly when the terms of his next role in the CBS News Organization hadn't been fully established.
The bizarre announcement was unwelcomed by the management of the media company and Josh Elliott was subsequently fired from the organization on the 13th of February, 2017.
See Also: David Gura – Biography, Married, Wife, Family Of The Journalist
Where is He Now?
Josh Elliott appears to be a free agent, currently not tied to any broadcasting organization, although he hasn't retired from the profession. In 2018, he returned to TV to work for the National Geographic, hosting the channel's show, Yellowstone Live, a live documentary of the Yellowstone National Park.