You can find a good number of people who are aware that Jordyn Taylor is a real estate agent. However, she is vastly admired for being a fine singer-songwriter who also equals as a model. As a singer, she is highly revered by fans for her soulful and angelic style of singing. Following her hiatus from the music scene in 2014, Jordyn continued to garner more fame through modelling for several top fashion brands.
Despite her success as a singer and model, she reached the peak of popularity after reports that she was in a very heated romantic relationship with popular comedian Trevor Noah broke out. Read on to know more about Jordyn Taylor, her early life, parents and the reason for her break up with the famous comedian.
Early Life and Career
Of mixed ethnicity and an American by nationality, records have it that Jordyn Taylor was born in 1990 on the 14th of November. Her place of birth is in Albuquerque city, New Mexico, USA.
There is no explicit information capable of making us ascertain her level of educational qualification but judging by the shrewd responses she dishes out during interviews and the manner with which she expresses her views on topical issues, it's only right to assume that she is adequately educated. As a child she was known to have an immense passion for music; a passion that intensified with time.
Her professional music career started at the age of 15 following her involvement with Manta Productions. During her time with the music label, she was able to work closely with popular producers like Ian Scott and Mark Jackson who helped perfect her tones. Having acquired the training she needed, Taylor released her first single titled Strong on Myspace. The song became an instant hit upon its release, eventually going on to become the highest ranked song from an unsigned artist on the site.
Following the popularity of her debut song, she signed a deal with Interscope records, before going on to release her self-titled debut album Jordyn Taylor in March 2012 under the labels' imprint. Critical reception of the album was massive: fans' favourite tracks on the album were Never again, Stuck, and Be the Same which she sang to honour her fiancée who passed away, having been involved in a fatal car accident.
In 2013, Jordyn released her sophomore album titled Shine, this time, she transitioned from soulful R&B music to pop, enlisting the help of Matt Wong and DJ Hello Kitty to make the album a hit. The album was equally well received with singles like Set Me Free and Its Vabene placing very high on the iTunes chart. The following year, Taylor released a statement to the press, stating that she was taking a break from music but hope to make a return when she felt the timing was right.
Jordyn Taylor's Parents
Jordyn Taylor was born to Jason and Elayne Braff. Not much is known about them except the fact that their ancestry comprises of Mexican, Chinese, and Filipino; this is why we stated above that Jordyn is of mixed ethnicity.
As regards her siblings, Jordyn has two siblings: an older brother named Justin Taylor and a younger brother who goes by the name Mikey Taylor. Although she isn't prone to revealing information about her family, she is known to attribute her successes in life to the unconditional love and support she receives from all members of her family.
Read Also: Grace Chatto – Biography and Personal Life of The English Musician
Why Her Relationship With Trevor Noah Ended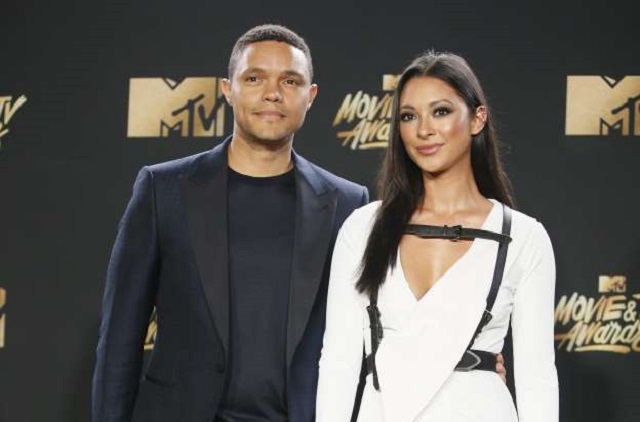 The singer-turned-model set the internet on fire in 2015 after pictures of her walking hand in hand in New York with the famous South African comedian and television host, Trevor Noah, went viral.
Shortly after that, she revealed they were both in a romantic relationship and spent most of their free time together. They attended several red carpet events together. Besides red carpet events, they went on several vacations together, including trips to destinations like Mexico, Bali, Hawaii, and Costa Rica. With every passing day, it seemed like they were taking a step closer to the aisle, with Trevor going the extra mile by introducing her to his friends from South Africa, as well as taking her to Mzanzi on two occasions.
Sadly, their fairytale came to an end during the summer of 2018 when they decided to call it quits for reasons best known to them. Although she unfollowed Noah on Instagram, she still follows his charity page and has pictures of him on her page, hence, drawing us to the conclusion that it wasn't that much of a bitter break up.