As far as the quest for fame goes, it is often a game of fate. While there are those who have achieved it via their own professional achievements and have been able to solidify their fame through their relationships with other famous people, there are those who keep working at it but haven't been able to achieve it, even in their own professional lives. In the former group is Jordyn Blum, who is a successful director and the wife of Dave Grohl.
In comparing which factor has been most critical to her fame, her relationship with Dave Grohl or her professional life, it would be difficult to argue against the former. Not many audience members have a close knowledge of Hollywood directors but Foo Fighters is a band that has sold over 12 million albums in the United States alone and has toured around the world. Whichever way you've come to know Jordyn Blum, here is a look at her story.
Jordyn Blum Biography
Nothing so far is known about the parents of Jordyn Blum, but we know on the 28th of May in 1976, they welcomed their daughter into the world somewhere in Los Angeles. Her ethnicity suggests she was born to white parents. Being someone who doesn't court the limelight, there are a few details about the American former model which is very much unknown to the public, including details of her education history.
Public information, however, suggests that she did not attend college and she began a career in modeling after she graduated from high school. Her modeling career saw her work with several fashion brands, many of whom are some of the top brands in the United States. As early as 17 years of age, she appeared on the cover of the popular Teen Magazine.
Perhaps she wasn't finding the fulfillment she desires in modeling but after a while, Jordyn Blum quit the modeling industry and pursued a career in filmmaking. She started by working as a producer for MTV, and then she transitioned into a career in directing.
Jordyn Blum, since she took up a career in filmmaking has had at least two credits to her name, directing a documentary about her husband's band, Foo Fighters: Walking a Line, which was released in 2002 and a personal appearance in 2003 in The GQ Men of the Year Awards.
Today, Jordyn Blum appears to spend more time being the wife of Dave Grohl and taking care of their beautiful family.
Jordyn Blum's Family Life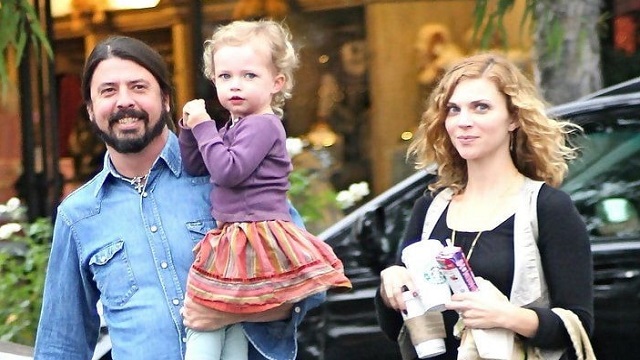 As mentioned above, the leading root of Jordyn Blum's fame is her relationship with Dave Grohl and it is one that began in 2001. The alcohol-fueled meeting at the Sunset Marquis Whiskey Bar in West Hollywood became the beginning of a relationship that has lasted over 15 years.
Even though their meeting started off awkwardly as a result of shyness on the part of Dave Grohl, they managed to leave an affectionate impression on each other enough to proceed to a second date, a third and eventually kickstart a relationship. Jordyn Blum dated her husband for two years before they took their love in front of the altar, declaring to be with each other till death in front of family and friends on the 2nd of August, 2003.
Since that fateful day, the couple has been blessed with three beautiful children, all of whom are girls. The first, Violet Maye was born in 2006; the second, Harper Willow was born in 2009 while the third and last born was born on the 8th of August, 2014 and was named Ophelia Saint. Blum lives with her husband and children in Los Angeles.
See Also: Veronica Berti – Bio, Celeb Facts and Family Life of Andrea Bocelli's Wife
Net Worth
Jordyn Blum, who has worked professionally as a model, director and documentarian have been able to build net worth in the region of $1 million. If it seems small for a celebrity of her status, you need not worry because her husband, Dave Grohl is worth a whopping $280 million, a figure that makes him the third richest drummer in the world. Together, the celebrity couple can raise their children, giving them all the best things in life.
Height
Beauty they say is in the eye of the beholder, but a very few numbers of people will cast a look upon Jordyn Blum and not see beauty. She packs her beauty into a body with a height of 5 feet 7 inches. She has an oval face that is often plastered with smiles, complemented with dark brown hair and eyes.