Jordan Loughran is a talented British actress who has been described in many quarters as a beauty with brains. This is because she has oftentimes dazzled moviegoers and TV fans with her natural flair for apt performances in the make-belief world and has won over loads of fans to herself. Starting out her acting career from a young age, she has appeared in many TV series and movies in which she has proven her worth on screen.
As an actress, Jordan Loughran is now best known for her stunning performances in works like The Infiltrator, a 2016 drama/crime film and Emerald City, a TV series. She has also appeared in other movies, winning accolades for her performances in them.
Early Life
Jordan Loughran was born on the 12th of March, 1990 in Stratford, a city in London, United Kingdom. Details on Jordan's age have been conflicting for a while. Some reports insinuated that she was born in 1992 while others insisted she was born in 1990. However, Jordan clarified the situation when she posted a picture on her Instagram page on her birthday which showed her date of birth to be 1990.
There is no information on who Jordan Loughran's parents are. This is mainly because she is quite a private person who keeps most of her personal affairs out of the public eye. However, we know that Jordan has a sister called Lola Mae Loughran whom she has shown off on social media before. Details about the cities or towns in which she grew up and how she spent her very early days are still vague at the moment.
Growing up, Jordan reportedly attended the Grey Coat Hospital School, a Church of England Secondary School which is located in Westminster, London. According to reports, it was at the Grey Coat Hospital School that she developed an interest in acting because of some of the art activities in the school. After graduating from Grey Coat Hospital School, Jordan also attended King's College in London where she studied languages.
Details of Her TV Career
Jordan Loughran was still a teenage girl when she started her acting career in 2012 after she was cast in Derren Brown: Apocalypse, a TV Mini-Series documentary. Her performances on the project gave her some kind of confidence to do more in Hollywood, having won some praise from the director and other persons.
Jordan had her breakthrough in 2014 when she joined the cast of The Evermoor Chronicles, a British TV Series in which she portrayed the role of Sorsha Doyle. The series became popular in the UK and launched Jordan into unprecedented fame. She became very popular especially among her teenage fans who started calling her Sorsha. Jordan continued playing her role as Sorsha in The Evermoor Chronicles till 2016.
It was also in 2014 that Jordan appeared in Dixi, another TV Series in which she played the role of Eve and won even more fans who were becoming more and more appreciative of her work on TV. Just like she did with The Evermoor Chronicles, Jordan played her role on Dixi till 2016.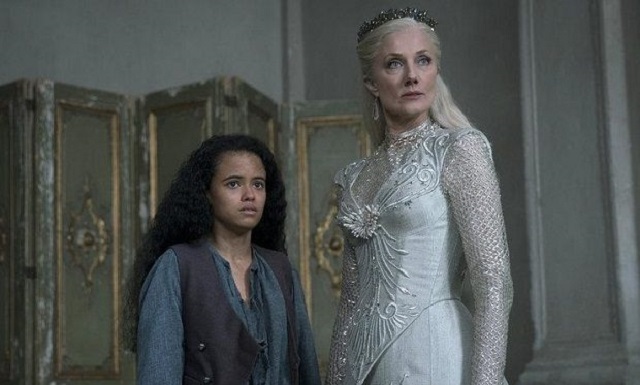 After featuring in The Infiltrator, a drama/crime movie in 2016, Jordan went on to join the cast of Emerald City, an American TV Series in 2017. She portrayed the role of Princess Ozma in the series. Jordan won a lot of praise for her work on Emerald City, solidifying her place as one of the exciting British actresses to watch on TV. In 2018, she made appearances in Doctors, another TV Series.
She Has also Acted on Stage
Apart from acting behind cameras, Jordan Loughran has also had theatre experience, acting live on stage. In fact, she started acting on stage before she began appearing on TV. Information on her IMDB page shows that she featured in Spur of the Moment, a stage play which held at the Royal Court Theatre in London in 2010. She portrayed the role of Emma M in the stage play.
Jordan has also appeared in Death of a Nightingale, a stage play held at the New End Theatre, Hampstead, London in 2011. She also featured in The Chronicles of Kalki, another stage play which held at Gate Theatre, Notting Hill, London in 2015.
Jordan Loughran's Net worth
Being a talented actress who kick-started her acting career right from her teenage years, Jordan Loughran is expected to have made quite a fortune for herself over time. She has appeared in a handful of TV series which have made her a known face in the UK. She has also acted in stage plays, winning fans to herself. Without a doubt, these ventures have fetched her some money. However, her exact net worth is not known at the moment.
Relationship
Jordan Loughran is a beautiful woman and there is no doubt that many men would want to be a part of her life romantically. However, she has not been reported to be in love with anyone just yet. The star actress is quite secretive with her relationship status and has not given clues to whether or not she has any man in her life. At the moment, it is safe to say that Jordan Loughran is a single woman concentrating on her budding acting career.
Read Also: Tiffany Brissette – Net Worth and Other Interesting Facts About The Actress
Height and Body Measurements
Jordan Loughran is not a tall woman. The actress stands at 5 ft 0 inches in height. She has a commensurate weight of 52 kg. In addition to this, her body measurement has been given as 33-24-34 for her bust, waist, and hips respectively. Fans have often expressed their attraction to her beautiful face as well as her cute, slim figure.