The premise of the reality show, Bar Rescue, as a show about a man going around the country helping restaurant and club owners transform their businesses into successful franchises might seem boring on paper, but it has transformed Jon Taffer and Nicole Taffer his wife into successful public personalities. They built the show which has been on air for over six years.
Aside from the success of the show, Jon and his wife have formed a marital partnership that has lasted for several years, beating the odds of marriages in the entertainment industry. We took a closer look at their marriage and relationship and here's what we found.
The Truth About Jon Taffer & Nicole Taffer's Marriage
Jon Taffer and Nicole Taffer got married in the year 2000. Although there is a popular belief that Nicole Taffer is Jon's first wife, the truth is she is his second. Jon was previously married to another woman in his younger days and so far, he has kept details of her existence and their marriage away from the media.
Nicole Taffer and Jon Taffer dated for several years before they decided to seal their marriage at the altar in 2000. In fact, it is believed they had been in a relationship sometime before 1989 because the couple gave birth to their first and only child, Samantha Taffer, in 1989.
While that clearly shows that they love each other and have a strong marital partnership, over the years, the couple has also shown to be strong business partners. Nicole Taffer and Jon Taffer work together on his show, Bar Rescue; while Jon is the primary host of the show and the protagonist who goes around the country looking for a bar to fix, his wife plays a spy, who enters a bar to determine how it runs and see if it is worth rescuing.
Officially a market recon specialist, Nicole Taffer began appearing on the show in 2011, making her debut in the Fallen Angels episode, and she has appeared in a total of twelve episodes ever since.
Her continued appearance on the show was halted in 2013 when controversies surrounding the show forced her to leave. After a couple of years of working from outside the show as her husband's biggest supporter, she made her reappearance in 2015, although it was just for a solitary episode.
Despite her absence on the popular show, Nicole Taffer has continued to remain a popular figure on social media, where followers of the show have embraced her Instagram page and Twitter page.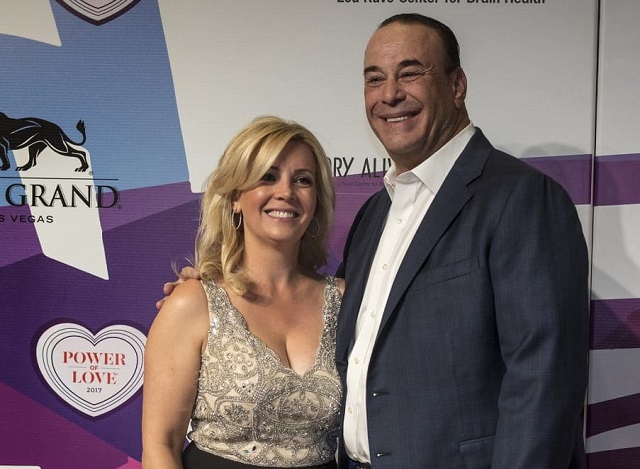 Aside from Bar Rescue, Jon and Nicole's partnership also extend to philanthropy where they are joint supporters of Keep Memory Alive, a nonprofit organization focused on raising awareness and funding the research and diagnosis of memory disorders.
With Jon Taffer expanding his show catalog with the premiere of Marriage Rescue, Nicole Taffer is expected to return to her active place in the Jon Taffer media empire. The family currently live together in Las Vegas, Nevada.
See Also: Jodi Faeth Bio – Everything To Know About Mike Wolfe's Wife
Short Background about Jon
The restauranteur and TV personality was born on the 7th of November 1954 in Great Neck, New York. He is a graduate of William A. Shine Great Neck South High School and attended the University of Denver where he studied political science, minoring in cultural anthropology.

His journey in the world of bars began in 1973 when he worked as a bartender for Barney's Beanery in West Hollywood. At the time, he also worked as a member of a live band. He worked as a bartender for five years before he got his chance to become a bar manager in 1978 at The Troubadour night club. After two years of managing the bar, he gained full control and famously fired every single staff.

Jon Taffer's transition to bar ownership was complete in 1989 when he opened his first bar. Since 1989, he has grown in reputation and prestige in the nightlife circle, recording several achievements, including getting inducted into the Nightclub Hall of Fame.

Before getting his role on Bar Rescue, he has made significant achievements like patenting an apparatus and method for bars to select and play music. He is also credited with inventing an NFL Sunday Ticket pay programming package and served on the NFL Enterprises Board for three years.

Aside from Bar Rescue and Marriage Rescue, he also has a podcast, No Excuses, where he discusses current events and interviews celebrity guests.

Fact Check: We strive for accuracy and fairness. If you see something that needs updating,