Although he has his hands in several ventures today, the name "John Cena" holds more weight in no other sphere than wrestling. For the past twenty years, the ace Wrestler has parleyed his fame and popularity into acting, business and music; earning him an incredible portfolio and net worth. Thanks to his successful multi-career, John Cena's net worth has significantly grown.
Beyond wrestling, there is an increasing itch amongst fans to know how else he makes his money. This article solves the puzzle. Let's tell you more about John Cena's career history and how he has amassed so much fortune.
His Illustrious Wrestling Career

John Felix Anthony Cena Jr. began his wrestling career in 1999 when he debuted for the California-based independent pro wrestling company, Ultimate Pro Wrestling (UPW). Subsequently, he got signed to the Vince McMahon's World Wrestling Federation (WWF, now known as WWE) in 2000, and has remained there ever since.
Even though he's been on the scene for pretty long, Cena's popularity in professional wrestling went over the roof only after he adopted the character of a trash-talking rapper and won the 2014 United States Championship. Though this became his first singles title, it wasn't the first recognition he received in the ring.
His earliest championship won on the job was in 2000; when he held the UPW Heavyweight Championship in April of that year. However, the title only lasted 27 days with him. By October, the You-Can't-See-Me crooner got signed to Vince McMahon's World Wrestling Federation (WWF, now known as WWE).
But what would have been a groundbreaking debut turned awry when he was beaten by Mikey Richardson. In January of the following year, Cena got his chance to make up for the loss. This time, he faced Aaron Aguilera and won. Over the next two decades, the wrestler maintained long winning streaks and won championships that saw him at the fore of modern wrestling, worldwide.
John Cena's Biggest Career Moments
In March 2004, four years after his WWE Debut, John Cena defeated The Big Show to win the United States Championship. Only three years later, he emerged the first wrestler to defeat Edward "Umaga" Fatu. By 2013, he had been ranked Number 1 of the top 500 singles wrestlers in the PWI 500, thrice (2006, 2007 and 2013). What's more? In 2018, he received the Muhammad Ali Legacy Award. As of the time of this writing, the Massachusetts-born star has 13 WWE championships, 3 World Heavy Weight Championships, 5 United States Championships, 2 WWE Tag Team Championships and 2 World Tag Team Championships to his name.
Adding to his wrestling career were appearances in blockbuster movies such as The Marine (2006), 12 Rounds (2009), Legendary (2012), and of course, Train Wreck (2015). He also transitioned into a superman-like figure and became WWE's franchise player and public face for ten straight years. All of these has culminated into an impressive net worth over the years. Let's take a closer look.
How Much is John Cena's Current Net Worth?
Now considered to be among the greatest professional wrestlers of all time, John Cena's net worth stands at $75 million. In 2015, he took the top spot on Forbes maiden list of WWE's highest-paid wrestlers with an annual earning of $9.5 million. However, things went awry the following year when he underwent surgery over a shoulder injury. This kept him out of action for five straight months. By the time he returned, the wrestling world had since moved on. He only participated in five pay-per-view events and none of the main events lined up for that year.
Consequently, his earnings dropped to $8 million. Notwithstanding, he made the second spot on Forbes 2017 list of highest-paid wrestlers. This time, he came right behind Brock Lesnar, who earned a whopping $12 million. The leader of The Cenation saw his earnings increase by $2 million in 2018, which according to Forbes, was the highest by a WWE star for that year. The rise was attributed to his increased wrestling schedule which saw him participate in more events in 2017 than he did the previous year.
In 2019, the fan-favourite came number two on Forbes' list. Coming after Brock Lesnar again, he recorded an annual earning of $8.5 million. Like other ace wrestlers, John Cena receives a $500,000 paycheck for main event showings and also earns 5% of all merchandise sales and 25% of licensing. Meanwhile, he has remained the biggest merchandise seller for WWE.
How Else Does John Cena Make Money?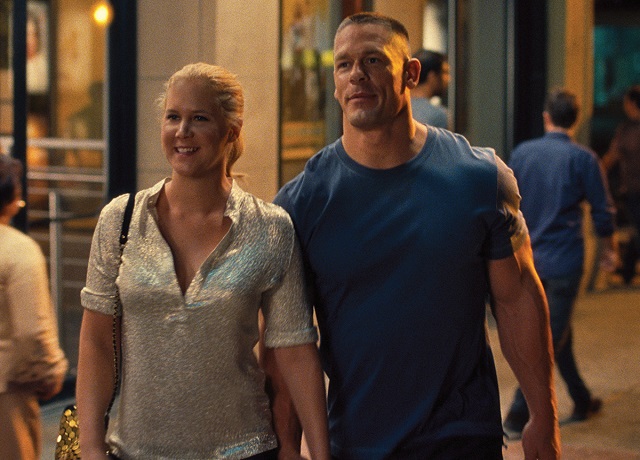 Besides wrestling, John Cena's net worth is also where it is today due to his involvement in other aspects of the entertainment industry such as music and acting. Having performed several theme songs for WWE, he released his debut album titled You Can't See Me in 2005. The album was ranked number 15 on the US Billboard 200 chart. Within its first week of release, 143,000 copies had been sold and it went on to receive gold status from America's Recording Industry Association.
Toeing the path of his colleague and friend, Dwayne "The Rock" Johnson, Cena plunged into the movie industry, not only as an actor but also as a producer. His first movie, The Marine, which was produced by WWE Studios, raked approximately $7 million at the US box office, $18.7 million within 10 weeks of its theatrical release, and $30 million in rentals within the first 12 weeks it was released on DVD. In March 2009, John Cena's second film 12 Rounds was released and a year later, he played a co-starring role in his third film Legendary.
So far, the ace wrestler has appeared in several other films, including Fred: The Movie, Trainwreck, Sisters, and Daddy's Home 2. In 2017, he played voice roles in Surf's Up 2: WaveMania and Ferdinand. But that's hardly all of it. Cena was cast in the lead role in the movie, Bumblebee (2018). He also starred in the comedy, Blockers, which raked in $21.4 million on its opening weekend. As of 2020, Cena has been cast in the 9th Fast and Furious Film, F9, and is likely to appear in James Gunn's The Suicide Squad.