They say we can't help who we fall in love with, and for those who prefer a life of privacy and complete detach from media attention, sometimes such persons are media personalities, whose life revolves around the media. From Journalism to Hollywood, examples abound of ordinary people who got into relationships with popular media personalities, like that between Hoda Kotb and Joel Schiffman.
While Hoda enjoys a buzzing career as a famous journalist, Joel lives on the quieter lane as a finance expert and entrepreneur. They have been together since 2016 and from all indications, are enjoying their life together as a couple.
Joel Schiffman's Biography
But for his relationship with Hoda Kotb, Joel Schiffman would have gone through his life as a regular American citizen with no media attention, but love had a different plan. Since the relationship began, we have come to learn that Schiffman was born on the 21st of March, 1958 somewhere in the United States. Not much is known of his parents and childhood life but following the completion of his high school education, Joel, who was a brilliant student, was admitted into the University of California where he began to study to earn his bachelor's degree in Economics.
He graduated from the university in 1981, and afterwards, headed over to the University of Pennsylvania, where he earned a certification from the Wharton School in Investment Management Analysis.
After completing his education, a detailed timeline of his professional journey from his first job is unknown but six years after completing his bachelor's degree in 1987, he became the Senior Vice President of Kidder Peabody, spending seven years in the role before he secured another position with Smith Barney as the director of the consulting group.
Joel Schiffman spent nine years at Smith Barney before he followed another opportunity at Trail Ridge Capital LLC where he spent a few years before heading over to Reed, Connor & Birdwell as Senior Vice President for Business Development and Client Services. He spent three years working for the company. Over the next couple of years, Joel Schiffman worked with different establishments, including Lord, Abbett & Co. LLC, Columbia Management.
During the period his relationship with Hoda Kotb became national knowledge, he was working as the Vice President and Director of Janus Henderson Investors US.
His wife, Hoda Kotb, on the other hand, is an award-winning journalist who works for NBC News, appearing on shows like Today and Dateline NBC as an anchor. Before working for NBC, Hoda worked for a local TV station, WXVT in Greenville, Mississippi, CBS News, WWL-TV and a couple more.
She is also a published author who has published a couple of books, like Hoda: How I Survived War Zones, Bad Hair, Cancer and Kathie Lee, which was a New York Time Bestseller; Where They Belong: The Best Decisions People Almost Never Made, I've Loved You Since Forever, and a couple more.
See Also: Justin Siegel – Bio, Net Worth, Facts About Emmy Rossum's Husband
What is the Net Worth of Joel Schiffman?
Being a successful man in the finance industry, Joel Schiffman has been able to build significant net worth through the various positions he has held over the course of his professional career. He has also made some successful investments that have combined to earn him a net worth north of $15 million.
Family Details: Partner and Daughter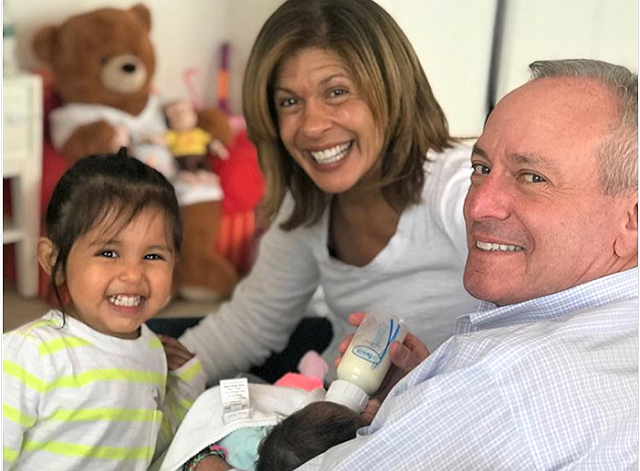 We know Joel Schiffman was previously married but details of her first marriage prior to meeting Hoda Kotb are unknown. We do, however, know that in 2013, during a Wall Street event, Joel and Hoda met for the first time, after which they began a relationship. The couple kept their relationship away from media attention until 2015 when Hoda announced that she had been in a relationship with Joel for two years.
Having been in a relationship for two-plus years, many wondered if the couple would be getting married but so far, that hasn't been the case. While it doesn't appear that the couple as any intent of becoming husband and wife, they are, however, not averse to becoming parents as they adopted a child, a daughter, Haley Joy Kotb, in 2017. In 2019, they adopted another child, Hope Catherine Kotb.
Although we do not know much about his previous marriage, we know he has a lone daughter, Kyle Schiffman from his first marriage.
Hoda Kotb, on the other hand, was married to Burzis Kanga in her first marriage but did not share any children with him.