Everyone has their own special interests that they turn to for instant joy and peace and for a significant amount of people, one of those interests is cars. The building, redesigning and customizing of vehicles is a passionate interest of thousands of people and that interest is also shared by Joe Martin, whose passion for cars has made him into a publicly recognized TV personality.
Joe Martin got his chance to become a famed personality (at least among car lovers) when he began to appear on Iron Resurrection in 2016. Although he made a couple of other appearances on other shows like Biker Build-Off, it is Iron Resurrection that has cemented his place in the pantheon of TV personalities.
Read all about Joe Martin below, including his biography and other interesting facts you need to know.
Joe Martin's Biography & Age
On the 16th of April, 1969, Joe Martin was born to his parents in Illinois but relocated to Desoto, Dallas in Texas where he was raised along with his brother, Jason Martin. Much of his childhood is unknown and we can only say definitively that he attended high school but every other childhood and upbringing detail outside of his job remains unknown.
One important fact that is known, however, is his journey as a mechanic. It started as a simple hobby and an interest he took on as a child by watching neighborhood adults work on their respective cars. He also spent some time with some mechanics and through that, he began to learn the art of car repairs and began to fall in love with vehicles as an engineering entity.
When he got older, he worked in a car accessory store and while he did, he furthered his knowledge of cars, bikes and their parts, and while there, the artistic ability that has defined his time as a member of Iron Resurrection began to manifest. The growing popularity of his customization works and efforts eventually led him to establish his own vehicle customizing business, officially kickstarting a lifetime of working with cars.
His first big break came via the Discovery Channel, on the show, Biker Build-Off. The show, which was a competition among mechanics brought Joe Martin a lot of exposure, especially after he won the competition. The success and patronage that came to his Bike business, Martin Bros Bikes as a result of winning the competition was soon eroded following the 2008 economic recession and it resulted in shuttling his business and relocating to Austin, Texas where he and his wife began to rebuild.
The move to Austin, Texas presented a chance for Joe Martin and his family – wife, and brother, to start again, which they did, by starting an all-around vehicle company, Martin Bros Customs. His previous experience on car-related reality TV and his level of expertise eventually opened the door for his own, Iron Resurrection, which is focused on him and his crew members finding abandoned vehicles and turning them into modern pieces of vehicular art.
The show has been on the air since 2016, with Joe Martin working as the lead mechanic and artist.
Net Worth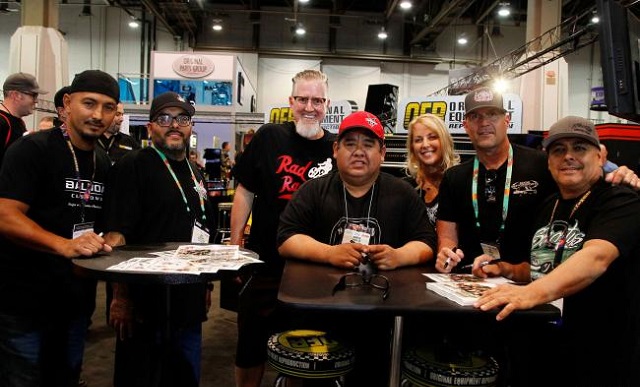 As someone whose expertise is regularly shown on television, Joe Martin has gotten a huge boost in the number of clients he works with at his business, Martin Bros Customs and when the increased patronage is combined with the revenue earned from his appearances on Iron Resurrection, particularly ad revenues, it comes as no surprise that the Texas-based mechanic is worth an estimated $750,000.
With other business endeavors such as merchandise sales and the continued airing of Iron Resurrection, it is safe to say that Joe Martin will be worth a lot more in the near future.
Who Is Joe Martin's Wife?
We know that Joe Martin is a married man. We also know that he is married to Amanda Martin, but what we don't know is how long they dated and when exactly they got married. However, it is believed that they have been together for almost two decades and one can see the depth of their love and partnership on screen and behind it, as shown by their social media pages and the fact they both own their company, Martin Bros Customs, which has been the foundation of Joe Martin's success.
See Also: Lauren Bohlander – Biography and Details of his Garage Squad Career
Other Facts About Joe Martin
His brother, Jason Martin is also a music lover and is a member of the rock band, Automatic.
Before he got his own show, he worked with Jesse James of Monster Garage.
He started his designs as a child and found inspiration in Hot Rod magazines.