Joe Gatto is an American comedian who is widely regarded as a multi-talented man. The recognition is because, even though he has the talent to absolutely crack the hardest of ribs with his jokes, he can also act. He is equally a writer, having penned a book in 2014. His hilarity has endeared many people to him over the years and he has gained a lot of followers who adore him on social media.
As a comedian, Joe Gatto is now best known as one of the members of The Tenderloins, a group of comedians who have been thrilling Americans with their TV series, Impractical Jokers which airs on truTV. Digging into the life of Gatto would reveal some intriguing facts that shed more light on his persona.
Tracing The Origin Of The Funnyman
Joe Gatto was born on the 5th of June, 1976 in Staten Island, New York City, USA. Born as Joseph Anthony Gatto Jr, he is now simply known as Joe Gatto by his fans around the US and beyond. Although an American man, Joe also has Italian roots. In fact, it is known that he has a rather big extended Italian family.
Information about Joe's parents is not generously available. However, we do now that his father is called Joseph Anthony Gatto but his mother's identity is still quite hidden. Joe once talked about them on his Twitter page, revealing that they had both died which explains the paucity of information about them.
Joe attended the Monsignor Farrell High School from 1990 to 1994. While there, he was said to have been in the habit of leaving many people in stitches with his numerous jokes. When he graduated from high school in 1994, he proceeded to attend the LIU Post, a private university in Brookville, New York, from where he graduated with a degree in Accounting.
Why He Studied Accountancy And Early Foray Into Comedy
Joe always had an eye for comedy and naturally made people laugh whenever he is at a function or even on the streets. In fact, he once remarked that he only studied Accounting in school because he wanted to satisfy his father. His heart, however, has always followed comedy. Thus, it was not long before he went into it professionally. A wise choice that is as he has continued to climb through the ranks to the top.
He started out by performing stand-up comedy in New York. He then teamed up with his high school friends, James Murray, Mike Boccio and Sal Vulcano to form The Tenderloins comedy troupe in 1999. Their aim was to thrill people with their skills in comedy. It was with The Tenderloins that Joe found fame. The group would later replace Mike Boccio with Brian Quinn.
Career Success With The Tenderloins
They started out by making funny videos on social media platforms like YouTube, MySpace and Metacafe. Their work on social media made them very famous online and they raked up a lot of fans. They were considered one of the funniest comedy groups on different platforms because of their spontaneous style of comedy.
Finally, they got their big break when they decided to begin a TV series known as Impractical Jokers. The series aired on TruTV and gained a massive following around the US. In the series, the group members challenge themselves to do ridiculous dares in public and are captured by a hidden camera. The impulsive reactions to the dares are what makes the entire series very funny. The show which is now in its seventh season became so popular that it won the NBC Its Your Show competition and the members went home with a $100,000 grand prize.
Apart from featuring on the Impractical Jokers, Joe Gatto has widened his horizon to other projects. He has appeared on The Joker's Wild, a reality TV series which has also gained ground in the US. He also co-hosts PBR, a podcast which is an acronym that stands for Beer Revolution. He co-hosts the show along with Derek DeAngelis and Mike Pullano. Joe is also a writer. The comedian wrote and published a book called "Impractical Jokers: The Book" in 2014.
Joe is known for his involvement in several charities to help people in need. He is particularly known for conducting some fundraisers for Daniel's Music Foundation, an organization that provides free music programs for people with disabilities. The Tenderloins also launched a podcast in 2012.
How Rich Is Joe Gatto?
Having had quite a successful outing as a comedian and actor, Joe Gatto is expected to have made quite a fortune for himself over the years. His works as a comedian and TV host have earned him loads of accolades and he is now one of the revered comedians in America. At the moment, Joe's net worth has been pegged at $5 million by celebrity wealth calculators.
The comedian and his team make most of their money on Impractical Jokers where they are said to earn $50 thousand each per episode. They also embark on tours and make appearances on other TV shows.
Is Joe Gatto Married?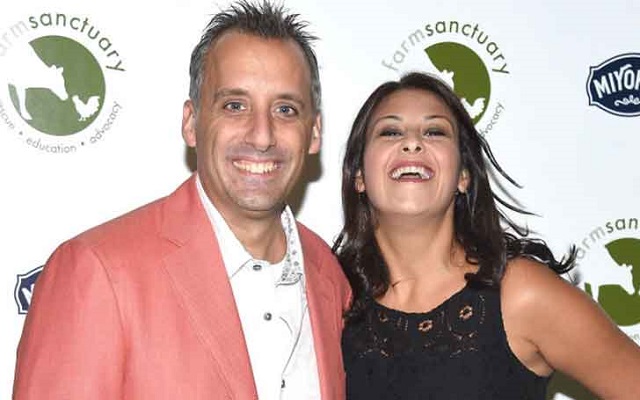 The simple answer here is yes. The comedian is a happily married man, committed to a woman identified as Bessy Gatto. From all indications, he is a doting husband as he keeps sharing his woman's photos online to celebrate her. The couple got married on the 2nd of September, 2013 and they have been together ever since. Bessy is known to always post her husband's works on her social media pages as she drums support for him.
Joe and his wife now have two children as their family have grown with the addition of a daughter, Milana Francine Gatto who was born on the 7th of May, 2015. Their second child, a son, Remington Joseph Gatto, was born on the 31st of July, 2017. Other members of the happy family include four dogs – Cannoli, Biscotti, Spumoni, and Tartufo, which we are sure he adopted from shelters as he is a strong advocate for that.
Read Also: Bobby Lee Bio, Wife or Girlfriend, Net Worth and Brother of The Comedian
Details About His Birth Family
Asides having his father's name as Joseph Anthony Gatto, nothing more is known about the parents of the comedian. One thing that is clear though is the fact that his folks were of Italian origin but they have now passed on which explains why they don't come up in the media space often. Joe, however, doesn't shy away from acknowledging their efforts in raising him.
Joe Gatto has two elder sisters identified as Gina and Carla Gatto. The comedian is very fond of the ladies and very often refers to them as his best friends. This goes to say he grew up in a close-knit home.