American journalism is arguably the leading form of journalism in the world, it is certainly the most popular and it has been able to achieve this through the work of several hundred and thousands of journalists who have done exceptional work both in and outside of America. One of the notable American journalists is Jodi Applegate who is anchorwoman for NBC News and MSNBC.
Through her work as a journalist, Jodi Applegate has become a public personality but it isn't just her work as a journalist that has made her a celebrity, another contributory factor is her relationship with Michael Kay, who is a popular sports broadcaster. We take a closer look at her life, background and six interesting facts you should know about Jodi Applegate.
Jodi Applegate's Biography
Jodi Applegate was born on the 2nd of May, 1964 in Wheeling, West Virginia where she was raised in an Irish American Catholic family. When it comes to her parental background, along with other details of her childhood, not much is known other than the fact he attended Moon Area High School. After graduation, she attended Temple University where she spent a year before she transferred to New York University, where she earned a bachelor's degree in television and film.
Her degree gave her the option of working in two different industries, as an actress, and on television as a journalist. As a journalist, Jodi Applegate began her career in the early 90s as the host of the show, Close Up, on C-SPAN. She also worked as a radio and television traffic reporter for Metro Traffic, based out of San Francisco.
As the years passed, Jodi Applegate found other opportunities, such as working as a host for Good Morning Arizona for KTVK, she also anchored MSNBC Live and Weekend Today, worked as a substitute host for Today Show and hosted Later Today.
Jodi Applegate's long career, which transverses radio and television, now has her working for WPXI, a radio station in Pittsburgh. For the station, Jodi works as an assignment reporter and a co-anchor for its news show.
Six Facts To Know About Michael Kay's Wife
She once worked as an actress
Before she committed completely to journalism, Jodi Applegate, whose bachelor's degree allowed her to work as an actress and a journalist, worked briefly as an actress before she became a journalist.
She appeared as an unnamed mother of a boy in the TV movie, A Pocket for Corduroy in 1986 and playing another unnamed character in a short movie, There's a Nightmare in My Closet in 1987.
While she did give up on a career as an actress, Jodi Applegate has appeared in other movies and TV Shows since she became a journalist, including the shows, Limitless and The Following where she played a reporter. She also played a Daytime News Anchor in the TV movie, Onion News Empire in 2013.
She has been married twice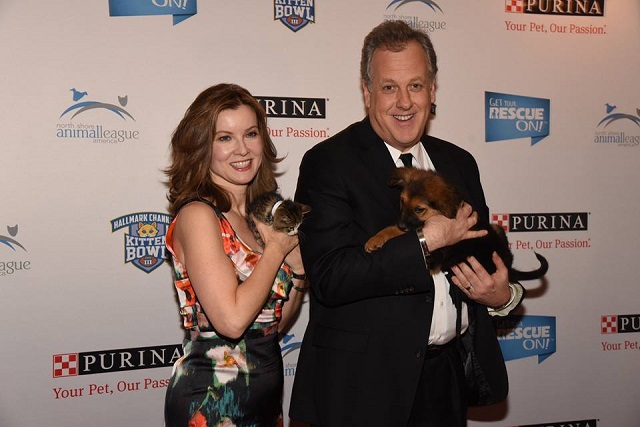 Jodi Applegate is most known for her marriage to Michael Kay but before they got married, she was married to Rob Nikoleski, whom he met during her time at KTVN in Reno, Nevada. They got married after a couple of months of dating but eventually got divorced shortly after.
Her second marriage was to the fellow broadcaster, Michael Kay, who is a sportscaster for the New York Yankees. They got married on the 12th of February, 2011 in New York City and have remained married ever since. Their wedding, which was held at the Plaza Hotel, was officiated by Rudolph Giuliani.
Jodi has two children
Jodi's relationship with Michael Kay has brought two children, a daughter and a son – Caledonia Rose and Charles Applegate Kay. Her daughter was born on the 5th of January, 2013 while her son was born on the 12th of November, 2014. Her first child, Caledonia Rose, was conceived and birthed via gestational surrogacy.
She is a millionaire
Having worked as a professional journalist for over twenty-five years, Jodi Applegate, whose career has seen her work for both national and local media outlets, has been able to accrue a personal net worth in the region of $5 million. Her earnings have come from working in high salary positions like anchor and host.
Jodi has a presence on social media
It might not be enforced but it is hard to find anyone who isn't on one form of social media or the other and Jodi Applegate, is on at least two of them – Instagram and Twitter. On Instagram, she has the profile @jodiapplegate and on Twitter, she is @jodieapplekay.
See Also: Danielle Trotta – Bio, Family, Facts About the Journalist
She once appeared in a musical
Jodi Applegate's media resume is quite diverse and another outlier in her resume is an appearance in a Broadway musical, Chicago. She made the appearance on the 28th of May, 2008. It was her only appearance in the musical during the run of the musical.