Joan Staley is recognized as one of the most phenomenal stars to come out of the post-classical age of Hollywood. She was a talented actress, model, and musician who was exceptionally gifted at playing the violin. Her influence on the entertainment landscape was most prominent during the '60s and 70s when she starred in films and TV shows like 77 Sunset Strip, Hawaiian Eye, Breakfast at Tiffany's, Gun Fight, Roustabout, Playhouse 90, Cape Fear, Ocean's 11, and Broadside. Her role in Broadside made Joan a household name in the industry.
For many years, Joan dominated the movie and television scene, and she is still considered a legendary performer despite the fact that she has not been active in the industry for many years now.
Joan Staley's Background Details
The accomplished actress was born Joan Lynette McConchie on May 20, 1940, in Minneapolis. Her parents are Jean and James McConchie. Her mother was a musician who was trained in violin, organ, and viola, while her father was a gospel missionary. Joan spent her childhood years in Minnesota and Los Angeles.
When she was three years old, her mother took her to a musical concert where she fell in love with the violin instrument and begged for one of her own. Her mother obliged and Joan Staley soon began studying the piano under the tutelage of Karl Moldrem. Joan proved to have such prodigious talent that by the time she was six, she was named as first chair at the California Junior Symphony Orchestra.
During her teen years, Joan's father became an Army Chaplain so the family had to move around a lot. She ended up attending different high schools in Germany, Chicago, Paris, Washington D.C, Munich, and Illinois amongst others. She attended Chapman University in California for a short while before abandoning her studies to take up a job as a teletype operator in San Francisco.
Joan Staley landed her first appearance on the big screen when she was eight in The Emperor Waltz, in which she played a child violinist. As an adult in the late 1950s, after she returned to Los Angeles, she joined The Little Theater. She began starring in stage productions of plays like My Sister Eileen, The Robe, and Brigadoon.
She then went on to star in the series Laramie, Perry Mason, Playhouse 90, Broadside, The New Phil Silvers Show, Wagon Train, The Adventures of Ozzie and Harriet, 77 Sunset Strip, The Lively Ones, and Climax. This helped boost Joan's popularity and helped her bag a film contract with MGM. Her movie appearances include roles in Midnight Lace, Roustabout, The Ladies Man, Cape Fear, Gunpoint, The Ghost and Mr. Chicken, Rango, Mission Impossible, Pistols n Petticoats, and the Academy Award-winning cult classic, Breakfast at Tiffany's.
Over the course of her dignified career, Joan Staley cracked up more than 65 acting credits. Her professional journey lasted for about 10 years before she took a step back from the entertainment industry.
Where Is She Now?
Joan Staley's last professional appearance as an actress was in the early 1970s, and she hasn't really appeared in any television series or movies since then. However, she is still very much alive and living in her home in Los Angeles. She spends her time working in her local church and managing the affairs of a talent management company called International Ventures Incorporated, which she founded with her husband.
1. She has been married twice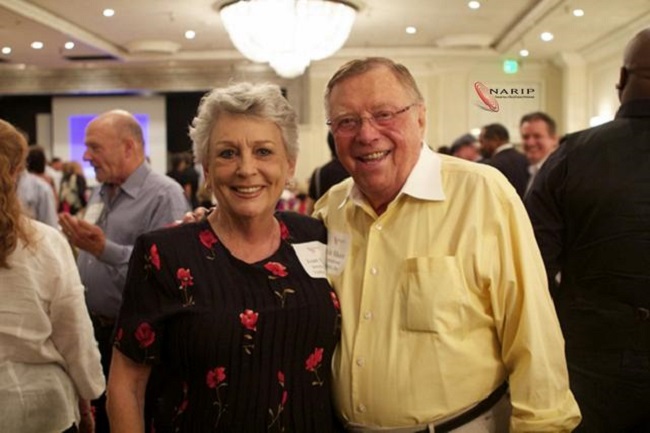 Joan used to be married to the TV director Chuck Staley. The couple wedded in 1956 and got divorced in 1960. She walked down the altar again with her current husband Dale Sheets, whom she married on January 14, 1967.
2. Joan Staley has a very large family
The actress has a daughter, Sherrye Dee Staley from her previous marriage. Also, she has three children with her husband Dale: Stephanie, Greg, and Dina, as well as three stepchildren from Dale's former marriage named Linda, Vickie, and Patti. As of 2013, they had 10 grandchildren and 20 great-grandchildren.
3. She has been a Playboy Playmate
In November 1958, Playboy magazine made Joan Staley their playmate for the month. Her photographs were featured on the cover as well as the centerfold.
4. Joan suffered an accident that affected her acting career
Yeah, she was involved in a horseback riding accident that resulted in a severe injury to her back in 1966. This caused her to restrict her career to just television, completely giving up on film.
See Also: Roxann Dawson – Bio, Net Worth, Movies and TV Shows
5. She was named as one of the Deb Stars of 1962
Thanks to her impeccable sense of style as well as her beauty, the Hollywood Makeup Artists and Hair Stylists selected her as one of 12 actresses who were honored as Deb Stars.
6. She has a considerable net worth
Even though Joan Staley has been dormant in the entertainment scene since the '70s, she still has an estimated net worth of $9 million.