| Net Worth: | $180 million |
| --- | --- |
| Salary: | $20 million |
| Income Sources: | Acting |
| Age/Date of Birth: | January 17, 1962 |
| Height: | 6 feet, 2 inches (1.88 m) |
| Nationality: | Canadian-American |
| Last Updated: | 2020 |
Renowned for his famous slapstick performances, Jim Carrey is a Canadian-American actor, comedian, impressionist, and producer.
Before fame, Jim enjoys in his career today, he did stand up comedy in local Toronto comedy clubs before moving to Los Angeles. He rose to fame in 1990 when he joined the cast on the sketch comedy show "In Living Color" and further established his career as a comedian with popular 1990s comedies such as "Dumb and Dumber," "The Mask," "The Cable Guy," "Liar Liar" and "Ace Ventura: Pet Detective."
Jim Carrey's Journey To Fame
James Eugene Carrey was born on January 17, 1962, in Newmarket, Ontario, Canada. His journey to fame is one of grass to grace.
The last among five children, Carrey was forced to drop out of high school to take up a job following his father's job loss to support the family. He was 15 years old when he began working as a janitor. As if his father's job loss didn't bring enough agony to the family, his mother also fell terribly sick, requiring utmost attention and care.
The last straw that broke the camel's back was when they were thrown out of their apartment as they couldn't afford rent. The homeless family resorted to living in their Volkswagen minivan. An angered Carrey was determined to ensure that his family is rescued from abject penury.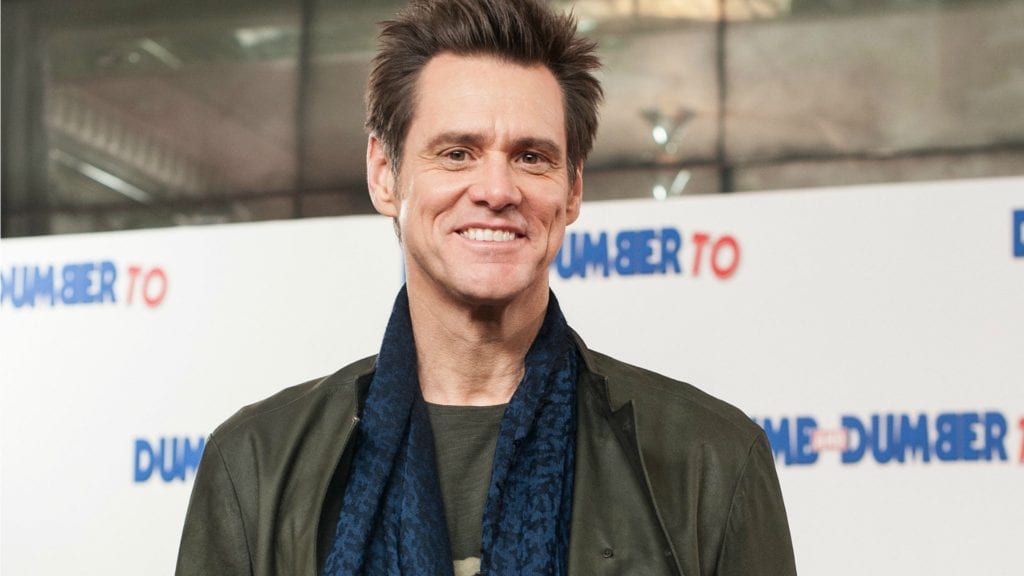 Things appeared to look bright when the family moved from Newmarket to Scarborough where they rented a decent home. Carrey returned to school but had to drop out yet again. With a sheer determination to help the family, he decided to capitalize on his sense of humor to start a career as a stand-up comedian. His father supported his decision and accompanied him to Toronto for his first stage act which unfortunately was a total flop! How worse could it get…?
Carrey decided to put his comic career on hold returning only when the family had regained a somewhat level of financial stability. After enjoying his comic skills, the crowd couldn't help but go into hysterics from his energetic slapstick displays which soon started paying off.
Subsequently, he was discovered by ace comedian Rodney Dangerfield and there was the beginning of more successes to come. Carrey performed as an opening act during Dangerfield's tours. From Toronto, he took his comic abilities to audiences in Las Vegas and then the biggest scene of them all – Hollywood.
Jim Carrey Is Worth A Lot Of Money
The famous wild slapstick performer has a net worth estimated at $150 million. With the help of his talent in comedy, Carrey rose from the dump to prominence and remained there. He has acquired many valuable properties and owns a Gulfstream V jet valued at over $25 million. Compared to where he's coming from, Carrey is literally living in heaven.
Carrey entered the Forbes list of highest-paid actors in 2006 with earnings of $20 million. He resurfaced in 2009 and 2011 with $30 million and $20 million earned, respectively.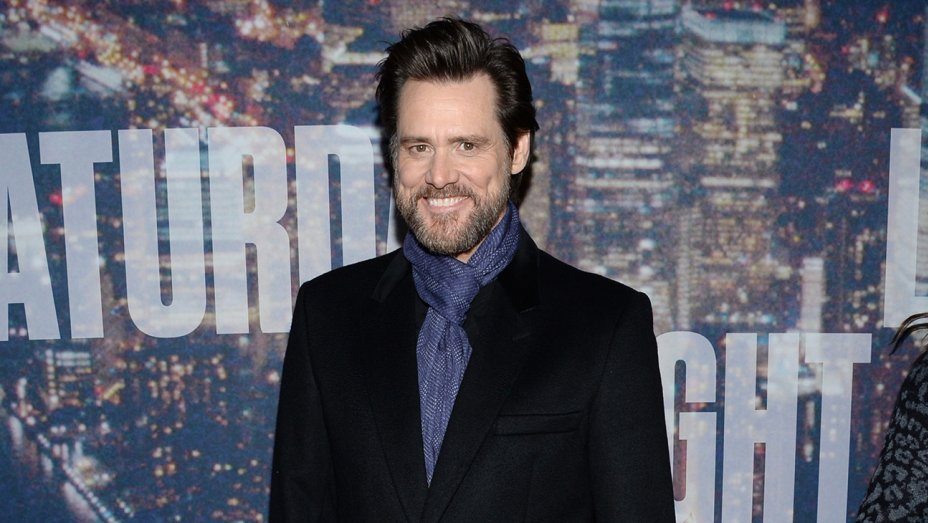 Breakthrough With The Hollywood Scene
Slowly, he built a reputation in Hollywood performing at The Comedy Store, An Evening at the Improv, and even on the famous The Tonight Show. It was only going to get better from here. Carrey then decided to branch out into acting. After a few minor roles, he got the first break in 1990 as a cast on TV series "In Living Color," he remained on the series until its conclusion in 1994, the year that everything turned around for Carrey.
He portrayed the lead character in three blockbuster movies that also received much critical rave. They were "Ace Ventura: Pet Detective" (Paycheck $350,000), "The Mask" (paycheck $540,000), and "Dumb and Dumber" (Paycheck $7 million). He took the world by storm, didn't he? Carrey's success continued with movies like "Batman Forever" (2005), "The Cable Guy" (1996), and "Liar Liar" (1997).
Carrey gained further worldwide recognition starring as the titular character in the critically acclaimed satirical comedy-drama film "The Truman Show" (1998) for which he was paid $12 million and 1999 Andy Kaufman biographical comedy-drama "Man on the Moon" receiving another $12 million. For his roles, Carrey won two consecutive Golden Globe Award for Best Actor.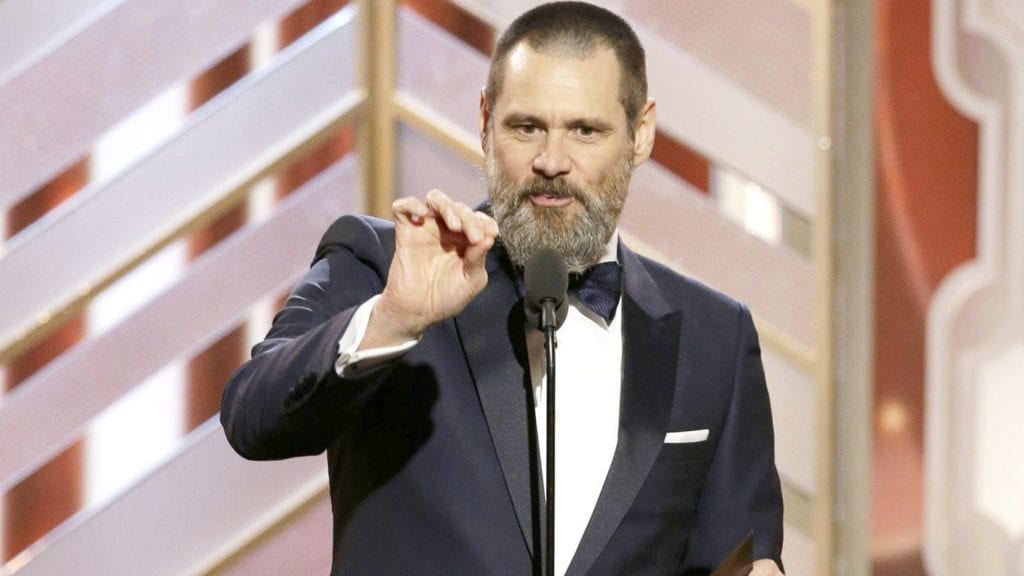 The 2000 era wasn't different, his success bloomed on with movies like "How the Grinch Stole Christmas" (2000), for which he received a whopping $20 million. He was paid $25 million for "Bruce Almighty" (2003), in which he starred opposite Friends star, Jennifer Aniston. "Eternal Sunshine of the Spotless Mind" (2004) alongside Kate Winslet and Lemony Snicket's "A Series of Unfortunate Events" (2004) were both commercially successful. You get it now? Jim Carrey has always been a box office darling…
Details Of His Recent Works
Beginning from 2013, Carrey added writing to his repertoire, penning a children's book titled "How Roland Rolls." Carrey continues to star in movies and has also been more active as a producer. Some of his recent movies include the sequel to "Dumb and Dumber To" (2014) "The Bad Batch" (2016) and "True Crimes" (2016).
For his outstanding works in the movie scene, Carrey has been showered with numerous coveted awards, some of which include; 4 Blockbuster Entertainment Award for Best Actor, 2 Golden Globe Awards, 6 Kids Choice Awards, 11 MTV Movie Awards, 4 People's Choice Awards, and 5 Teen Choice Awards. He was inducted into the Canadian Walk Of Fame in 2004.
Here's a quick look at Jim Carrey's earnings over the years
1990-1994 – He got his first major paycheck from In Living Color where he earned $25,000 per episode of the show.
1994 – The actor earned $350,000 for the first Ace Ventura movie and subsequently earned $15 million for its sequels.
1994 – Carrey made $540,000 from starring in The Mask
1994 – He pocketed $7 million for his role in Dumb & Dumber.
1995 – Jim got a paycheck of $20 million for his role in Batman Forever
1996 – The actor earned $20 million from The Cable Guy
1997 – He earned $20 million for his role in Liar Liar
1998 – Carrey got a paycheck of $12 million for his role in The Truman Show
1999 – He made $12 million for his role in Man on the Moon
2000 – Jim was paid $20 million for How the Grinch Stole Christmas
2000 – He also got a paycheck of $20 million for his role in Me, Myself & Irene,
2003 – He made a total of $25 million for his appearance in the movie Bruce Almighty
2008 – The movie Yes Man fetched Jim Carrey a whopping $32 million
2013 – The star made $15 million for his role in Kick-Ass 2
How Does Jim Carrey Spend His Wealth?
Jim Carrey is, no doubt, one of the top earners in Hollywood, and the actor also knows how to put his wealth to good use. He currently resides in a mansion, located in Brentwood, West Los Angeles. His estate is located at the foothills of the Santa Monica Mountains. More so, he has two other mansions in different choice destinations, including New York City and California.
The Hollywood veteran also owns a Gulfstream V private jet. The aircraft is one of the highest performance and safety intensive private jets in the world and can accommodate up to 16 passengers. Currently, the actor kept his jet on a charter model and interested individuals pay as much as $8,000 or more per hour. Additionally, the comic star also owns luxury cars, including Mercedes Benz SL63 and Porsche Panamera.
A quick look at how the actor spends his wealth:
The funnyman owns a mansion, which he bought for $3.8 million in Brentwood, Los Angeles in 1994.
Jim acquired a beachfront mansion in Malibu at $9.75 million in 2002. However, he listed it for sale at $18 million in 2011 but later sold it for $13.4 million in 2013.
He has an apartment in Manhattan, New York City, which cost him around $13.65 million.
The actor owns a Gulfstream V private jet, which is currently valued at $60 million.
In his garage, he has two luxury cars, namely Mercedes Benz SL63 and Porsche Panamera
Aside from real estate, Jim Carrey also invests in digital currency such as Bitcoin and much more.
Jim Carrey Has Been Married Twice in His Lifetime
Beyond being in many relationships, Carrey has been married twice. Although none of his marriages has ever lasted, his first marriage to Melissa Womer produced a daughter. Meet his wives below.
Melissa Womer
Date of Birth: July 8, 1960
Place of Birth: United States
Occupation: Actress, Producer
Spouse: Jim Carrey (married: 1987; Divorced: 1995)
Children: 1 (

Jane Erin Carrey)
Melissa Womer is an American actress and producer best known for her Man on the Moon (1999), Real Stories of the Donut Men (1997), and The Yesterday Show with John Kerwin (2004). She and Jim got hitched on March 28, 1987, after dating for a few years. The couple shares a daughter, Jane Erin Carrey, who was born on September 6, 1987.
After being together for about seven years, Jim's relationship with Womer became sour and the pair decided to call it quits. Their divorce was finalized in 1995 and they both got custody of their daughter, Jane, who has grown to become very popular. Not long after their divorce, Jim fell in love with another actress Lauren Holly.
Lauren Holly
Date of Birth: October 28, 1963
Place of Birth: Bristol, Pennsylvania, United States
Occupation: Actress
Spouse: Jim Carrey (married: 1996; Divorced: 1997)
Holly is a renowned American-Canadian actress famously known for her roles in popular movies and TV shows such as Picket Fences, NCIS, Motive, Dumb and Dumber, Beautiful Girls, and What Women Want. She began a whirlwind romance with Jim Carrey, her co-star on Dumb and Dumber, shortly after his marriage to Melissa ended. However, the pair didn't waste any time in sealing their love in a nuptial bond.
They exchanged marital vows on September 23, 1996. Unfortunately, they couldn't live happily ever after as they went their separate ways less than a year after their wedding. That was the last time Jim stepped foot on the altar with any woman. But he has been in several relationships since then.
He Has Only One Child, a Daughter named Jane Erin Carrey
Name: Jane Erin Carrey
Date of Birth: September 6, 1987
Place of Birth: Los Angeles, California, United States
Occupation: Singer, Actress
Spouse: Alex Santana (since November 14, 2009)
Children: 1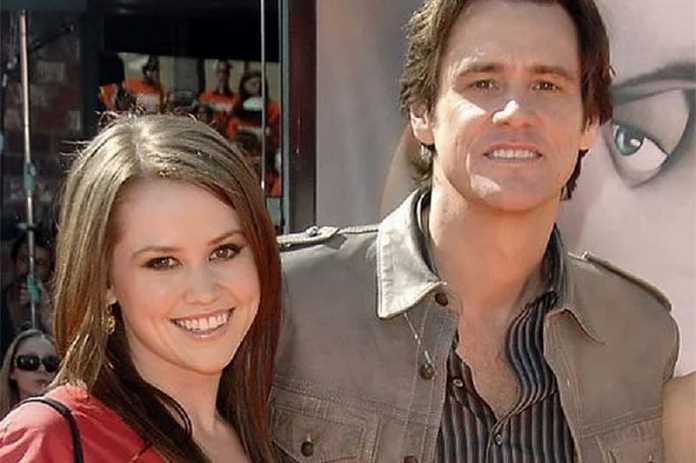 Through his marriage to Melissa Womer, Jim Carrey has a daughter named Jane Erin Carrey. As hinted above, Jane was born in September 1987 in Los Angeles, California, in the United States. Jane rose to the spotlight following her participation in the 2012 edition of American Idol. Just like her father, Jane is incredibly talented. She also pursued a career in the entertainment industry as a songwriter and singer, as well as an actress.
Despite her parent's separation when she was very young, Jane has never felt the absence of her parents in her life, even for a day. Her father, Jim, has always been there for her ever since and has been supporting her every step of the way. More than that, Jane resembles her dad in everything, except for his love life. The talented singer has been married to Alex Santana since 2014. They have one child, albeit, there's no much information regarding her child.
Since Marriage Didn't Work, Jim Switched To Having Girlfriends Instead
After two failed marriages, Carrey resorted to dating. He met model and actress Jenny McCarthy in 2005, and the duo began a relationship afterward. Their relationship saw the light of the day in June 2006. While appearing on The Ellen DeGeneres Show of April 2, 2008, Jenny confirmed that were living together but had no plans of getting hitched.
On his part, Jim made a mock proposal to Jenny as a promotion to the Yes Man (2008) for Ellen's Twelve Days of Christmas. However, two years later, their relationship hit the rocks, and the couple announced their split in April 2010. Nonetheless, the real reason behind their split is not known. Jenny McCarthy later got hitched to Donnie Wahlberg in August 2014.
In 2012, Jim Carrey met Cathriona White, a make-up artist from County Tipperary, Ireland. The duo dated for some time between 2012 and 2015. Sadly, tragedy stuck on September 28, 2015, when Cathriona was found dead from a prescription drug overdose. Carrey was later roped in a lawsuit, claiming he has a hand in the prescription drug that killed White.
Fast forward to 2019, Jim Carrey was spotted with his new girlfriend Ginger Gonzaga at the Golden Globes Party in January 2019. However, their relationship didn't last for a long time as they went their separate ways after dating for less than a year. Currently, Jim seems to be single and not dating anyone. Though this might change in no distant time.
Fact Check: Is Jim Carrey Dead?
While the iconic Hollywood star is still alive, he has faced several death lawsuits, including that of his ex-girlfriend, Cathriona White. This follows a judge's refusal to dismiss two wrongful death lawsuits filed against him. White's estranged husband Mark Burton and her mother, Brigid Sweetman also took legal actions against the actor for allegedly using his resources to provide the drugs that killed White. However, the actor was cleared of the two lawsuits sometime in 2018.
Profile Summary
First Name:
James
Last Name:
Carrey
Estimated Net Worth:

$180 million
Salary:
$20 million
Source of Wealth:
Acting
Last Updated:

2020
Also Known As:

The Mask, Net Detective Ace,
Sex/Gender:

Male
Profession:

Actor, comedian, writer, producer, author, and artist.
Famous For:
"Dumb and Dumber" (1994), The Mask (1994), Eternal Sunshine of the Spotless Mind (2004)
Colleges/Universities Attended:

N/A
Educational Qualifications:

He was a school dropout
Religion:

Christianity
Birthday & Zodiac

Age/Date of Birth:

January 17, 1962
Zodiac Sign:
Capricorn
Birth Place:

Newmarket, Ontario
Nationality:
Canadian-American
Ethnicity/Race:

Mixed
Country of Residence:

The United States of America
Physical Attributes

Height:

6 feet, 2 inches (1.88 m)
Weight:

‎84 kg (185 lbs)
Eye Colour:

Dark Brown
Hair Color:

Hazel
Other Body Measurements:

Chest: 43in (109 cm)
Arms / Biceps: 14in (35.5 cm)
Waist: 34.5 in (88 cm)
Relationships

Marital Status:

Divorced
Spouse/Partner:

Melissa Womer ( m. 1987; div. 1995)
Lauren Holly ( m. Jenny McCarthy (2005–2010)1996; div. 1997)

Family and Relatives

Father:

Percy Carrey
Mother:
Kathleen Oram
Children:

Rita Carrey (Older Sister)
John Carrey (Older Brother)
Patricia Carrey Fournier (Older Sister)
Siblings:
N/A
Other Relatives:

Unknown