Jill Wagner is an American actress who has made her name more on the small screen. She became a household name following her outstanding performance in the popular game show series, Wipeout. Starting as a model before she moved to acting and hosting, the talented actress has proven her versatility in front of the camera. More so, Wagner is considered successful both professionally and personally.
Jill Wagner's Rise To Stardom
A North Carolina native, Jill Wagner was born on January 13, 1979. The actress and her older brother were raised in their hometown by their grandmother and US Marine father after losing their mom when Jill was still a baby.
For her academics, Wagner attended and graduated from Ledford Senior High School, Wallburg, before proceeding to study business management at North Carolina State University. Jill has always had interests in showbiz and decided to hone her skills at the prestigious Barbizon Modeling and Acting School in Raleigh. After acquiring the needed skills, the actress moved to California in search of greener pastures.
Jill completed her college education in 2001 and soon afterward, she decided to make a living as a model. Thanks to this, she featured in some popular fashion and lifestyle publications such as Stuff Magazine and the now-defunct FHM magazine. She has also appeared in TV ads for top brands. Notably, Jill is recognized as the Mercury Girl for Ford's ads. More so, in 2004, Maxim Magazine named Wagner in its Hot 100 Women's list.
The Genesis of Her Acting Career
Her modeling career was still thriving when Jill Wagner decided to add acting to her resume; she made her acting debut on TV in the year 2003. She featured as a field agent for the popular MTV reality series Punk'd. The next year, she landed guest roles in other television series such as Monk, Dr. Vegas, and Quintuplets. In 2006, Jill had a recurring role in Blade: The Series and between 2007 and 2008, she appeared in the sci-fi series, Stargate Atlantis.
Jill Wagner's breakout role was in 2008 as a co-host/presenter on Wipeout. Following her outstanding performance in no less than 65 episodes of Wipeout, Wagner gained wide popularity on the ABC game show series. Her other TV credits include Bones (2008), as well as a major role in the Teen Wolf series (2011).
In 2009, Jill featured in an episode of the popular dance competition TV series Dancing with the Stars and in 2017, she appeared in an episode of the reality cooking competition Hell's Kitchen. Besides Wipeout, Jill Wagner has had other hosting gigs. Notably, in 2011, she co-hosted ten episodes of the news magazine TV show Inside the Vault and has been anchoring INSP's Handcrafted America since 2015.
Jill Wagner's Most Successful Movies
Jill Wagner's notable features on the big screen include a role as Millicent in Junebug (2005), Polly Watt in the 2008 horror flick Splinter, and Sandy in Road to Paloma (2014).
Others are Autumn Dreams and Christmas in the Smokies which were both released in 2015, and Christmas Cookies (2016). More recently, Wagner has featured in the 2017 movies A Harvest Wedding and Karen Kingsbury's Maggie's Christmas Miracle, as well as 2018's Braven.
Thanks to her great sense of humor and charm, she always seems perfect for each role she is offered. Nonetheless, there are some movies and TV shows that one can describe as her best. They include the 2018 film Braven in which she plays the role of Stephanie, Splinter (2008) where she portrayed Polly Watt, and Junebug (2005) where she acted as Phill Morrison. She has also not disappointed in Road to Paloma (2014), Teen Wolf (2011), and Stargate: Atlantis (2004) amongst others.
Exploring The Actress' Marital Life
Jill Wagner is not one of those celebrities who prefer to keep details of their personal life under the radar.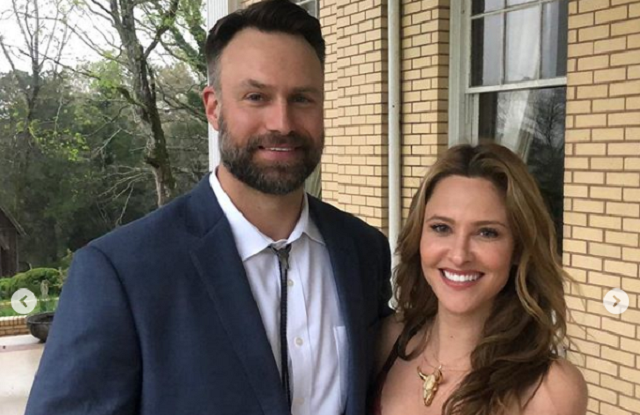 While there are no public records of her dating history, it is no secret that the beautiful and talented actress is happily married to her long-time beau David Lemanowicz. After dating for a while, the couple got engaged in 2016 and exchanged nuptial vows about a year later in April 2017 at the Rose Hill Plantation, Nashville.
David Lemanowicz is a former Canadian Hockey player who was born in March 1976. At the age of 19, he began playing for the Florida Panthers after he was drafted to the NHL. Instead of being an athlete, David had always loved to be a serviceman, so he decided to be a part of the U.S. Army Reserve for a little while. He is now an American citizen after he relinquished his Canadian citizenship in order to serve with the army.
Jill Isn't Her Husband's First Wife
Although this was the first time Jill was getting married, it was not so for David. He was previously married to a woman named Gina. The union started in 2005 but unfortunately could not survive the forever-vow as it ended in divorce. It was blessed with a daughter named Lija.
It was after this that his path crossed with the famous actress even though how they met has still not been revealed.
The actress and her husband are family-oriented. Since 2017 when they got married, the two continued to try to have kids but it seemed impossible. Jill revealed she decided to stop stressing over it and consult a fertility doctor in 2019. During the appointment, she realized she was already pregnant. She is expected to birth her child in April 2020.
Fact Check: Is Robert Wagner Related To Jill?
Given they have the same career and surname, many have wondered if there is a biological link between Jill Wagner and Robert Wagner. It gets interesting as Robert was once married to a woman whose name is Jill (Jill St. John) and also an actress.
While Robert who was born in 1930 is a native of  Detroit, Michigan, Jill is a native of Winston-Salem, North Carolina. As regards the ancestry of the two actors, nothing has been revealed about Jill but it is known that Robert's paternal grandparents were Germans while his maternal grandparents were Norwegian.
With that said,  the actors are not related in any way, they only share a common last name.
See Also: Missy Peregrym – Bio, Husband and Family, Movies and TV Shows
Fun Facts Worth Knowing About Jill Wagner
1. When she is not working, Jill Wagner unwinds through a variety of fun activities. Notably, she enjoys writing songs, singing, and analyzing dreams.
2. The beautiful model and actress has an alluring physique which has undoubtedly been of advantage to her in the entertainment industry. Jill Wagner stands at an average height of 5 feet 8 inches, complemented by her weight of about 52 kg. Her other body measurements include bust – 34 inches, waist – 23 inches, and hips – 34 inches.
3. Wagner is a philanthropist. Among other charitable causes, she was involved in the Leukemia and Lymphoma Society fundraising for blood cancer treatment and research.
4. Besides fame, Wagner's numerous endeavors in showbiz have undeniably been financially rewarding. While her exact salary has not been disclosed, the talented actress enjoys a decent net worth that is currently pegged at about $4.5 million.