Known as one of the many notable personalities in the world of broadcast journalism, Jill Nicolini is recognised for many other things including dancing, acting and modelling. She is the type you would find in almost every field, a versatile personality indeed.
Jill currently works as an entertainment news reporter and program host for a New York-based television station, CPS 2. Find out more about the renowned journalist as you keep reading.
Jill Nicolini Biography
The New York City-based traffic reporter is a native of Farmingville, New York. She was born January 10, 1978, as Jill Marie Nicolini and she belongs to English ethnicity with American nationality. Nicolini's mother is Michelle Nicolini but the identities of her father and siblings are not known.
Looking at her educational background, Jill first attended Sachem North High School after which she moved to Stony Brook which is based in New York. She studied at the University for one year before moving to Suffolk County Community College where she received an associate degree in Television/Radio Broadcasting in 1999. However, Jill had some time to work at a Long Island WBLI Radio in 1997 before she finally gained her Bachelor's degree in Communication Arts in 2001.
While studying to obtain her degree, she engaged herself in some modelling work for a renowned Playboy magazine's "College Girls Special Edition". The following year, she competed and won the Miss Long Island crown but was stripped of the title after it was discovered that she had posed nude for the above-named magazine's "College Girls" Special Edition. Consequently, she could not be part of the Miss New York Crown competition.
Professional Career
On the professional front, Jill Nicolini began her career with the New York Islanders where she worked as an arena announcer. She also danced for the Dragons Arena Football team in New York but following her fast-growing personality, she received a job in a National Hockey League team. It was during her time with the NHL team that she was discovered by the makers of the then-popular Fox reality show, Married by America. She shared the show's set with stars like Kevin Gallaher, a former pro baseball player, and Los Angeles Disc Jockey Sean Valentine.
Jill Nicolini's career as a reporter began fully in 2004 at WPIX where she was employed to work as the TV station's weekday morning traffic reporter. This also became her longest-serving job as she worked with the broadcast company for seven years before leaving in September 2011 to join Fox News Channel's WNYW, channel 5.
As her prowess in the field of broadcast journalism continued to expand, she also earned other positions. Jill only worked two years as WNYW, channel 5's entertainment and feature reporter before joining CBS 2 where she also works as an entertainment reporter.
Despite her busy schedule, Jill Nicolini also finds time for some acting gigs. She has appeared in films like the 15-minute-long drama, Zizi and Honeyboy, and the 2014 dramedy film, Annie.
See Also: Biography of Noelle Watters, Wife of Jesse Watters
Who Are Jill Nicolini's Family – Husband and Children?
Nicolini is no doubt a very versatile woman who never settles for less. Her mental and physical fitness is quite evident in her ability to manage her home and career effectively. Nicolini is a single mother to her two sons – Austin Thomas and Jackson Henry.
Following her status as a parent, it's easy to wonder if she is married. Well, as far as we know, the smart journalist has not exchanged marital vows with anyone, at least not yet. But, she has been in a number of relationships. The first time her fans expected her to walk down the aisle was in 2003 – with her Fox reality show, Married by America partner, Kevin Gallaher. The two were matched by the show's viewers and were expected to settle down as a couple but for some reason, the engagement party never pushed through. They subsequently went their separate ways, forfeiting the $500,000 prize offered by the pay-TV news channel.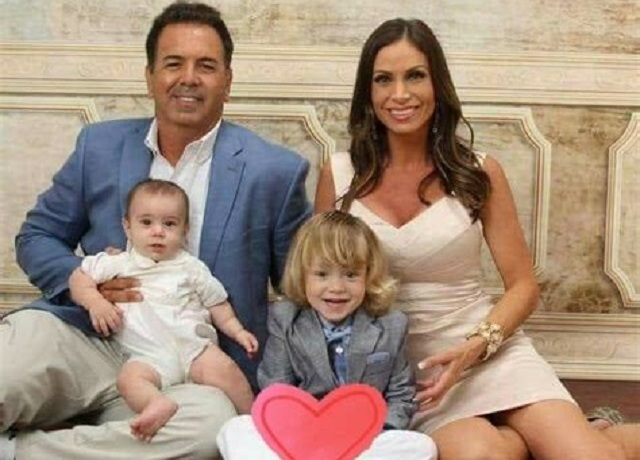 Years after breaking up with her reality TV would-be husband, Jill Nicolini was spotted dating radio show host Anthony Cumia. However, their relationship never lasted as they broke up after Jill caught Cumia in bed with a porn star.
She also dated a hedge-fund manager named Joseph Di Virgilio and is currently with Peter Khachadurian with whom she had her two sons. Her relationship with the latter was not known until after the birth of her first son Austin Thomas. While it is not clear if the two secretly got married, the pictures they often share prove that they share some intimate relationship.
More evidence of Jill and Peter's relationship reached the public when in February 2017, Jill announced the birth of her second son, Jackson Henry and on her Facebook page where she made the announcement, she tagged Peter. Also, Peter's Facebook profile photo is a family picture including himself and the two children. Although the two are yet to speak on their relationship, what we know so far is that Peter Khachadurian is the father of Jill's two sons.