Jessica Tarlov is an ideal woman who has tried to navigate through the turbulence of American politics; you are free to call her beauty with brains, a great achiever and a multi-talented star. She is a popular figure on Fox News Channel, best known for her versatility when it comes to political analysis and strategies.
Tarlov is not just a political strategist but also a consultant, director of research and consumer insight as well as a project manager. You might wonder how she got all these? Well, she came from a career-driven family and a lineage of successful celebrities. Guess you want to know more about the amazing star? Don't worry we've got you covered. Read on, to find out everything you need you need to know about the amazing political consultant below.
Who is Jessica Tarlov?
The amazing star Jessica Tarlov was born in Manhattan, in New York City of the United States of America on March 9, 1984. She was raised in Manhattan along with her younger sister Molly Tarlov who is an American actress best known for her roles in movies such as MTV's series Awkard, iCarly, and Simply Irresistible just to mention a few. Her father Mark Tarlov is a famous producer and director known for his movies including Power, Temptation, Simply Irresistible, and Undermind among others while her mother is Judy Roberts, a writer, producer as well as a wine manufacturer. Tarlov's maternal grandparents are Jewish immigrants who came from Russia and France respectively. That makes Jessica's ethnic background mixed.
At the completion of high school education, Tarlov enrolled at Bryn Mawr College where she obtained a bachelor's degree in history in 2006. She then went to London School of Economics where she got masters in political science. Her unquenchable desire of talking about politics also led her to acquire a Ph.D. in political science and government from the same school. At the time, she worked part-time as a Graduate assistant as well as a communication and digital strategist for BackBoris with Boris Johnson who was the then-mayor of London during his re-election campaign.
Career
After her graduation, Jessica Tarlov began her career as a project manager at Merrill Lynch in 2007. While at the firm, Tarlov represented her company in several international conferences held in Paris and Brussels.  She also met Douglas Schoen, a political consultant, and strategist who later hired her in 2008 as a political strategist and research assistant for his company – Douglas Schoen LLC. Later on, she joined Fox News Channel as a regular liberal commentator. Her work at Fox involves commenting on political strategies and thorough analysis of politics in the US. Tarlov appeared on several Fox shows including Sean Hannity Show; she is a Democrat and a strong supporter of Hillary Clinton.
Furthermore, Jessica Tarlov is also a prolific writer and has been writing for popular media companies such as Fox News, NY Daily News, Daily Beast, and Forbes among others. She co-authored a book titled America in the Age of Trump: A Bipartisan Guide alongside her boss Douglas Schoen. Douglas has worked for former President Bill Clinton, Evan Bayh, Tony Blair and Michael Bloomberg. He has written other books including The Political Fix: Changing the Game of American Democracy, From the Grassroots to the White House and The Power of the Vote: Electing Presidents, Overthrowing Dictators, and Promoting Democracy Around the World.
Additionally, Tarlov joined Bustle Digital Coy in 2017 and has been working as a Senior Director of Research & Consumer Insight covering stories on millennial women worldwide.
Is Jessica Tarlov Married?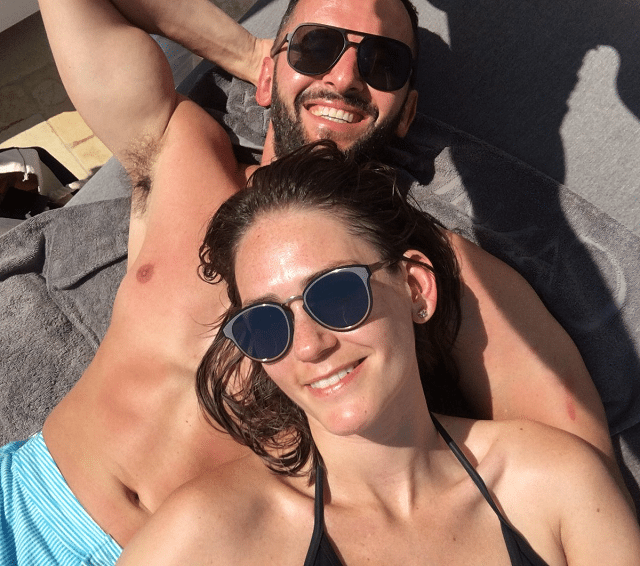 Tarlov is beautiful and very attractive; with her unparallel potentials, she would be the choice of so many men. Her exotic looks and sexy bodybuild would make you look at her more than once. However, details about her relationship and dating history have been hidden from the media. She simply enjoys keeping a low profile when it comes to her personal life. There are several pictures of Tarlov with her hunk boyfriend having fun posted on her Twitter account. Though she has not made her relationship official, we believe the duo is enjoying a romantic relationship. We hope they take it to the next level in the near future. Her sister Molly, on the other hand, is married to Alexander Noyes. Their wedding took place in March 2017.
Her Height, Weight, and Body Measurements
A mere look at the stunning political consultant would simply make anyone want to identify with her. She is sexy, slender, and has seductive body measurements of 36-25-36 inches. Her bra size is 34B and she wears a dress of size 6. She is very tall, standing at a height of 5 feet 10 inches and weighs 58 kg (127 lbs).
You can connect with Jessica using her social media handle @JessicaTarlov