If you are a game loving person, then the name Richard Tyler Blevins otherwise known as Ninja will definitely ring a bell. Richard is an American professional gamer and Twitch streamer notable for being among the best Fortnite players in the world. Amazingly, Ninja has become a household name in the gaming world and has amassed over 21.1 million subscribers on his Twitch, as well as YouTube channels. He is currently making waves in the online gaming community along with his amazing wife named Jessica Goch. The couple has continued to dominate the tabloids after walking down the aisle in August 2017.
We took the time to bring you five interesting facts you didn't know about Jessica Goch. Learn more about the social media star below.
5 Interesting Things You Didn't Know About Ninja's Wife – Jessica Goch
1. Early Life and Education
The stunning internet star was born as Jessica Goch on the 23rd day of June 1992 and her birth took place in Schofield, Wisconsin City of the United States. She spent her early years in Wausau neighborhood Wisconsin where she attended Wausau West High School. During her high school days, Jessica was in the school's Dance Team which performed at various events in the United States. Graduating from high school in 2010, Jessica enrolled in the University of Wisconsin where she got a bachelor's degree in Interpersonal Communication and Human Resource Management in 2014.
2. Professional Gaming Stint
Just like her husband, Jessica is also an avid gamer, as well as a social media star and Twitch streamer. She is among the female social media stars who are currently redefining what it means to be a part of the digital world. She started playing games when she was five years old and has played several games including Halo, Super Mario, Pokemon, and Resident Evil, among others. Notably, she garnered over three hundred thousand Twitch subscribers after she started streaming Halo games in 2014. Since then, her popularity has continued to increase. Currently, Jessica has over 1.3 million followers on Instagram and several other millions on other platforms.
3. Jessica Goch and Tyler Blevins' Relationship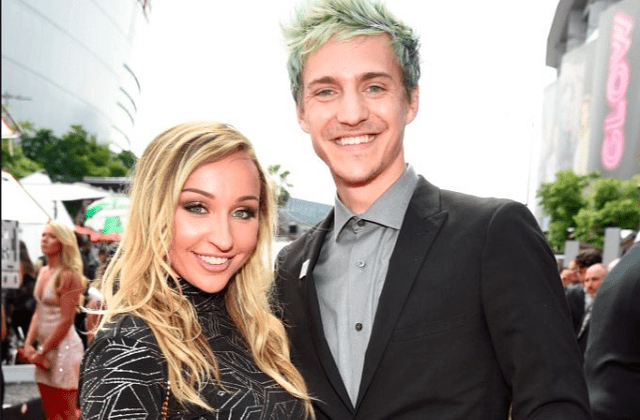 Jessica Goch and Tyler Blevins may be married at this time but their relationship started a long time ago. The pair first saw each other during a lacrosse game during college. At the time, Jessica broke up with her boyfriend and Tyler was still in another relationship. The duo kept in touch until after three years when Tyler ended his relationship with his former girlfriend. Interestingly, their love for sports brought them together again and after exchanging tweets, the pair quickly reconnected and was able to hit things off.
After three years of a successful relationship, the couple walked down the aisle and their wedding was held at Lake Villa, Illinois on August 12, 2017. The couple has been enjoying a blissful union; they don't have kids yet, albeit they have two Yorkies named Chance and Navi.
4. Jessica's Spell as Ninja's Manager
Unlike many other female celebrities, Jessica and Ninja have got an amazing relationship. They are not just a couple, they are equally business partners. Jessica is a very passionate and career-driven person; she enjoys being productive despite having a rich hubby. The social media star has worked with different companies before her current stint as Ninja's manager. Soon after her graduation from Wisconsin University, she briefly worked with Ubisoft and a few months later, she joined Remedy Intelligent Staffing where she worked as a recruiter in 2015. While doing that, Jessica also worked as a sales representative for electronic gadgets manufacturing company called Plantronics from 2014 to 2016. Since 2016, she has been taking care of negotiations and communications as Ninja's manager and has helped secure lucrative endorsement deals from notable companies.
See Also: Pokimane Thicc Bio – Boyfriend, Age, Dating, Ethnicity, Wiki, Height
5. She has Incredible Body Measurements
Jessica Goch is a stunning lady with a gorgeous personality. She is very tall, standing at a height of 5 feet 5 inches which is an average height for American women. The media star has a slim bodybuild with perfect body measurements of 34-27-36 inches. She weighs 55 kg and wears a bra of size 32B. In addition to that, Jessica has blonde hair and blue eyes.

Fact Check: We strive for accuracy and fairness. If you see something that needs updating,