If you are a video game enthusiast, then the name Richard Tyler Blevins – otherwise known as Ninja – would have definitely rung a bell just now. Richard has been noted as such a superlative gamer and streamer that even Business Insider described him as "the most popular video-game player in the world right now" in the title of a 2018 interview. That interview was actually granted to them by Ninja's Wife Jessica Goch (now known in the media also as Jessica Blevin). As you can see, there's more to the gamer and his wife that you never knew—facts that you can't find anywhere else.
See Why Jessica Goch's Husband Ninja is Considered Such a Big Name Among Gamers
There is a reason why big media houses like Business Insider would want to interview Jessica as we have seen. That reason is tied up with whom her husband is. It's something similar to what may happen to a wife of an NFL star: the WAGS kind of stuff.
Well, to put it differently, gamers may well be taken for the electronic version of the traditional athletes in terms of fame and fortune as well as their raison d'etre. So, in line with the WAGS phenomenon of the traditional athletic realms, gamers' wives and girlfriends have also begun to attract unique attention of their own. And just as it is with the wives and girlfriends of EPL, NBA, NFL and MLB stars, the fame enjoyed by the women in a gamer's life tends to be proportional to the level of prominence the gamer has garnered.
So, what's the buzz about Jessica Goch's husband Ninja? Oh yes, we know he is a gamer but what is it that marks him out? Ok, Jessica's man Ninja is notable for being among the best Fortnite players in the world. He plays other popular games too. But, he is by far one of the most popular Fortnite players the world has seen in recent years. Amazingly, he has become a household name in the gaming world and has amassed over 14.7 million subscribers on his Twitch channel, as well as 23.4 million on YouTube. Meanwhile, as Washington Post reported, Ninja transferred his streaming asset from Twitch to Microsoft's new gaming platform Mixer in late 2019 and he got over 100,000 Mixer followers in 4 hours. Also, with his 5.8 million Twitter followers and 14.9 million on Instagram, the husband of Jessica Goch—Ninja—is currently making waves in the online gaming community along with his amazing wife. The couple has continued to dominate the tabloids after walking down the aisle in August 2017.
Her Early Life, Education, and Career Laurels
Yes, after you've known why Jessica Goch worth our consideration, it's relevant to know who she was ab initio. Who was she far before we came to know her?
The stunning wife of the big-dog gamer was born on June 23, 1992, and her birth took place in Schofield, Wisconsin City of the United States. She spent her early years in Wausau neighborhood Wisconsin where she attended Wausau West High School. During her high school days, Jessica was in the school's Dance Team which performed at various events in the United States. Graduating from high school in 2010, Jessica enrolled in the University of Wisconsin where she got a bachelor's degree in Interpersonal Communication and Human Resource Management in 2014.
Just like her husband, Jessica is also an avid gamer, as well as a social media star and Twitch streamer. She is among the female social media stars who are currently redefining what it means to be a part of the digital world. She started playing games when she was five years old and has played several games including Halo, Super Mario, Pokemon, and Resident Evil, among others. Notably, she garnered over three hundred thousand Twitch subscribers after she started streaming Halo games in 2014. Since then, her popularity has continued to increase. Currently, Jessica has over 1.3 million followers on Instagram and several other millions on other platforms.
A Peep Into the Romance Between Jessica and Tyler Blevins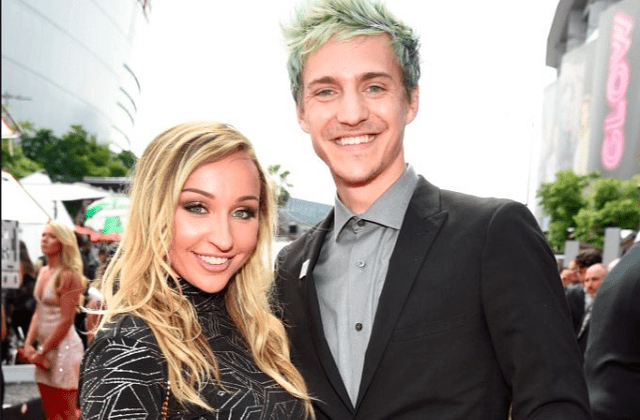 Jessica Goch and Tyler Blevins may be married at this time but their relationship started a long time ago. The pair first saw each other during a lacrosse game while in college. At the time, Jessica broke up with her boyfriend and Tyler was still in another relationship. The duo kept in touch until after three years when Tyler ended his relationship with his former girlfriend. Interestingly, their love for sports brought them together again and after exchanging tweets, the pair quickly reconnected and was able to hit things off.
After three years of a successful relationship, the couple walked down the aisle and their wedding was held at Lake Villa, Illinois on August 12, 2017. The couple has been enjoying a blissful union; they don't have kids yet, albeit they have two Yorkies named Chance and Navi.
See How Much Jessica Has Contributed to Ninja's Success as a Gamer
Unlike many other celebrity couples, Jessica and Ninja have got a relationship that spans beyond just romance. They are not just a couple back home, instead, they are business partners with profound mutual benefits. Jessica is a very passionate and career-driven person who enjoys being productive despite having a rich hubby.
After having worked with different outfits following college, she now works full-time as Ninja's manager (remember we told you she is an Interpersonal Communication and Human Resource Management major. Soon after her graduation from Wisconsin University, she briefly worked with Ubisoft and a few months later, she joined Remedy Intelligent Staffing where she worked as a recruiter in 2015. While doing that, Jessica also worked as a sales representative for electronic gadgets manufacturing company called Plantronics from 2014 to 2016. Since 2016, she has brought all these experiences to bear in taking care of negotiations and communications as Ninja's manager and has helped secure lucrative endorsement deals from notable companies.
See Also: Pokimane Boyfriend, Ethnicity, and Height
In the Business Insider Interview referenced earlier, Jessica Blevins told of how she would wake up each morning to start answering Ninja's emails and to make breakfast for both of them long before Ninja awakes. Of course, she also said that Ninja's late rising is due to the fact that he streams right into the night on most days. So, he gets extra hours of sleep in the morning up to 9 am. But, all the while that he sleeps, he keeps responding to his emails and getting other important things done via his astute wife. What a lucky man he is!
Check Out Her Incredible Body Measurements
Jessica Goch is a stunning lady with a gorgeous personality. Of course, you don't become such a top-notch gamer's woman if you can't pass for a model at least. Unsurprisingly, therefore, Jessica is tall, standing at a height of 5 feet 5 inches which is an above-average height for American women. She also has a slim bodybuild with perfect body measurements of 34-27-36 inches. She weighs 55 kg and wears a bra of size 32B. In addition to that, Jessica has blonde hair and blue eyes.