Jeremy Clarkson is a British TV host, broadcaster, journalist, and writer. He gained international prominence in 1988 as the co-presenter of BBC TV show Top Gear which rapidly propelled him to the elite class. His earnings during his 15-year stint at Top Gear is hugely responsible for his wealth of over $60 million.
Clarkson's brash attitude and controversial comments on Top Gear, most of which were perceived as "homophobic" often stirred a backlash from the general public and worse, lawsuits. He became his own undoing in 2015 after a brawl between him and a producer culminated in his dismissal. Nevertheless, Amazon, after a short while, offered him a multimillion, 3-year deal to produce a new car series known as The Grand Tour.
Here is all you need to know about Jeremy Clarkson's Top Gear career and earnings as well as his other money making endeavors.
Top Gear Fame And Fortune
After years of working as a local journalist, Clarkson received his first breakthrough in 1988 when he was selected as one of the presenters on BBC flagship car show Top Gear. He retained his role for the next two years until 2000 when the show went on a brief hiatus. Two years later, in 2002, the show debuted a new format with Clarkson returning to reprise his co-presenting role.
Clarkson alongside co-hosts James May and Richard Hammond helped propel Top Gear's viewership to record-breaking numbers. Its popularity influenced the making of related versions abroad including; "Top Gear US", Top Gear Australia", and "Top Gear Russia".
Under Clarkson's helm, Top Gear set a Guinness World Record for the most-watched factual television program in the world seen in 212 territories with over 350 million weekly viewership. Also, its Top Gear magazine subscribers reached almost 2 million. For its commercial arm BBC Worldwide, the show generated an annual revenue of $225 million.
See Also: David Letterman's Biography, Kids And Wife
Deservingly, Clarkson and his sidekicks were duly rewarded for these incredible feats. Clarkson became BBC's highest-paid TV star with a salary of £1 million. In 2014, his earnings were few dollars shy of $900,000!
In addition to his salary on BBC which peaked at $4 million, Clarkson was entitled to a 30% right of the entire Top Gear franchise. As a result, Clarkson in 2012 earned $15 million from dividends and bonuses.
In 2013 when BBC who already owned 50% of the Top Gear Empire, bought the entire rights, Clarkson received a whopping $21 million from the outstanding stakes.
Top Gear Disgraceful Dismissal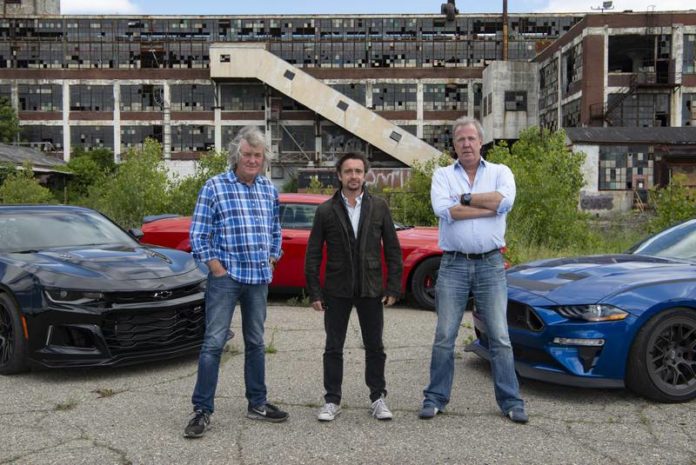 Prior to the end of his then-active contract in March 2015, Clarkson had signed a 3-year contract extension. However, following an altercation between him and a producer named Oisin Tymon, BBC axed their highest-paid star, withdrawing his contract.
The incident occurred during a filming location in Hawes, North Yorkshire where Clarkson punched and verbally abused Tymon calling him a "lazy Irish cunt" after he brought him cold lunch different from what he had requested. The punch landed Tymon in a hospital. Despite 1 million signatures on a Change.org petition to retain Clarkson, BBC fired a suspended Clarkson.
Tymon filed a lawsuit against him for racial discrimination. Clarkson issued an official apology and settled for £100,000. Top Gear is now hosted by the American former Friends star Matt LeBlanc.
Amazon Video's The Grand Tour
While die-hard fans worried about the future of their beloved Clarkson's TV career, the dismissal soon proved to be a blessing in disguise. A few months later, Clarkson was offered a reported $46 million and 3-year contract by Amazon Prime to produce a new motoring show. Clarkson gladly accepted and named the show The Grand Tour. Contrary to many speculations, it premiered in November 2016 to impressive reviews. Not to mention its production budget which by a mammoth margin gives Top Gear the run for its money. And how about the pay?….
The Grand Tour became Amazon's most-watched premiere with "millions" of views– it's not exactly Amazon's style to reveal the exact number of views. To ascertain Amazon's vague ratings, Rotten Tomatoes gave the show a 97% audience rating.
Netflix's Chief Content Officer Ted Sarandos revealed that The Grand Tour cost Amazon Prime about $250 million license fee for the planned 3 seasons. However, it remains only a speculation as Clarkson later revealed that the numbers are slightly more. He also refuted the £10 million ($12 million) per season salary he's been estimated to earn, calling it "made-up nonsense." However, speculations are that it definitely won't be lower than what BBC paid. A 7 figure pay is almost guaranteed.
Producing an episode of The Grand Tour would cost between $1.2 million and $4.9 million that is (£1 million – £4 million). In comparison, an episode of Top Gear cost $556,000 (£450,000) to produce. The Grand Tour viewership is available to Amazon Prime subscribers at the cost of $99 and $199 per year in the US and UK respectively after the expiration of a 30-day free trial.
Jeremy Clarkson's Life Before Top Gear
Jeremy Charles Robert Clarkson was born on 11 April 1960, in Doncaster, England. He attended Hill House School, Doncaster, and later Repton School.
His parents owned Paddington Bear toy business and Clarkson's first job was as a traveling salesman for the business.
He was a victim of extreme bullying at Repton School. He was later expelled from the same school for smoking and alcoholism.
Clarkson listens to rock music. One of his favorites? Genesis.
He became a journalist after training with Rotherham Advertiser. He started by writing for the likes of Shropshire Star, Wolverhampton Express, and Lincolnshire Life.
In addition to banking from his motoring shows, Clarkson's other top job is writing columns for the likes of The Sun, The Sunday Times, and Toronto Star. He has written at least 10 books.
The TV personality whose net worth is valued at over $60 million has interests in Military and Engineering.
See Also: JK Rowling's Biography, Books And Family Members
Who Are Jeremy Clarkson Wife and Children?
His first wife Alexandra James whom he married in 1989 left him for one of his friends just after 6 months of marriage. Ouch!
He found love again in the eyes of one Frances Cain and they got hitched in 1993. She filed for divorce in 2014. They share three children together( two daughters and a son).
His daughter, Emily Clarkson seems to be following in her father's footstep. She is currently a blogger and an author of a book –  Can I Speak to Someone in Charge.
The TV presenter and his older daughter seem to be very close. In 2017, he attended the launch of her book in London alongside his former wife Francis Cain.
Mr. Clarkson recently revealed how he had to stop the police from arresting his daughter after she used the 'F' word on a US airport worker.
Jeremy Clarkson Houses And Cars
Clarkson owns a £2.5 million estate located at Chipping Norton. The estate which is situated on seven acres of land is an eight-bedroom manor house set in seven acres of land.
In 2016, Jeremy was granted permission to pull down his five-bedroom farmhouse cost £4 million and build a new one but you can't imagine what he did, instead of getting a bulldozer to bring it down like normal people do, he blew it up.
Jeremy doesn't only have a penchant for good houses but also for good cars. He has quite a number of collections in his garage. In his garage, you will find a Ford GT, a Ferrari F355, a Volvo XC90 SUV,  Toyota Land Cruiser SUV, Lamborghini Gallardo Spyder, a Jaguar XJR, a Mercedes-Benz SL55 AMG and even an ex-military Land Rover Defender. What an impressive car collection!