Former model and actress Jenny McCarthy has had her fair share of hook-ups and failed relationships. She has romanced a number of very popular men in Hollywood with some of those relationships lasting longer than others. Jenny has managed to convert many of these bittersweet experiences into bestsellers on relationships and parenting.
Jenny McCarthy's First Publicized Relationship Was With Her Manager
The year the widely acclaimed Playboy model became famous, she was in a relationship with Ray Manzella. Prior to their relationship, Manzella was McCarthy's manager. The duo started dating in 1994 unknown to many of Playboy's staff and fans of the model. However, they could not maintain the secrecy for too long as the relationship became public knowledge that same year after the couple was spotted together in public places.
Sadly, the relationship between Jenny and her manager lasted only for about four years as it ended in 1998. No reason was given for the abrupt end of the relationship by either McCarthy or Manzella.
The Former Model's Next Relationship Led To A 4-year Marriage
Few months after McCarthy broke up with Manzella, she began dating John Mallory Asher. Asher is a popular actor, screenwriter, and film director best known for his role in Weird Science. The couple began dating towards the end of 1998 and by January the following year, they announced their engagement.
The relationship seemed like a match made in heaven as the duo were obviously madly in love with each other. The lovebirds were officially joined together as man and wife on September 11, 1999. They welcomed their son, Evan Joseph Asher, on May 18, 2002.  Asher also became a great source of inspiration to Jenny and he even assumed the directorial role in her 2005 film Dirty Love – which she wrote, produced, and starred in.
Unfortunately, the movie did so badly that it won the 2006 Raspberry Award for Worst Screenplay and Worst Picture. Jenny McCarthy and her husband received the Worst Actress and Worst Director awards respectively at the event.
The marriage began to suffer some setbacks following a series of misunderstandings and quarrels. It was also during this time that their son Evan was diagnosed with autism.
The divorce proceeding between Asher and Jenny McCarthy was finalized in September 2005. The official reason for the divorce was cited as irreconcilable differences. It was however reported that the marriage began to suffer after their son was diagnosed with the developmental disorder. This is still pure speculation though as it was never confirmed by the couple.
She Gave Love Another Try With Jim Carrey
It is safe to say that the beautiful model has always had a thing for actors because shortly after her divorce, McCarthy began dating popular actor Jim Carrey. The Canadian-American actor is well known for his roles in Ace Ventura: Pet Detective, Ace Ventura: When Nature Calls, Batman Forever, and in Liar Liar. Jenny and James decided against publicizing their relationship for reasons best known to them.
However, McCarthy finally shared the big news in June 2006 at the popular Ellen DeGeneres Show. The Playboy star went on to reveal that she and the star actor had decided against getting married. In 2010, the couple announced that they had decided to go their separate ways after about five years of enjoying relationship bliss. After McCarthy parted ways with Carrey, she went off the grid relationship-wise for a while.
Finding Love Again In The Arms of Donne Whalberg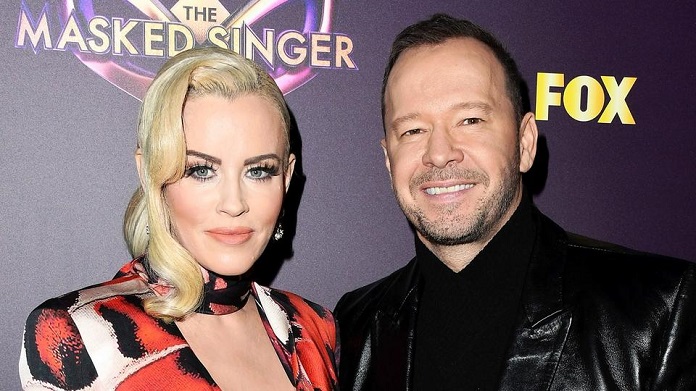 The talented actress returned from her relationship sabbatical in June 2013 after Us Weekly announced she was in a new relationship and this time, Jenny's beau was Donnie Wahlberg. Wahlberg, a talented singer and record producer, is well known as one of the founding members of the New Kids on the Block boy band. He has also carved a niche for himself as an actor with standout roles in Zookeeper, Saw films, Righteous Kill, The Sixth Sense, Boomtown, and Blue Bloods.
Donnie met the adorable Jenny at Watch What Happens Live show in March 2013. Like McCarthy, Wahlberg was also a divorcee. The singer turned actor married his ex-wife, Kimberly Frey, on August 20, 1999. The couple had two sons together during their time together. The duo filed for an annulment of their marriage on August 13, 2008, citing irreconcilable differences. Ever since then, Donnie decided against remarrying opting to focus solely on his career.
Although Wahlberg's mindset changed when he met McCarthy as the pair announced their engagement on April 16, 2014, on the popular talk show, The View. The lovebirds walked down the aisle together at the famous Hotel Baker landmark located at St. Charles, Illinois on August 31, 2014.
They are still together to date and despite not having any kids yet, the couple remains happily knitted in love.
See Also: Who Is Stella Maeve (The Magicians Actress), Does She Have A Boyfriend?
The Film Star's Son Has A Huge Influence On Her Relationship and Career Choices
Image SourceJenny McCarthy has only one biological son, Evan Asher her son from her marriage with John Mallory Asher, however, she is also the step-mom to her husband Donnie's two sons from his previous marriage.
Due to Evan's autism, McCarthy has devoted her time and resources to finding alternative medical treatments and environmental causes of autism.
This new-found drive led her to become an outspoken anti-vaccine activist. The Playboy model is one of the prominent faces behind the anti-vax movement in America. Many health specialists have debunked her belief and views on vaccination as uninformed and dangerous.
How Jenny McCarthy Became Famous
Jenny McCarthy was launched into the limelight in the early 1990s after she featured as a model for popular Playboy Magazine which she joined in October 1993. By 1994, she was named Playmate of the Year by the entertainment magazine. The beautiful model has also had very successful stints as an actress, television host, and radio broadcaster.
Jenny marked her film debut in 1998 after she starred alongside Matt Stone and Trey Parker in BASEketball for which she received widespread praise and acclaim for her role in the sports comedy film. Other notable TV shows and films which propelled her rise to fame include Singled Out, Santa Baby, Scream 3, Diamonds, The Jenny McCarthy Show, and The View.
As of 2020, McCarthy stars as one of the panelists of the Fox musical reality show, The Masked Singer.