For two years starting from 2015 to 2016, the American actress Jennifer Lawrence was the highest-paid actress on the Planet. She respectively earned $52 million and $46 million in the years under review. Since filling the role of the protagonist Katniss Everdeen in Suzanne Collins' The Hunger Games trilogy between 2012 and 2015, she has remained the highest-grossing action heroine of all history across films, TV programs, video games, and comic books. In 2013, she was named among Time magazine's '100 Most Influential People In The World'.
Later on, in 2014 and 2016, she made Forbes' Celebrity 100 List. These are just a few of the high points of the blonde beauty's career so far. With her films having grossed over $6 billion at the global box office, what is Jennifer Lawrence's net worth? How outstanding has she actually been in her career to have been so steeply decorated? Also, how does she spend her fortune? All these and more you'd find out in the following paragraphs.
Jennifer Lawrence's Career Journey
It was on August 15, 1990, that the actress was born as Jennifer Shrader Lawrence in Indian Hills, Kentucky, in the United States of America. Her father Gary was a construction worker at the time while her mother managed a sleepaway camp. Raised alongside two elder brothers Ben and Blaine, Jennifer grew up manifesting the characteristics of a tomboy. As her records at Kammerer Middle School, Louisville, Kentucky show, she was good in physical sports such as basketball, field hockey, and softball. Even more spectacular is the fact that she played these games on boys' teams. Outside the school hours, Jennifer was also noted for her interest in horseback riding.
Apart from being good at outdoor sports as just mentioned, Jennifer Lawrence was a member of the school cheerleading team and acted often in school musicals and drama presentations. Then, she also acted in the church. In one very memorable case, she portrayed a prostitute in a church play that was based on the Bible story of Jonah. At the time, she was nine.
With this background, it is little surprise that the beautiful actress went professional before she attained the age of fifteen. A talent scout spotted her in New York while she was on a holiday with her family. She got her to audition for some TV plays and she really impressed movie makers with her great performances. This led to her relocating to Los Angeles at that young age where she began by her receiving guest roles in a number of TV shows.
Jennifer Lawrence's Net Worth and How She Made Her Fortune?
Jennifer Lawrence's net worth has been estimated at $54 million recently. How has she gathered this much? Of course, the bulk of this amount has accrued to her from her work as an actress over the years.
The first major professional role credited to Jennifer Lawrence was in the USA Network's police procedural comedy-drama series Monk in 2006. It was a minor role but it was significant as she was thrilled to have found herself being on set with notable stars like Tony Shalhoub, Bitty Schram, Ted Levine, and Traylor Howard. By the following year, she landed another minor role, this time in NBC's supernatural drama-thriller series Medium. Her great performances in these two cases were enough to commend her to many movie makers in Los Angeles.
Talking about how Jennifer Lawrence gathered her net worth, this beginning was very instrumental. By July 2007, she had landed a role as a series regular on the TBS sitcom The Bill Engvall Show, portraying the role of Lauren, a rebellious teenage girl. That role ran for three seasons and ended in 2009. That was a long enough period of time, coupled with her great talents, to establish a profound reputation in the industry. She was so good in the role that she became the subject matter of feature articles in many prestigious media publications such as Washington Post. Eventually, no one was surprised when she won the Young Artists Award in the 'Outstanding Young Performer' category for her role in the show.
Since that TBS contract, Jennifer Lawrence's net worth has soared endlessly as her career profile has also been on the rise. Since then, she has received at least 25 film roles. Surprisingly, after her impressive showing in The Bill Engvall Show, she has not landed any important TV role again. Indeed, apart from hosting an episode each of NBC's Saturday Night Live (in 2013) and ABC's Jimmy Kimmel Live! (in 2017), she has not been a part of any TV show again.
However, she had a role in the 2010 music video 'The Mess I Made' by the American pop-rock band Parachute. Then, as already mentioned, she has been very well decorated for her film roles over the years. For instance, she has won a whopping 7 MTV Movie Awards, 6 People's Choice Awards, 3 Golden Globe Awards besides an Academy Award, a BAFTA Award, a Satellite Award and a Saturn Award to her credit.
See Also: How Joel Osteen Achieved a Net Worth of $50 Million and Built The Largest Church in America
How Does She Spend Her Money These Days?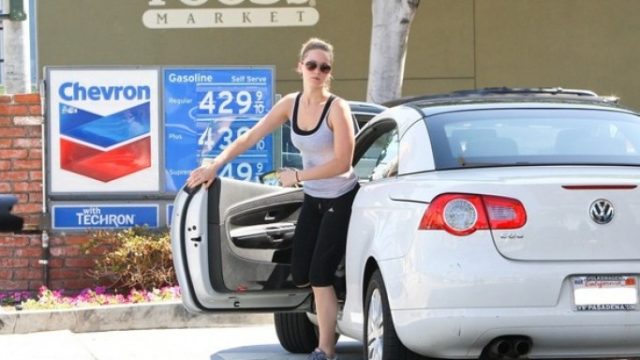 Apart from the usual spending outlets such as food, wears, and taxes, one area that Jennifer Lawrence notably spends her fortune is on real estate. Although she is generally noted for being down-to-earth about her success, she is obviously a fan of upscale homes and neighborhoods. Her two residential houses are located in Lower Manhattan, New York and Beverly Hills, California.
Although we do not know exactly how much she has spent on these homes, stats sourced from Zillow reveals that the median home value in Manhattan is over $1.2 million while that of Beverly Hills is over $3.5 million. These are besides the huge taxes that these high-brow homes must incur.
When it comes to car, Jennifer is known to be really modest. Although some sources suggest that she has a car collection, she is nearly always seen around town in her Volkswagen Eos.