Jennifer Kate Hudson is best known as a singer, but if you have never listened to her songs, you would probably only know her as an actress who has appeared in more than twenty films. Jennifer Hudson has appeared in movie roles that have proven she is a multitalented musician. From Winnie Mandela to Dreamgirls, she has left a significant footprint in acting, sizeable enough to match her musical achievements.
In this article, we took a look at five roles where Jennifer Hudson traded the music studio for the sound stage and delivered excellent acting performances. Check it out below.
5 Movie Roles That Prove Jennifer Hudson Is A Multi-talented Musician
1. Effie White in Dreamgirls (2006)
Jennifer Hudson found her way into the spotlight after she finished as a finalist on the popular reality show, American Idol. When the time came for her debut as an actress, it is no surprise that her first movie role involved music. Jennifer Hudson played the role of Effie White, the lead singer of an all-black female group of soul singers that made its way to the pop charts. While the movie featured heavyweights such as Jamie Foxx and Eddie Murphy, Hudson holds her own as the lead singer of the group.
Jennifer Hudon's role in the movie earned critical praise and commercial success, earning $155 million on a budget of $80 million. She also won an Oscar award for Best Performance by an Actress in a Supporting Role.
2. Rosaleen Daise in The Secret Life of Bees (2008)
The earliest films in Jennifer Hudson's film career played on racial and political themes. One of them was The Secret Life of Bees, a 2008 film where she played Rosaleen Daise. In the film, which is about a teenage girl, Lily, who runs away to a small town in South Carolina in search of the truth about her mother. Hudson plays Rosaleen Daise, the family housekeeper.
Rosaleen who suffers at the hands of Lily's abusive father flees with her to South Carolina. Hudson's performance in the film drew critical praise far and wide, as she held her weight alongside veteran actors like Queen Latifah.
3. Winnie Mandela in Winnie Mandela (2011)
In 2011, Jennifer Hudson got a chance to showcase her talent in a leading role in the film, Winnie Mandela. She played Winnie Mandela, wife of the iconic South African President. Adapted from the biography, Winnie Mandela: A Life, Jennifer Hudson delivers a remarkable performance as a woman who was raised in a strict environment and grew up to continue the activism of her husband. Playing the role alongside Terrence Howard, who plays Nelson Mandela, she delivered a believable portrayal of a woman who went from being a renowned activist to a criminal gang leader.
Although the film was released amidst controversy from South Africa, Hudson earned plenty of praise for her portrayal of one of South Africa's most recognizable heroine.
4. Courtney Clarke in Sandy Wexler (2017)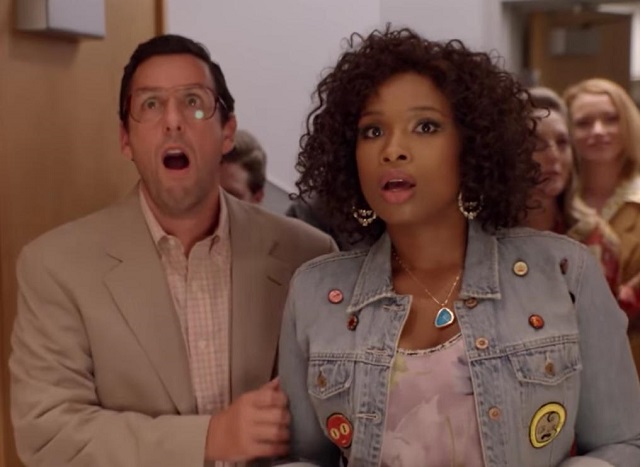 Having made her debut in Dreamgirls to critical and commercial success, Jennifer Hudson once again got a chance to combine two of her talents – music, and acting, in the 2017 film, Sandy Wexler.
In the film, Jennifer Hudson plays Courtney Clarke, a talented singer who was discovered in a park by Sandy Wexler, played by Adam Sandler. Over the next decade, the two of them are involved in a star-crossed love story.
Although the film itself was not a critical success, Hudson's performance was reflective of the gravitas she brings into her roles. It also afforded her a chance to explore her comedic side, one she played to above-average levels.
5. Naima in Black Nativity (2013)
In Black Nativity, a musical drama featuring an African American ensemble cast, Jennifer Hudson plays the role of Naima, the struggling mother of the protagonist, Langston.
Although she merely plays a supporting role alongside several of the notable names in the film, which include Mary J. Blige, Angela Bassett, Forest Whitaker, and Tyrese Gibson, her performance shines through.
In the film, Jennifer Hudson's character is a poor woman who is estranged from her parents. Over the course of the film, she and her parents find a path to forgiveness.
See Also: 5 Justin Timberlake Movie Roles That Prove He Can Do More Than Just Music
Sadly, despite an impressive portrayal of the divide between her character and her parents, it was not enough to make this film a commercial success. It earned just $7 million on a $17.5 million budget.
Still, it is one role among the movies in Jennifer Hudson's filmography that proves just how multitalented she is.