Since she became an actress in 1982, when she made her debut appearance on camera in the show, Tales of the Unexpected, Jennifer Connelly has made headlines for a variety of reasons. Several of them are related to her performances in highly-rated films like Requiem for a Dream, A Beautiful Mind, and House of Sand and Frog. Another reason is Jennifer Connelly's marriage to her husband, Paul Bettany.
The marriage, which began in 2003, is one of Hollywood's A-list marriages, although it is also one of its less popular marriages. A propensity for keeping her life private has resulted in limited public information about their relationship.
In this article, we examine everything you need to know about Jennifer Connelly's husband, including whether they are still together.
Is Jennifer Connelly Still with Her Husband?
Thankfully, the answer is yes. Jennifer Connelly is very much still married to her husband, Paul Bettany. Their marriage is one of the longest A-list marriages in Hollywood, having gotten married in 2003. They say there is no standard template to love, and that is something that looks true with Jennifer and Paul Bettany. Unlike her previous relationships, which were very much publicized, the couple never actually dated.
According to the story shared by Paul Bettany himself, Jennifer Connelly was a childhood crush whom he had grew up watching in films like Once Upon a Time in America. They met for the first time on the set of A Beautiful Mind, the 2001 film that gave Jennifer Connelly her Oscar for Best Supporting Actress.
On the set of the film, Jennifer and her husband struck a bond, but it never developed into a relationship according to the story told by Paul Bettany. With no established relationship, Paul proposed to her over the phone after he witnessed the tragic events of the 11th of September, 2001. Two days after, a formal proposal was made in Los Angeles where she eventually said yes.
How Long Have They Been Married?
Jennifer Connelly and her husband, Paul Bettany, got married on the 1st of January 2003 in a private ceremony in 2003. The two of them have been together for more than 15 years, making them one of the longest-married couples in Hollywood.
Since they got married, they have shared several milestones in their personal and professional lives. In their personal lives, they have given birth to two children, a son, and a daughter. Their son, Stellan Bettany, was born on the 5th of August, 2003 while their daughter, Agnes Lark Bettany, was born on the 31st of May, 2011. Agnes was born via a planned home birth in a birthing pool.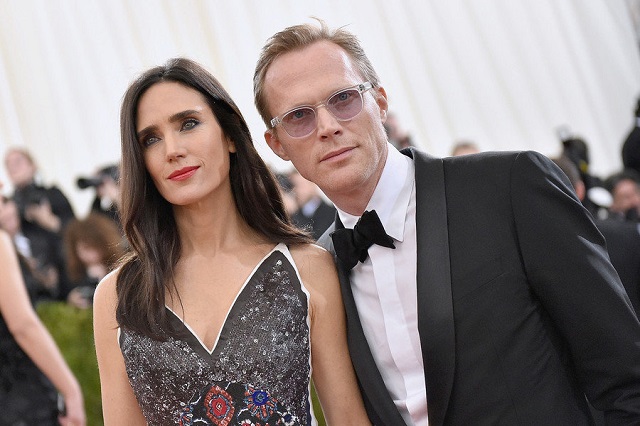 Both their children have followed in the couple's footsteps into show business. Stellan Bettany is an actor who has appeared in the film Shelter as Jake, while their daughter, Agnes Lark Bettany, is a child model, following after her mother, who started her career in show business as a model. Aside from their two biological children, Jennifer Connelly and her husband also share a son, Kai Dugan. He was born from the actress's prior relationship with the photographer, David Dugan.
Outside of their personal lives, since they have been married, Jennifer Connelly and Paul Bettany have also worked together professionally. The two of them have both worked on a couple of films together since they got married including They are Born (2009), Inkheart (2008), Creation (2009), and Shelter (2014), which was directed by her husband. Both of them have also featured in the Marvel Cinematic Universe, where Paul Bettany plays Vision and Jennifer had a voice role as Karen in the 2017 MCU film, Spider-Man: Homecoming.
Jennifer and Paul currently live in Brooklyn Heights, New York. Before moving to Brooklyn, they lived in Tribeca.
Who is Her Husband?
Jennifer Connelly's husband, Paul Bettany, is an English-American actor who has been in the acting business for more than two and a half decades.
See Also: Xenia Seeberg: 6 Facts About The Lexx Science TV Series Actress
Born in London, England, he began his career in the famous London West End, making his stage debut in the play, An Inspector Calls. He made his onscreen debut in 1994, in the show, Wycliffe, and has gone on to appear in more than 45 movies and TV shows, including popular titles like Avengers: Infinity War, Transcendence, The Secret Life of Bees and several others.
Over the course of his career, he has been nominated for more than 20 awards, including the BAFTA Awards, Gotham Awards, and MTV Movie & TV Awards.