Celebrities date, marry and it ends, we accept that. Although being celebrities, their relationships get a lot more press but it is no more different than the relationships of regular people which has been seeing a rising rate of divorce year-on-year. However, even though we accept the phenomenon, there are still breakups that break our hearts, such as that of Jennifer Aniston and Justin Theroux.
When Jennifer Aniston began dating Justin, the belief was she had finally found her happy ending, an end to the string of high-profile failures that have defined her relationship history but that turned out not to be the case as they got divorced after less than three years together.
Much has been said about the end of the marriage, and the couple has maintained an amicable relationship afterward. However, having been divorced for a couple of years, we take a close look at their respective net worth, exploring how much the celebrity exes are worth now.
Who Makes More Money?
Jennifer Aniston Net Worth Is $220 million
If we are going to compare the net worth of the exes, then we should start with the most popular between the two of them – Jennifer Aniston. She is an actress, who is most known for her role on everybody's favorite sitcom, Friends. She famously played the character, Rachel Green on the show and has been in the industry for over thirty years. She started with an uncredited appearance in Mac and Me, which was her very first movie, then she made her debut in TV in 1990, where she played Courtney Walker in Molloy.
Before she got her big break in Friends in 1994, Jennifer Aniston appeared in a bunch of other works before starring in the popular sitcom. She appeared in shows like The Edge, Ferris Bueller, Muddling Through, Burke's Law.
While she solidified herself as a TV actress, Jennifer Aniston also proved to be a regular face on the big screen as she appeared in movies like Leprechaun, Camp Cucamonga and a couple of others, then Friends began. Sure, Jennifer Aniston made some money before she was cast in Friends, but her mega wealth today is undeniably a result of her role on the show.
Jennifer Aniston was on Friends for ten years between 1994 and 2004, during which she appeared in 236 episodes. While many fans of the show would look back on the show and able to recite some of the dialogue in each episode word for word, Jennifer looks back on it as the unending source of her wealth.
She has been making as much as $20 million per year since the show ended in residual income, and over the course of the last two seasons of the show, Jennifer Aniston made as much as $1 million per episode, a fact that made her and her castmates the highest-paid cast members on TV at the time.
One could say that Jennifer Aniston, with such level of income from Friends, doesn't need to be successful as a movie actress, but she has also recorded some degree of success as one.
The increase in popularity that emerged out of her role as Rachel Green made her a huge box office draw, and over the course of her career, her movies have made almost $2 billion in the global box office at over $1.6 billion.
This comes from a filmography with over 40 movies, with some of her most successful movies being Bruce Almighty, Horrible Bosses, Just Go With It, The Bounty Hunter and a couple more others.
Other than her earnings from Friends and movie successes, Jennifer Aniston's mega net worth has also come from brand endorsements, which includes deals with Emirate Airlines, L'Oreal, Aveeno, Smartwater, and Living Proof, which she used to own before it was sold to Unilever.
With divorces often coming with a large payout from the richer personality, thanks to a prenuptial agreement, Jennifer Aniston has been able to keep her net worth despite her divorce from Justin Theroux.
Of course, that is not to suggest that Justin Theroux is a bum because he is doing quite alright for himself and you can see how much below.
Justin Theroux Net Worth Is $25 million
Perhaps if you are Jennifer Aniston or you earn as much as her, Justin Theroux's net worth might be something to smirk at but not to us regular folk.
Just like Jennifer Aniston, Justin Theroux is also an actor and he began his career in 1995, much later than his ex-wife. He made his debut appearance onscreen in an episode of the show, C.P.W, where he starred as Gary Andrews.
In the following year, he made his first appearance in a movie, I Shot Andy Warhol, playing the character Mark and ever since, he has been a mainstay of both movies and TV shows.
Throughout a career that has lasted over a quarter of a decade, Justin Theroux's filmography, which boasts of over 60 movies and TV shows, has recorded credits in major productions like American Psycho, Mulholland Drive, Charlie's Angeles: Full Throttle, Miami Vice, Wanderlust, and The Leftovers.
As an actor, Justin Theroux is not particularly a leading man, and he has only primarily been a supporting actor for a majority of his career, with his supporting roles earning over $2.5 billion in the box office. Sadly, such high earnings haven't reflected in his net worth because of the comparatively low earnings of supporting actors.
As a leading actor, however, Justin Theroux has made some decent splash in the box office, with an estimated over $200 million in box office sales in movies where he played a lead role.
This is believed to have contributed to his modest net worth, along with backend income from some of his technical roles as a screenwriter, director, and producer. As a screenwriter, he is famous for writing the popular movie, Tropic Thunder.
Jennifer Aniston and Justin Theroux – Relationship Timeline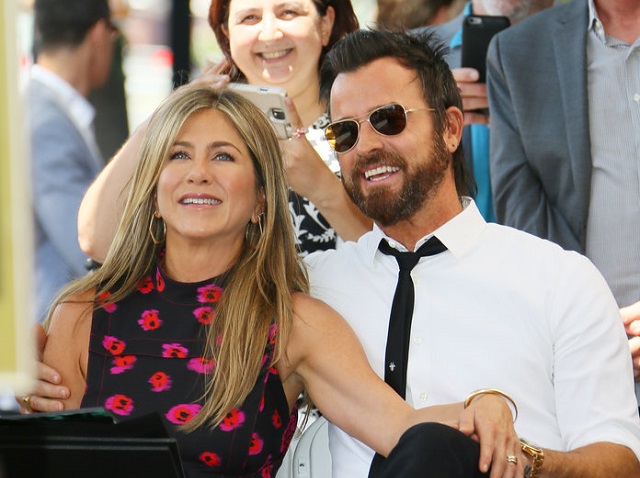 Having established the richer personality between the former married couple, let's revisit their relationship, and take a look at their journey from colleagues to lovers to married couple and then to former husband and wife.
2007
Jennifer Aniston and Justin Theroux met on the set of Tropic Thunder, which Justin co-wrote. Both of them happen to be close friends with one of the stars of the movie, Ben Stiller and a random set visit from Jennifer who did not star in the movie led to a first impression meeting between the two of them, but they never began a relationship.
2010
After three years of meeting for the first time with nothing happening between them, Jennifer Aniston and Justin met again on the set of the film, Wanderlust, with Jennifer starring on this one, alongside comedic actor, Paul Rudd.
When they met, Justin Theroux was in a relationship with his girlfriend, Heidi Bivens at the time, but they broke up shortly after.
May 2011
Come May in 2011, the rumour mill began trudging out information about a possible relationship between Justin and Jennifer Aniston. The two of them were spotted at various romantic venues, as rumours of them being a thing began to grow.
June/July 2011
It didn't take long for stronger shreds of evidence of their relationship to begin to fly as they were seen attending major industry events together, including an MTV Movie Awards after-party. Another was Justin Theroux's presence as the hand and feet moulding event for Jennifer Aniston at the Chinese Theatre in Hollywood.
August 2011
For those who were yet unsure of their relationship, August provided the definitive answer when it was reported that both Justin Theroux and Jennifer Aniston had moved in together after a couple of weeks of house hunting.
February 2012
With their relationship confirmed, Jennifer Aniston gave a candid interview extolling the wisdom and joy of dating Justin Theroux, which was the first official statement about their relationship from the Friends actress.
March 2012
Justin and Jennifer decided to adopt a dog. The dog, which was a rescue pit bull, was named Sophie. Nothing says becoming a family-like adopting a dog together.
August 2012
After almost two years of dating, Jennifer Aniston and Justin Theroux got engaged on the 10th of August, 2012. Justin proposed to Jennifer on his birthday with a diamond ring worth $500 thousand. The ring, which is an 8-carat boulder designed by Peter Meksian.
August 2015
After about three years of being engaged, which led many to think their marriage was never going to happen, Jennifer and Justin Theroux got married in a very private ceremony in their new home.
The wedding, which was heralded as a birthday for Justin, was held in their home in Bel Air, with close friends from her hit show, Friends in attendance. The wedding was officiated by Jimmy Kimmel with Amy Sedaris serving as the best man.
July 2017
Justin and Jennifer Aniston were photographed for the last time in public during an event in Hollywood, a celebration honouring Jason Bateman who was getting his star on the Hollywood Walk of Fame. Both Jennifer, who is a close friend of Jason, and her husband, Justin were at the event.
February 2018
After what had become a noticeably sporadic appearance in public together, including Justin missing Jennifer's birthday on February 11, the couple announced on the 15th of February that they were getting divorced in a public statement.
See Also: Tristan Thompson and Khloe Kardashian Relationship Timeline: Here are Facts
While the divorce undoubtedly broke the heart of fans, it was said that the divorce was a result of their incompatibility in personality.
Since getting divorced, both Jennifer Aniston and Justin Theroux have reportedly remained single, with no known public relationship.