Ever since Jennette McCurdy became a national and international star for her role as Sam Puckett in the Nickelodeon series, iCarly, public interest in her life has soared. Before she began playing the role, she had appeared in several movies and TV shows, but it was the teenage sitcom that eventually brought her into major stardom. Now, Jennette McCurdy is a Hollywood star, and details about her personal life, such as her boyfriend and ex-boyfriends have become newsworthy.
Of course, like most of her colleagues in the industry, she strives to put up a wall between her professional and personal life, but in the more than two decades since she became an actress, a few details have made it onto the tabloid pages.
Here is a look at the iCarly actress's relationship history, along with the details about her current relationship.
Jennette McCurdy's Ex-Boyfriends
It is not amiss to say that Jennette McCurdy was the crush of a lot of young men and women who grew up on iCarly. Jennette, with actress turned international music star Ariana Grande, were two of Nickelodeon's stars, who not only wowed children and young adults worldwide with their acting talents but also with their beauty.
Of course, not everyone will and has gotten a chance to live in the dream of being Jennette McCurdy's boyfriend, but a few have, and below is a list of men who have dated the actress.
Graham Patrick Martin
Before Jennette McCurdy became the teenage super actress with millions of global fans, she met and began dating Graham Patrick Martin in 2004, her first known ex-boyfriend.
Graham, like Jennette, started his career as a teenage actor, making his debut in 2006, in an episode of the TV show, Law & Order: Criminal Intent.
As for how they met, not much is known, but he did appear in an episode of iCarly, a year after they reportedly broke up. According to public information, Graham Patrick Martin officially became Jennette McCurdy's first ex-boyfriend in 2008.
Max Ehrich
The second man believed to have lived the dream of being Jennette McCurdy's boyfriend is Max Ehrich. Max, like the first boyfriend, is also an actor whose filmography includes titles like Under the Dome, The Young and the Restless, and American Princess.
According to the report, Jennette McCurdy and Max Ehrich were in a relationship sometime between 2010 and 2011. Neither of them confirmed they were in one, with both of them going as far as saying they are just friends, even though at the height of the rumor, both of them were frequently seen going on various outings together.
Being a woman who likes to keep her personal life private, we will probably never know if they were ever really together, but for now, we will file Max Ehrich among Jennette McCurdy's ex-boyfriends.
Andre Drummond
One relationship that Jennette McCurdy did acknowledge, however, was her relationship with Detroit Pistons' basketballer, Andre Drummond. The two of them were together between August and September 2013, a very short relationship that brought Jennette under the spotlight in a negative way.
How did they meet? Well, according to available information, it began with a tweet from the basketball player, claiming that the iCarly actress is his crush. Jennette responded with a post on Instagram saying he too, is her crush, and things kicked off from there.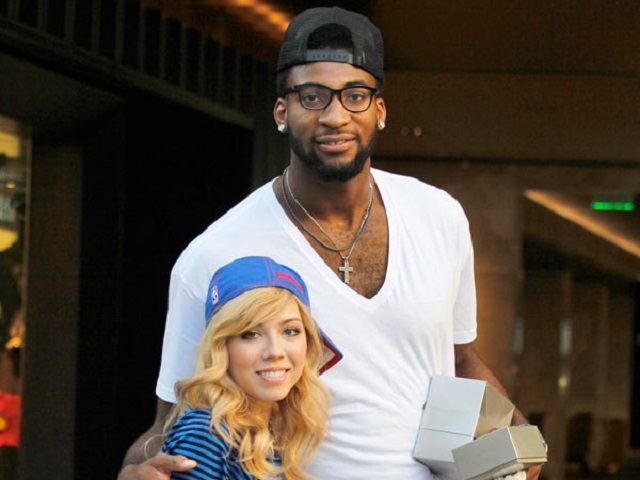 Even though their height difference does not suggest it, Jennette is older than Andre, and they were together for a month. What simply could have been a fling turned into a controversy when nude pictures of Jennette McCurdy made it onto the internet, and the actress pointed fingers at the basketball player. Combined with a comment that Andre Drummond was a lousy kisser, their fling quickly became a major controversy in entertainment news.
One thing is for sure, Andre Drummond is one ex-boyfriend of Jennette McCurdy that won't be getting Christmas cards.
Does She Have a New Beau?
Having completed a rundown of Jennette McCurdy's ex-boyfriend list, the question moves to the present. Is she dating anyone now?
The answer to that, as far as publicly available information goes, is no. It would appear for a couple of years now, Jennette McCurdy has been riding solo in the relationship department.
See Also: Is Angelina Jolie Dating Anyone, Who Has She Dated in The Past? 
At a time, rumors suggested she was in a relationship with Jesse Carere between 2014 and 2016, but neither the actress nor the actor confirmed anything, and it has been silence in the Jennette McCurdy relationship department since Andre Drummond.