When the American version of the popular British sitcom, The Office, debuted in 2005, it received negative reviews with many dismissing it as a poor imitation of the original. The show however forged ahead and went on to make history as one of the best TV series ever. It also made stars out of its previously unknown cast members and one of those who has benefited from this is Jenna Fischer.
Fischer commenced her acting career in the late 90s and spent several grueling years (filled with odd jobs, piling debts, and failed auditions) trying to break into the industry. She later got her breakthrough when she was cast in the role of the down-to-earth receptionist, Pam Beesly, on The Office. The series ran for nine seasons during which Fischer immortalized herself as Pam. The series has now ended and she is utilizing her fame to break new grounds.
A Walk Through Her Early Life And Acting Career 
The beautiful Jenna Fischer has a net worth running into millions of dollars and this hails majorly from her acting career, a career that stems back to her childhood. The actress was born on March 7, 1974, to Anne and James E. Jim Fischer. Her birthplace is Fort Wayne Indiana but she grew up in St. Louis, Missouri. While undertaking her education at Pierremont Elementary school, Fischer took acting classes for children.
She continued this pattern all through high school, Nerinx Hall High School, and eventually joined Truman State University where she obtained a Bachelor of Arts in theater and a minor in Journalism. Upon graduating college in 1996, Fischer immediately headed out to Los Angeles to pursue her acting career. She believed that she would become a rich and famous star in about six months, however, life had another thing in stock for her.
Adventure Into Hollywood
The Indiana native got rejections upon rejections and accumulated a pile of debts. She did several odd jobs to survive and had to live in crappy apartments. She, however, pulled through all of that and scored her first role in a 1998 indie movie titled Channel 493. From then on, Jenna featured in a handful of indie films – even though the pay was meager. Her fortunes eventually improved when she scored guest roles in TV series such as Spin City, Off Center, and What I Like About You. These shows paid a decent fee to Fischer and she contented herself with this until she scored her breakthrough role.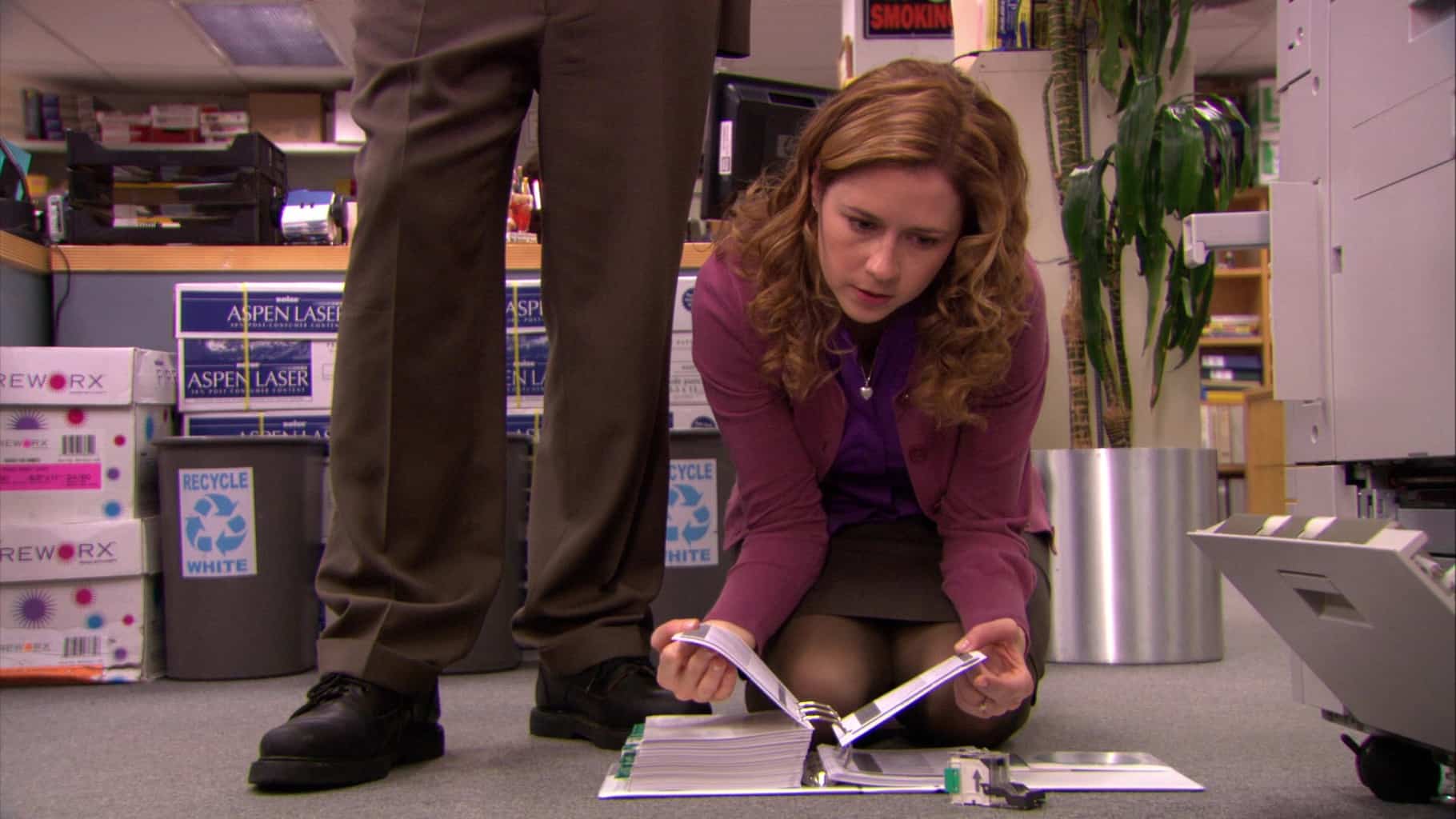 Finding Fame and Fortune on The Office
The Office is an NBC series that follows the everyday lives and foibles of employees at a paper mill. The show is based upon a British sitcom of the same name and featured an ensemble cast comprising of the likes of Steve Carell and John Krasinski. In the series, Fischer portrayed a good-hearted receptionist named Pam Beesly. Her character gets up to several adventures with a co-worker, Jim (portrayed by John Krasinski) and many fans wished they would get romantic. That eventually comes true as they commence a relationship and go ahead to get married after an epic gas station proposal.
The Office ran for a total of nine seasons, 2005 – 2013, and Fischer appeared in about 188 episodes. Her performance fetched her several accolades including a nomination for the Primetime Emmy Awards for Outstanding Supporting Actress in a Comedy Series, and Screen Actors Guild Awards for Outstanding Performance by an Ensemble in a Comedy Series. It also made her a fan favorite and as such, the producers did everything in their power to keep her happy. For the first three seasons of the show, she received $20,000 per episode. That amount was then bumped up to a whopping $100,000 per episode for the remaining six seasons.
It, therefore, means that the actress received about $1.2 million for the first three seasons of the show and then $12 million for the last six seasons. Apart from adequate financial rewards, The Office opened doors for Jenna Fischer in Hollywood and since then, she has appeared in numerous films and TV series including Brad's Status, You, Me, and the Apocalypse, The Guest Book, Kiss Me and Drunk History.
She has also done promotional work for some brands including Proactiv Skin Care and Wisconsin Milk Marketing Board Grilled Cheese Academy Website. All these have equally paid the actress handsomely and she now has an overall net worth of $15 million.
What Jenna Fischer Been Up To After The Office
Jenna Fischer will forever be remembered for her portrayal of Pam Beesly on The Office but as a popular saying has it, life must go on. Since the show ended in 2013, the Indiana native has forged on with her acting career, appearing in some movies and TV shows. Her latest projects include the Clint Eastwood-directed 2018 biopic, The 15:17 To Paris, and the TV series, Splitting Up Together. Splitting Up Together is an ABC series about a couple, Lena and Martin, who rediscover their love in the process of divorce. The series debuted in 2018 and Fischer portrays the role of Lena.
Away from TV, Fischer can also be heard on the hit podcast, The Office Ladies. The Office Ladies is a joint venture with her former co-star and real-life bestie, Angela Kinsey, and debuted in October 2019. Each week, both ladies watch one episode of The Office and dish on all the behind-the-scenes stories related to it. They also tackle viewers' questions and talk about their lives. Since its debut, The Office Ladies have topped the charts and received a shorty award nomination for best podcast.
Finally, Jenna Fischer has also found time to pen a book and released her first effort, The Actor's Life: A Survival Guide, in 2017. The book chronicles her highs and lows in Hollywood, the casting process for her iconic role, and her no-nudity clause. She also shares tips with up comers as it relates to savings, getting good mentors, and dealing with harassment situations.
Jenna Fischer's Marriage and Divorce from James Gunn
Fischer has been married on two occasions and her first marriage was to acclaimed Hollywood director, James Gunn. Fischer first met Gunn through his brother, Sean, who happened to be her childhood friend. Sean introduced her to his brother when she moved to Los Angeles in search of an opportunity to put her talent on display. James helped her to get in a showcase and that small favor led to the actress getting her first manager. Things also turned romantic between the two and they tied the knot in 2000.
See Also:  Things to Note About Dylan Bruce's Early Life and His Most Recognized Movies & TV Shows
The union lasted for seven years and the couple announced their divorce in 2007. Despite the divorce, the pair have remained quite friendly. They support each other's work, often using their social media accounts to promote one another's upcoming projects, be it a new directorial outing for Gunn or a new series starring Fischer. They also never forget birthdays and still send each other good wishes on their respective birthdays.
Additionally, the exes often buy art or even pizza for each other and gleefully document these on their social media accounts. All these have gained them the respect of the admiring public and a 2016 Pajiba article tagged them the cutest divorced couple ever.
Finding Someone Who Shares the Same Goals with Her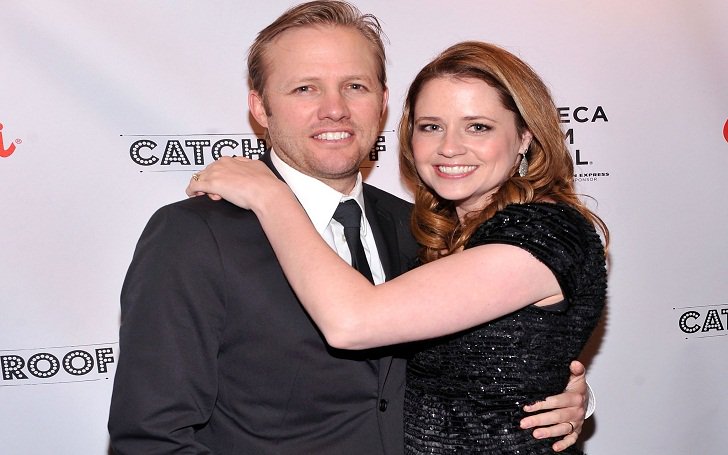 Despite her great relationship with her ex, Fischer has moved on with her love life and is now married to screenwriter, director, and actor, Lee Kirk. Jenna and Kirk first met in 2008 when she pitched an idea to him. He turned down the idea but they ended up remaining in touch and becoming friends. They later started dating and got engaged in June 2009.
Their wedding was held the following year and the couple has been together ever since. They welcomed their first child, a son named Weston Lee Kirk, in 2011. In 2014, they were blessed with their second child, a girl named Harper Mariee Kirk. The secret to Jenna's union with Kirk lies in the fact that they share the same life goals and not just shallow fluttery feelings for each other.