When the news of the break up between Channing Tatum and Jenna Dewan hit the airwaves, it was a crushing blow to fans of the couple who have championed their relationship as goals having been married for nine years. While the world processed the end of yet another Hollywood major relationship, Channing and Dewan went through the arduous task of fashioning out an amicable divorce, with the biggest factor, money, at the center of the puzzle.
They did manage to complete the divorce, with little scandal to report and have moved on with their respective careers. We take a look at how much money the former couple goals are now making in their respective careers.
Channing Tatum's Net Worth
Channing Tatum and Jenna Dewan announced their divorce in 2018 and in that period, both of them have gotten a chance to move on with their respective careers.
In the year the divorce was announced, in 2018, Channing Tatum starred in only one project, in the movie, Smallfoot, voicing the character, Smallfoot, something many considered to be the result of the emotional tax of the divorce.
However, the solitary appearance in the year has very little effect on the earning power of the actor, who has an estimated net worth of $50 million.
The actor, who made his first appearance on screen in the short movie, Ricky Martin: She Bangs made his full debut in an episode of CSI: Miami, where he appeared in an episode playing the character, Bon Davenport.
Channing Tatum then got his breakthrough appearing in the movie Step Up, where he played Tyler Gage. Since then, Channing has been appearing in several major movies, including the Magic Mike movies.
He has starred in several box office successes like The Lego Movie and its sequel, The Lego Movie 2, Don Jon, 21 Jump Street, G.I. Joe: Retaliation and G.I Joe: The Rise of Cobra.
His movies, which are the dominating parts of a filmography that has over 50 movies and TV shows, have earned over $2.6 billion in the global box office, with over $1.1 billion in the domestic box office alone.
Aside from his acting credits, which are the highest contributors to his net worth, Channing Tatum also owns two production companies, 33andOut Productions, and Iron Horse Entertainment.
Through them, he has produced successful movies like Magic Mike, Magic Mike XXL, White House Down, Logan Lucky, 22 Jump Street, 21 Jump Street and the shows Comrade Detective and Step Up: High Water.
As a producer, Channing Tatum's movies have earned over $1 billion in the global box office. Aside from being an actor and a producer, Tatum is also an entrepreneur who owns a vodka company, Born and Bred Vodka. The company was launched in 2017.
Jenna Dewan's Net Worth
Jenna Dewan, who is an actress and a dancer, started her career as a backup dancer to the iconic musician, Janet Jackson. As a backup dancer, she also worked with some other notable musicians such as Missy Elliot, Pink, and Christina Aguilera.
Her biggest break came through a combination of her natural talents as a dancer and a move into the world of acting when he starred as Nora Clark in Step Up, a film that also had her future husband, Channing Tatum.
Jenna Dewan launched her acting career through the movie and has appeared in several other movies and TV shows since she made the appearance in 2006.
She has built up a filmography with over 35 movies and TV shows, several of which have been major productions but with Jenna in minor or supporting roles.
Some of her notable roles include playing Julian Lynn in The Resident, Lucy Lane in Supergirl, Freya Beauchamp in Witches of East End, Teresa Morrison in American Horror Story, Janie in The Playboy Club and a couple more others.
While she has had a decent filmography, Jenna Dewan has only ever played a leading role or part of a group of leading character only a handful of times, recording over $112 million in the global box office.
While she has found much success individually as an actress, Jenna Dewan had earned significantly from her career as an actress and has further combined her acting career with being a TV host for the show, World of Dance, which she hosted between 2017 and 2018. Her efforts in the business so far have earned her a personal net worth of $6 million.
A comparison between Channing Tatum and Jenna Dewan puts Channing in a distant lead but the couple, when they were together shared their respective wealth.
When they were together, the couple bought a house worth $6 million back in 2015. They moved to the house from a $2.6 million home they owned in the Laurel Canyon neighborhood in Los Angeles.
They have also bought some significant gifts for each other, including a horse named Smoke which was gifted to Channing by his ex-wife.
Channing Tatum and Jenna Dewan – Relationship Timeline
Having established that Channing Tatum is the richer between the couple, here is a recap of their journey from strangers to lovers to married couple to exes.
March 2006
Channing Tatum and Jenna Dewan met for the first time on the set of Step Up, a movie which was a launching pad for their respective careers. Channing was taken to Jenna on the set of the movie and sought out a relationship with her.
Despite Channing Tatum declaring he wasn't ready for a relationship at the time, Jenna Dewan insistence on only being interested in a relationship sped the Magic Mike actor's ready meter up and eventually began a relationship with the actress in 2006.
September 2008
After two years of being in a relationship, with the couple becoming one of the admired couples in Hollywood, they took it to the next level and got engaged.
Channing Tatum proposed to Jenna Dewan in Hawaii, specifically at Maui in front of their friends and a Neil Lane ring.
July 2009
Less than a year after the 21 Jump Street actor proposed to the Supergirl actress, they got married in an outdoor ceremony in Malibu. The wedding, which was held at a venue overlooking the ocean, had several members of their family in attendance, along with their friends, both in and outside the movie industry.
Their status as one of Hollywood's most admired couple soared as they made appearances in various events, such as the premieres of some of Channing Tatum's movies and various award shows.
April 2012
Their status as one of the best couples in Hollywood got a massive boost when they performed at the Revlon concert. The concert, which was for the Rainforest Fund in New York City saw both Channing Tatum and Jenna Dewan trudge out their dancing skills in a very steamy fashion that proved to everyone that they were in fact in love.
December 2012
Jenna Dewan and Channing Tatum announced their pregnancy in a statement put out by their representatives.
May 2013
Jenna and Channing gave birth to their first child, their daughter, Everly Tatum, who was born in London, England.
August 2016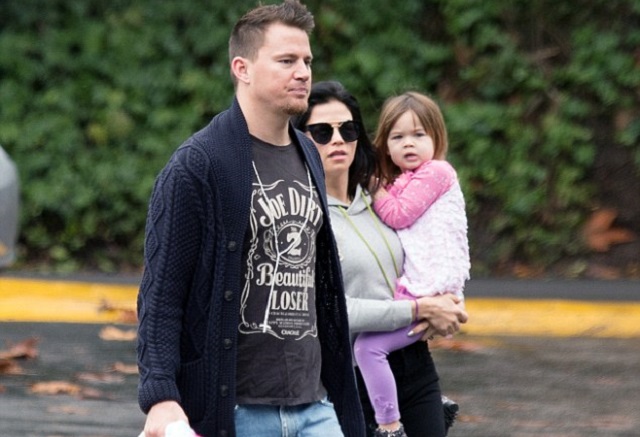 Since giving birth to their daughter, both Jenna Dewan and Channing Tatum continued to share the amazing nature of their relationship with the world, celebrating each other as they raised their daughter. And in August 2016, the couple celebrated a decade since they met each other and began a relationship.
They celebrated the milestone by recreating the moves from their Step Up dance. The moves were posted on Jenna's Instagram account – @jennadewan
March 2018
After another two years of seemingly perfect relationship with no reported scandal, Channing Tatum and Jenna Dewan recorded another major milestone when their daughter, Everly made her first major public appearance at the Kids' Choice awards.
During this period, the couple continued to share excerpts of what was considered a good relationship with the media, including a video of Tatum and Jenna getting a makeover from their daughter.
April 2018
About a month after, on the 2nd of April, 2018, Channing Tatum and Jenna Dewan announced in a heartbreaking statement that they were getting divorced.
The couple, who were widely regarded as one of the power couples of Hollywood, announced the divorce after nine years of marriage.
According to sources, the couple had been separated for months leading to the divorce, and very little information was given as a result of the divorce. Although many have speculated it was a result of infidelity, it has been proven not to be true with sources suggesting they simply drifted apart.
Since the relationship came to a sad end, Channing Tatum and Jenna Dewan have moved on from the relationship to other relationships. Channing has been in a relationship with the musician, Jessie J since October 2018.
Unlike other celebrity relationships, both Channing and Jessie J have taken to social media to express their affection for each other, in an admirable display of PDA that has included posting pictures of each other and commenting on each other's post.
Jenna Dewan has also been in a relationship with Steve Kazee, who is a stage actor. Steve is a Tony award winner and the couple has reportedly been together since the early months of 2019, with the couple making it public in April 2019.
Despite the divorce and their respective new relationships, Channing Tatum and Jenna Dewan have maintained an amicable relationship and are co-parents to their daughter.