Watching them star alongside each other as Queen Victoria and Prince Albert in the hit drama Victoria, you can't deny that the chemistry between Jenna Coleman and Tom Hughes is off the roof. Even from the very first episode, rumors began to fly that the reason their on-screen romance was so believable and intense was because they were a real couple. For a while, neither Jenna nor Tom commented or confirmed their relationship status, leading people to believe all they had between them was strictly professional.
Eventually, the two were forced to admit they were actually together after they were caught being all lovey-dovey on several occasions. Their love story is by no means an average one whether it's in real life or on television when they are playing the royal love match. Ever since their romance became public, a lot of people, especially fans of the show have been interested in what's going on between them. Here is everything you need to know about Jenna Coleman and Tom Hughes' relationship from the very beginning to the present.
How Did Jenna Coleman and Tom Hughes Meet?
The love-struck pair first met in 2013 on the set of the BBC Two drama, Dancing on the Edge. They hit it off and developed a great friendship, but neither of them made any romantic overtures because they were both dating other people at the time. Jenna was dating the Game of Thrones and Bodyguard star Richard Madden, and Tom was in a relationship with another actress – Ophelia Lovibond.
The couple haven't revealed when exactly they began dating, but it is believed that the pals grew closer when they began working together on the Amazon Prime series Victoria. Since they had to learn how to waltz, ride horses, and take other lessons for the show they were filming, Jenna Coleman and Tom Hughes ended up spending a lot of time in each other's company.
Sometime that summer, they went from being friends to being lovers. Apparently, Tom ended things with his longtime girlfriend Olivia, so he could freely pursue his co-star. Jenna herself was also fresh off her breakup with Richard Madden after their four-year relationship ended in 2015.
After the first episode of Victoria hit the air in 2016, speculations began swirling that there was a real-life romance between the two. Not long afterward, Jenna Coleman and Tom Hughes' relationship was confirmed. A source close to the couple revealed that they were hooked on each other, but wanted to keep things quiet because they didn't want their professionalism to be called into question.
Are They Still Together and for How Long?
The Victoria stars have been dating for about four years since 2015. Since then, they have been seen attending red carpet events, parties, games, and just spending quality time together.
Jenna Coleman and Tom Hughes took their relationship a step further in October 2017 by officially moving in together. This move shows that things are pretty serious between them. Thankfully, the lovebirds are still together and show no signs of splitting up.
Before Jenna and Tom's love story kicked off, the actress was rumored to be dating Prince Harry. She and the Prince were pictured together a couple of times looking rather close, however, Jenna claimed they were just friends when asked if she was dating the royal family member. Although neither party has confirmed this, it is believed that Prince Harry did have intentions of wooing the actress, around the same time that Tom also made a move on her.
See Also: Taeyang and Min Hyo Rin: The Untold Story About Their Love & Marriage
Are Jenna Coleman and Tom Hughes Engaged?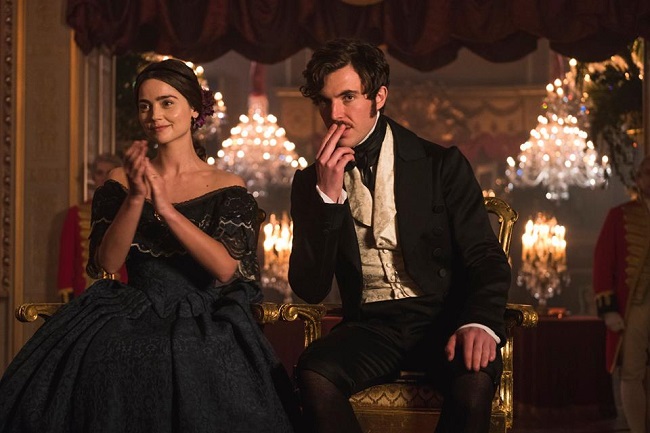 In August 2017, the rumor mills started grinding again, speculating that Jenna Coleman and Tom Hughes were engaged after she was seen sporting a majestic vintage ring at a screening of the new season of Victoria.
Those rumors were doubted when later that same month, the actress was photographed without the ring and hasn't been seen wearing it since. Yet, many people believe wedding bells might be ringing soon for the couple, and that they're just keeping it under wraps as they did with their relationship when they started dating.
It's worth noting that neither Jenna Coleman and Tom Hughes nor their representatives have spoken out to confirm any engagement. Either way, their relationship is going great and we can't help but wish them prolonged happiness.