Jeff Leatham is popular for several reasons; even if he failed to attain the status of a celebrity for being an American designer, he would still be famous as a result of his relationship with Colton Haynes, the well-known American actor who has equally thrived as a singer and model. Since Jeff and Colton got married, a lot of attention has been directed to their private lives with many people wanting to know more about the man who won the heart of the Teen Wolf star. Below is a concise piece on Jeff's life, containing answers to most of the questions often asked about him.
Jeff Leatham Bio & Age
Among other things, it is common to come across people wondering who the oldest is between Jeff and Colton. Well, here's the fact of the matter – while the actor was born on the 13th of July 1988, the designer was birthed on the 7th of September 1971. According to records, Jeff's place of birth is in Ogden, a city in Weber County, Utah. He was named Jeffrey Brett Leatham after he was born to his parents who were both teachers.
The things that caught his fancy when he was younger are not known just as it has been difficult to tell the kind of childhood he had. Nonetheless, we know that he became a student of Bonneville High School located in Washington Terrace, Utah when it was time for him to have his high school education. When he was done with that, he moved on to the public higher institution of learning – Weber State University.
For reasons we are yet to uncover, Jeff had to work while he was studying at the university. He worked in various capacities including serving as a store manager in Los Angeles. It was there that he was spotted by a modeling agent and eventually left the country in pursuit of a career in modeling. For about two years, he worked as a model in places like Paris and Milan.
As far as we can tell, Jeff Leatham began to establish himself as a fine designer when he fell in love with the art of flower arrangement; this was after he returned to the United States following his stint as a model abroad. He soon landed a job at Four Seasons Hotel, Beverly Hills. This afforded him the opportunity to polish his skills in the craft and as well explore other aspects of the profession.
Today, he is famed as an American designer who's more than just the creative director of Four Seasons Hotels and George V Hotel. In addition to that, it is known that he does floral design for various establishments and has worked with some famous brands in the fashion industry, including the British luxury fashion house Burberry, France's Louis Vuitton Malletier and Cartier, the Italian luxury brand Bulgari, and several others.
Apart from his endeavors as a designer, he is regarded as a TV personality in certain quarters and the reason for this is not far fetched – the TLC reality show titled Flowers Uncut revolved around him. Additionally, he has published several books and designed many things ranging from candles to crystal collections and what have you.
Relationship With Colton Haynes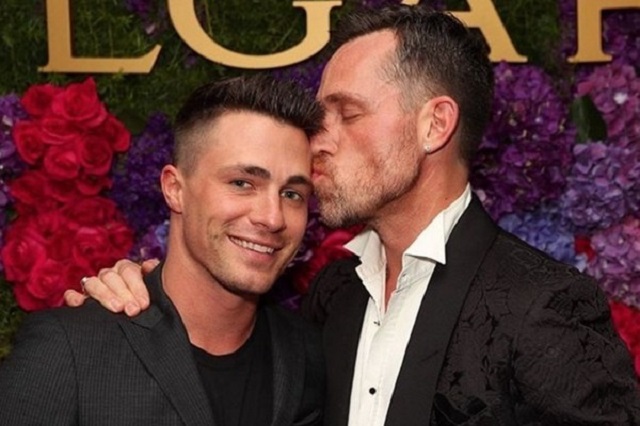 It was sometime in May 2016 that Colton came out as gay, even though it was widely held that he isn't straight many years before then. The following year, precisely on the 11th of March 2017, it emerged that he and Jeff Leatham are engaged; this made everyone believe that they must have been dating for a while, irrespective of the fact that almost nothing was known about them being lovers hitherto.
Anyway, the two got married on the 27th of October 2017 and trouble came calling a few months thereafter as Haynes made a move for divorce. Thankfully, they were able to patch things up and mark their first wedding anniversary. But then, divorce has been hanging around the union since then and it's as though Jeff Leatham and his estranged husband are hard at work to make it work.
Read Also: Josh Winterhalt – Bio, Facts About Sarah Wayne Callies' Husband
What Is Jeff Leatham's Net Worth?
From what we have discussed thus far, it is apparent that Jeff Leatham has multiple sources of income. As such, it is easy to agree with the various sources which have estimated the total value of his wealth and placed it at $2 million. However, we haven't been able to substantiate this figure; for now, the real worth of his riches is best known to him.

Fact Check: We strive for accuracy and fairness. If you see something that needs updating,