Diligence and commitment to your passion will inevitably see you rise to the pinnacle of your craft. As a floral designer, Jeff Leatham has made a name for himself as one of the most sought after florists in America, particularly among celebrity circles. He is also famous as a result of his relationship with Colton Haynes, the well-known American actor who has equally thrived as a singer and model. Since Jeff and Colton got married, a lot of attention has been directed to their private lives with many people wanting to know more about the man who won the heart of the Teen Wolf star.
Jeff Leatham Started His Career As A Model
Jeff Leatham was born on the 7th of September 1971 to parents who were school teachers in Ogden, a city in Weber County, Utah. Jeff attended Bonneville High School in Washington Terrace, Utah before proceeding to Weber State University. As a young man searching for a career path, becoming a florist was not really something he set out to do initially. During his late teens, he worked at the local movie theater.
He then moved to L.A where he worked briefly as a store manager. It was there that he was spotted by a modeling agent and eventually left the country in pursuit of a career in modeling. For about two years, he worked as a model in places like Paris and Milan. On his eventual return to L.A, his journey as a florist began.
Jeff Leatham began to establish himself as a fine designer when he fell in love with the art of flower arrangement; this was after he returned to the United States following his stint as a model abroad. He soon landed a job at Four Seasons Hotel, Beverly Hills. This afforded him the opportunity to polish his skills in the craft and as well explore other aspects of the profession.
Today, he is famed as an American designer who's more than just the creative director of Four Seasons Hotels and George V Hotel. In addition to that, it is known that he does floral design for various establishments and has worked with some famous brands in the fashion industry, including the British luxury fashion house Burberry, France's Louis Vuitton Malletier, and Cartier, the Italian luxury brand – Bulgari, and several others.
Apart from his endeavors as a designer, he is regarded as a TV personality in certain quarters and the reason for this is not far fetched – the TLC reality show titled Flowers Uncut revolved around him. Additionally, he has published several books and designed many items ranging from candles to crystal collections and what have you. He is the author of Flowers by Jeff Leatham, Flowers by Design, and Jeff Leatham Visionary Floral Art and Design.
His Floral Designs Have Adorned Some Of The World's Most Luxurious Weddings And Events
Jeff Leatham is part of an elite clique of florists that have elevated floral designs to the realm of art. A big part of his brand is the relationships he has built with celebrities. The list of his clientele is truly impressive. He runs into most of these clients, in the corridors of the prestigious Four Seasons Hotel George V, Paris, where he works as the artistic director. At the hotel lobby, Leatham has created an eye-catching floral design comprising over 13,000 stems of flowers a week for which it costs the hotel more than $7 million a year.
At the wedding of Nigerian oil heir – Folarin Alakija – and Iranian fashion model – Nazanin Jafarian Ghaissarifar, Leatham was contracted to provide the floral design. What he came up with was an outstanding design that included 1 million white roses billowing like waves across the floor, dripping all the way from the from chandeliers. He transformed the church altar with pieces from hydrangeas as well. The wedding, which was held at Blenheim Palace, was notable because of its lavishness but spectacular for its floral design which cost an astonishing $1.2 million.
Jeff Leatham was also the floral designer for Chelsea Clinton's marriage to Marc Mezvinsky which had a floral budget of $250,000. Also, the floral wall that adorned Kim Kardashian and Kanye West's 2014 wedding was also a masterpiece from Leatham.
Over the years he has built a strong friendship with the Kardashian clan and regularly handles their big events. He was also the creative mind behind Khloé Kardashian's baby shower where he used roses imported Ecuador and 20,000 clove pink hanging from the ceiling displayed alongside huge moss-covered elephants. Other famous people that he has worked for include Kylie Minogue, Tina Turner, Madonna, Celine Dion, and the Dalai Lama.
Jeff Leatham Was Once Married To Colton Haynes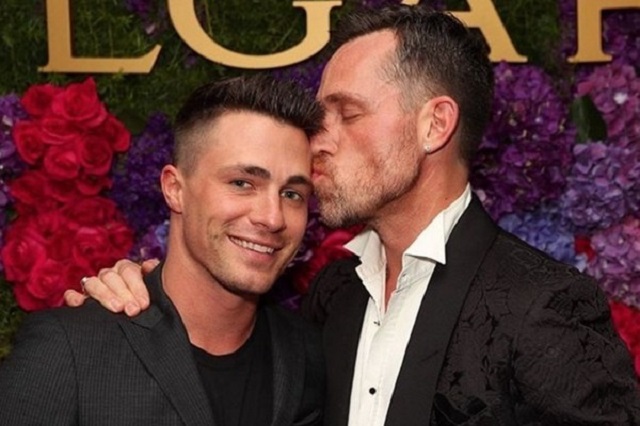 It was sometime in May 2016 that Colton came out as gay, even though it was widely held that he isn't straight for many years before then. The following year, precisely on the 11th of March 2017, it emerged that he and Jeff Leatham are engaged; this made everyone believe that they must have been dating for a while, irrespective of the fact that almost nothing was known about them being lovers hitherto. The engagement was spectacular, to say the least. Jeff Leatham took Colton Haynes to Las Ventanas al Paraiso in Mexico, to a Waterfront littered with candles and fireworks as he proposed. Jeff also got singer Cher to perform her hit song "I Got You Babe."
The two got married on the 27th of October 2017 in an event officiated by Kris Jenner. Their wedding guests included Joe Manganiello, Sofia Vergara, and Jesse Tyler Ferguson. Trouble came calling a few months thereafter as Haynes made a move for divorce.
Read Also: Josh Winterhalt – Bio, Facts About Sarah Wayne Callies' Husband
The Couple Finalized Their Divorce In October 2019
On the eve of their first wedding anniversary, they posted heartfelt tributes which got people thinking their divorce was on hold. But unfortunately, the irreconcilable differences cited in their divorce papers were truly irreconcilable.
Both parties in their divorce papers agreed to waive spousal support, and also signed a non-disclosure agreement that forbids both Haynes and Leatham from disclosing details about their relationship and marriage. This prohibits them from writing or publishing a memoir, making a movie, or television production based upon their time together.