| Net Worth: | $200 million |
| --- | --- |
| Salary: | $20 - $30 million annualy |
| Income Sources: | Hendrick Motorsports, endorsements |
| Age/Date of Birth: | August 4, 1971 |
| Height: | 5 feet, 8 inches (1.73 m) |
| Nationality: | American |
| Last Updated: | 2020 |
Jeff Gordon is an American professional stock race car driver and announcer for Fox NASCAR. He is regarded as one of the richest NASCAR drivers of all time. Here, we take an inside look at his net worth, sexuality and personal life.
Jeff Gordon's Rise To Fame
Jeffery Michael "Jeff" Gordon was born on August 4, 1971, in Vallejo, California and raised in Pittsboro, Indiana. Gordon's passion for speed began at the age of four when he rode a BMX bike which his stepfather gifted him. A year later, he began competing in auto racing, driving the quarter midget.
He went on to break and set records on the race tracks and even had a brief stint in waterskiing. At the age of 16, Gordon became the youngest driver to receive a United States Auto Club (USAC) license. At 19 he won USAC's National Midget championship and at 20 the USAC Silver Crown, becoming the youngest to ever win the title.
More Fame with NASCAR
In the 1991/1992 season, Gordon made his professional racing debut in the NASCAR Busch Grand National Series (now NASCAR Xfinity Series) with Hugh Connerty Racing and later with Bill Davis Racing. He won the Rookie of the Year Award in his first season and after a year, in 1993 he began racing full-time in the Sprint Cup Series. Again, he won the Rookie of the Year Award after an impressive first season.
Jeff went on to win the Sprint Cup champion two years later in 1995 and three other times in 1997, 1998, and 2001. Gordon is credited with having exposed the NASCAR sport to the mainstream media thanks to his wholesome looks in front of the cameras.
In 1997, he became the youngest racer to win the Daytona 500 and would go on to win it two other times in 1999 and 2005. As of the time he retired in 2015, Gordon's titles include but are not limited to a 4-time NASCAR Cup Champion, 3-time Daytona 500 winner, and third all-time Sprint Cup champion with 93 wins. Four years later, he became inducted into the NASCAR Hall of Fame.
A Breakdown of His Current Net Worth
As of 2020, Jeff Gordon has an estimated net worth of $200 million. The major sources of income that contributed to Gordon's financial worth are:
Auto Racing
Sponsorship/Endorsement Deals, and
Entrepreneurial Ventures
Jeff Gordon's Earnings from Car Racing
Gordon's highly successful NASCAR career has brought him millions. In his debut professional year with the NASCAR Xfinity Series, Gordon finished the season ranking 4th and earning more than $400,000. Later in the Xfinity series, Jeff earned over $800,000.
Gordon's earnings from his Winston Cup wins peaked at $6,085,352 in the 2001 season. In 2004, Forbes placed his income for the previous year at $19.3 million, endorsements inclusive. The racing champion would go on to earn as high as $7,030,344 from his 2007 Nextel Cup win.
In the higher Sprint Cup Series, Jeff remained one of the best-paid drivers, earning seven digits from his numerous Sprint Cup wins. By mid-2011, Forbes reported that he earned a total of $24 million in salaries, winnings and endorsements. His annual earnings continued to rise steadily in the coming years, reaching almost $20 million by 2014.
In all, Gordon has earned a total of over $160 million in career prize money, making him the first driver to win more than $100 million in the NASCAR Cup series.
Gordon Has Made Fortunes from Endorsement Contracts
Close to what he makes from winning races, Jeff Gordon gets a good chunk of his annual earnings from his numerous endorsement and sponsorship deals. This is simply because, his outstanding success on the tracks have attracted numerous top and lucrative brands.
Among his most popular sponsorship partners are Dupont, Coca-Cola and PepsiCo. With PepsiCo, Gordon made his biggest personal endorsement deal during his racing career. In 2007, the food company introduced the Jeff Gordon 24 Energy drink, although it has since been discontinued.
In 2000, Gordon entered a lucrative lifetime contract with Dale Earnhardt Jr. in the No. 88 Hendrick Motorsports Chevrolet. He later signed a deal with DVX Sun and Safety Sunglass in 2012 in their new brand of sunglasses made with materials from Dupont.
Gordon latest deal is his brand ambassadorial role for NetJets, a private aviation company that owns the largest private jet fleet in the world. Other brands he has worked with endorsement-wise include Gillette, Ray-Ban, Kellogg Company, Frito-Lay, Edy's and more.
His Business Ventures
In addition to his huge earnings from racing paychecks and endorsements, Jeff Gordon has tried his hands on several entrepreneurial ventures. While most of them revolve around his racing career, others are in completely new areas.
Car Ownership and Partnerships
Jeff Gordon is the owner of JG Motorsports which controls his North Carolina luxury car dealership, Jeff Gordon Chevrolet. The company which deals on licensing receives 20% of any product it licenses. In 1998, it made a total of $112 million from such cuts.
Together with Rick Hendrick, Jeff owns No. 48 Chevrolet driven by Jimmie Johnson. Johnson between 2006 and 2010, took home five consecutive Cup championships out of which Jeff pocketed millions. He also won the 2013 and 2016 titles, adding to Gordon's earnings. Jeff also co-owns Hendrick's No. 88 Chevy, as well as an equity stake in the No. 24 team. He later went on to become a partner of Hendrick Motorsports.
Gordon also co-owns the NASCAR Racing Experience, a stock car racing school he co-founded with Bob Lutz in 1995. He has collaborated with NASCAR colleague, Dale Earnhardt is several businesses including Chase racewear, Performance Paetners, Inc. and a real estate company. He also owns a line of wine in partnership with Briggs & Sons Winemaking, Co.
Jeff Gordon, Inc. and Other Ventures
The Nascar champion is the founder and president of Jeff Gordon, Inc., a sports and recreation company that engages in a variety of businesses. Via his official website, Jeff Gordon sales a collection of merchandise which include customized singlets, T-shirts, jackets, caps, die-cast iRacing cars, helmets, neck gaiters, and more. Prices of these items ranges from $7 to over $300.
In 2012, Gordon designed the Canadian Motor Speedway in Fort Erie, Ontario which ranks as the largest race track in Canada. In 2015, he became a Global Business Advisor on Axalta's Board. He also serves as a member of the advisory committee to KidZania, an international entertainment centre company.
The Former Pro Car Racer Now Works as a Fox Announcer 
Following his retirement from pro racing in 2015, Jeff Gordon took up a broadcast analyst job with Fox Sports. He initially worked as a NASCAR guest analyst alongside main analysts Michael Waltrip and Adam Alexander.
In 2016, Jeff became a full-time analyst, co-announcing with Mike Joy and Waltrip in the Fox NASCAR booth. He has since been covering various NASCAR Cup series for Fox Sports including FOX NASCAR, NASCAR RaceDay and NASCAR Race Hub. In January 2019, he signed a multi-year contract extension with the network.
While the exact salary he receives for working as a Fox analyst is not available on the media, Jeff is sure to be making some comfortable cash from the job. In 2016, he became the all-time highest-paid NASCAR driver per Forbes, with an estimated total all-source earnings of $515 million.
Gordon's Wealth in Properties
Jeff Gordon has invested a good portion of his cash in properties, ranging from luxury homes to pricey automobiles. Jeff used to won a $25 million 3,454-square-foot home in New York City. He however, reportedly sold the estate in 2013 for $30 million.
The champion racer has other properties in Colorado, Florida and North Carolina. Most prominent among them is the NC residence in Charlotte where he lives with his family. Among other amazing features, the home has a wine cellar, a pool, bar, billiards room and a grand playhouse.
As earlier mentions, Gordon has spent substantial cash in acquiring cars and bikes. Apart from his official race vehicles, his garage boats among other, a 1933 Ford Three-Window Coupe, 1952 Oldsmobile Super 88 Convertible, 332-horsepower Chevrolet Tahoe Hybrid, and Jaguar XK8.
But alongside all the wealth Gordon has acquired,
He has also Lost some Bucks
The first substantial and media-noticed loss Jeff Gordon recorded after making it to the limelight is his divorce settlement to ex-wife, Brooke Sealey. You'll learn more about this in a later section of this article. Following court's final verdict, Gordon had to pay Sealey $15 million. Some sites however, report that the No. 24 racer gave her up to $100 million in cash and assets put together.
This was the second time Gordon lost some real cash was in 1995 when he paid a fine of $60,000 for placing unapproved hubs in his car during a following Charlotte pole race which he won.
Later in 2012, he lost $100,000 to a fine he earned for a retaliation on fellow racer, Clint Boyer during a Phoenix race.
Jeff Gordon's Non-profit Investments
Aside from his losses, Jeff Gordon has also given out significant part of his wealth to charitable causes. In 1999, he established the Jeff Gordon Children's Foundation. JGCF supports children facing chronic and life-threatening illnesses such as cancer. So far, Jeff has auctioned two of his pricey cars – the Camaro ZL1 and Chevy Corvette C7 to raise money for the foundation. Under the umbrella of the foundation, the celebrated racer on December 16, 2006, launched the Jeff Gordon Children's Hospital at the NorthEast Medical Center.
Jeff is also a co-founder of Athletes for Hope, a charity organization that serves as a platform for professional athletes to easily get involved in charitable causes. The body also engages in various activities that inspire millions of non-athletes to volunteer and support their causes.
At the end of the day, Jeff Gordon's net worth stands at an estimated $200 million as of 2020; and here we bring you a quick recap of his career earnings in the last few years.
2011: $24 million
2012: $23.6 million ($13.6 m from salaries/wins; $10 m from endorsements)
2013: $18.2 million ($13.2 m from salaries/wins; $5 m from licensing and endorsements)
2014: $18.7 million ($13.7 m from salaries/wins; $5 m from endorsements)
2016: $515 million (total career earnings)
2017: $525 million (total career earnings)
The Truth About Jeff Gordon's Divorce and Gay Rumors
While his career grew and boomed, Jeff Gordon had a not-so-good beginning in his marital life. In 1992, after winning the first of two qualifying races for the Daytona 500, Jeff Gordon met Brooke Sealy in victory lane at the Daytona International Speedway.
Since Sealey was a Miss Winston Cup model at the time, the pair began dating secretly and had to wait a whole year to make their relationship open after Sealey completed her role as Miss Winston in 1993. This move was as a result of the strict policy which prohibits NASCAR drivers from models of the organization.
The lovebirds later tied the knot on November 26, 1994. However, in 2002, Sealey filed for divorce stating marital misconduct on Jeff's part. She accused Jeff of having an affair with professional model Deanna Merryman. The divorce was concluded in June 2003.
The Gay Rumors…
In March 2014, Empire Sports published the news of Jeff coming out as gay. The news article stated that Jeff, while facing a divorce from his wife was in a relationship with openly gay NASCAR driver, Stephen Rhodes.
The news article sparked an outrage among NASCAR fans and soon generated 1.5 million views and 1,400 comments from readers, many of whom fell for it.
Jeff however, debunked the claim, stating that he neither gave an interview on the subject nor ever admitted that he is gay. An SB Nation writer also lent credence to his denial, reporting that "Gordon is married to a woman and has two children".
It later emerged that the report was sheer fake news – a complete hoax! That was after Empire Sports clarified that it is a satirical news site. Per the website, they specialize in reporting events that are yet to happen, or things they just wish would happen. Expensive joke, right?
Funny enough, the gay rumors had nothing to do with Jeff's divorce which had occurred many years back – in 2003. So since then, what exactly has been happening in Gordon's romantic and marital life? You gat to know, the moment you
Meet Jeff Gordon's Family!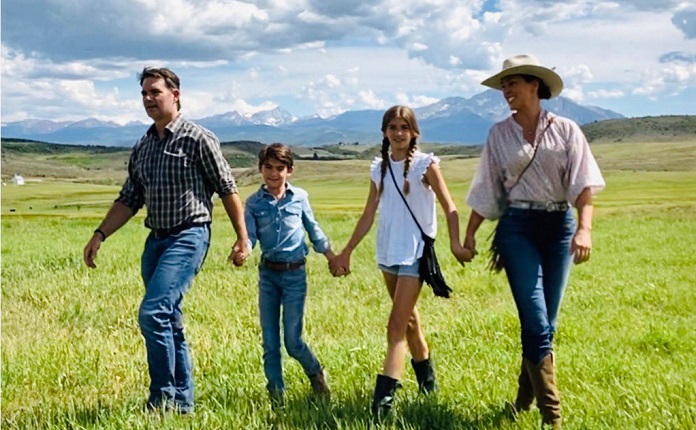 In 2002, being the same year he separated from Brooke Sealey, a friend of Gordon's introduced Ingrid Vandebosch to him at a dinner party. The duo later began dating in 2004. They later engaged in May 2006, and subsequently married on November 7 of same year, in a private ceremony held in Mexico.
With his wife, Ingrid Vandebosch, Jeff Gordon has two children, namely:
Ella Sofia Gordon
Date of Birth: June 20, 2007
Ella is Jeff Gordon's first child and daughter. He had her with his second wife, Ingrid Vandebosch. She was born in New York City. As is usual with many kids of riders, Ella Sofia is stepping in the ranks in her father's racing career. She tried on the Quarter Midget for the first time a couple of weeks before clocking 7.
Happy 13th Birthday sweet girl ❤️ pic.twitter.com/6YyK0M1b5l

— Ingrid Vandebosch (@ivandebosch) June 21, 2020
Leo Benjamin Gordon
Date of Birth: August 9, 2010
Leo is Gordon's second child and first son with Ingrid. Just like Ella, Leo Benjamin is already falling in line in the field of auto racing. In September 2019, at the age of 9, he received certification from the Carolina Quarter Midget Association and from all indications, the vibrant youngster is set to make a career off the sport.
More Facts about Jeff Gordon's Wife, Ingrid Vandebosch
Date of Birth: November 8, 1970
Place of Birth: Zichen-Zussen-Bolder, Limburg, Belgium.
Occupation: Former model and Actress
Spouse: Jeff Gordon (m. 2006)
No. of Children: 2
Ingrid Vandebosch is a former model and actress born on 8th November, 1970 in the Western-European country of Belgium. She began modeling in 1986 at the age of 16. Vandebosch initially modeled in the Netherlands before moving to Paris in 1987 when her career burgeoned.
In Paris, Ingrid closed deals with various popular brands including Christian Dior. She also featured on several international mags including Glamour, Elle, Vogue and Marie Claire. In 1990, she won the Elite Look of the Year Award.
After modeling for seven years in Paris, Vandebosch moved to New York where she began working as the face of the Quixtar-owned cosmetics brand, Artistry. Her career later extended into acting and she made a minor role debut in the 2004 film, Taxi.
Following her marriage to Gordon, Vandebosch obviously slowed down in her career and rather occupied herself with supporting her husband and kids in their various endeavors. In her later years of modeling, she featured in a 2008 issue of Sports Illustrated Swimsuit.
Profile Summary
First Name:
Jeffery
Last Name:
Gordon
Estimated Net Worth:

$200 million
Salary:
$20 - $30 million annualy
Source of Wealth:
Hendrick Motorsports, endorsements
Last Updated:

2020
Also Known As:

Wonder boy, "Rainbow Warrior",
Sex/Gender:

Male
Profession:

Former professional stock car racing driver, Fox NASCAR announcer
Famous For:
One of the most influential drivers in NASCAR history
Colleges/Universities Attended:

N/A
Educational Qualifications:

Unknown
Religion:

Christianity
Birthday & Zodiac

Age/Date of Birth:

August 4, 1971
Zodiac Sign:
Leo
Birth Place:

Vallejo, California
Nationality:
American
Ethnicity/Race:

Scotch-Irish descent
Country of Residence:

United States of America (USA)
Physical Attributes

Height:

5 feet, 8 inches (1.73 m)
Weight:

68 kg (150 lb)
Eye Colour:

Silver-blue
Hair Color:

Light Brown
Other Body Measurements:

Unknown
Relationships

Marital Status:

Married
Spouse/Partner:

Ingrid Vandebosch Gordon(m. 2006)
Previously married to Brooke Sealey (m. 1994–2003)
Family and Relatives

Father:

William Grinnell Gordon
Mother:
Carol Ann Bickford Houston
Children:

Leo Benjamin Gordon,
Ella Sofia Gordon
Siblings:
Kim Gordon
Other Relatives:

Unknown